Clippers' talks with Fox Sports over new local TV deal appear stalled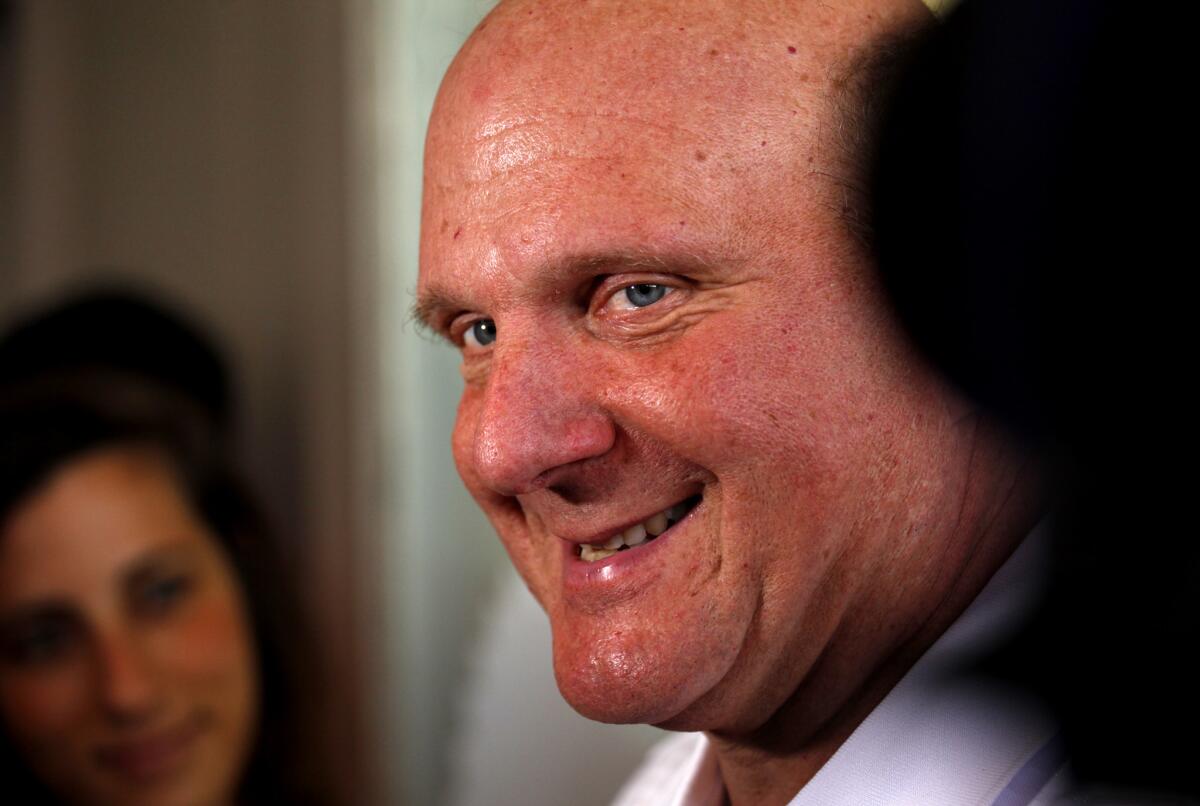 The Clippers' local television contract with Fox Sports' Prime Ticket runs out after the 2015-16 season and the two sides are far apart in negotiations for a new deal.
Fox Sports made an offer of $60 million annually that Clippers owner Steve Ballmer turned down. Ballmer countered with $100 million annually, which Fox rejected, according to executives familiar with the talks who were not authorized to speak publicly on the matter.
After Prime Ticket wasn't able to get a deal done during its exclusive negotiating window in June, the Clippers have been free to talk to other companies.
The Clippers, whose games will be broadcast on Prime Ticket this season, have been getting about $25 million per year in their current deal with Fox, according to an executive.
Ballmer, the former Microsoft chief executive who purchased the Clippers for $2 billion in 2014, is considering other options, including possibly streaming Clippers games, according to the executives.
One executive said Ballmer is aware of the pros and cons of creating his own network and views the idea of a web-based format more likely in some sort of hybrid deal with Fox Sports.
An NBA official said the league wouldn't be opposed to the Clippers' streaming their games as long as it was done locally.
Fans can watch NBA regular-season games on NBA League Pass broadband for a fee of $199.99 per season. The Portland Trail Blazers have experimented with streaming games but won't do it this season, according to a team official.
Another wrinkle to the negotiations is that TV ratings for both the Clippers and Lakers have fallen in the Los Angeles market.
According to Nielsen, the Clippers' ratings dropped last season to 1.04, down 17% from 1.25 during the 2013-14 season.
Lakers viewership also fell last season to 1.56, down 26% from a 2.11 rating in 2013-14.
The Lakers are on Time Warner Cable SportsNet, which launched in 2011. The Lakers agreed to a 20-year, $4-billion deal to have their games broadcast in English and Spanish and the team earns about $200 million annually.
"Fox is not going to do a crazy deal that doesn't make sense for them" with the Clippers, a TV executive said.
If Ballmer decides to stream Clippers games in a Netflix-like system, the TV executive had doubts that the business plan would work out.
The Clippers, even with stars Chris Paul and Blake Griffin, in the last couple of years on Prime Ticket have averaged approximately 50,000 homes tuning in to their games.
To match the $60 million annually offered by Fox, the Clippers would have to get 500,000 subscribers to pay $10 per month for streaming, the TV executive said.
"So if only 50,000 homes watch the Clippers now, where are they going to get the other 450,000 customers from?" the executive said.
Executives from the Clippers and Fox Sports declined to comment for this story.
Twitter: @BA_Turner
Get our high school sports newsletter
Prep Rally is devoted to the SoCal high school sports experience, bringing you scores, stories and a behind-the-scenes look at what makes prep sports so popular.
You may occasionally receive promotional content from the Los Angeles Times.