Dodgers' Justin Turner nears return from MRSA infection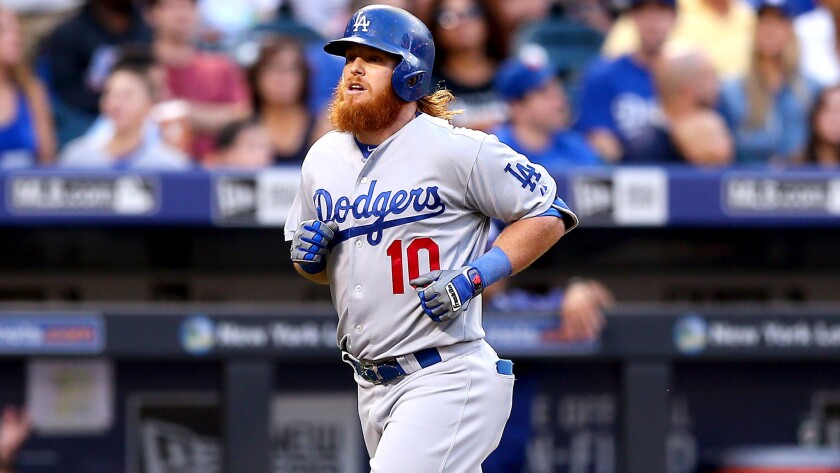 Third baseman Justin Turner, who has spent the last two-plus weeks recovering from a MRSA infection, is expected to return from the disabled list in the next day or two.
"Tomorrow would be awesome, but if they're going to be on the cautious side, then it would be Friday," Turner said Wednesday.
Turner shook his head in disbelief as he reflected on the last couple of weeks.
Turner said he had an ingrown hair on the inside of his right thigh when the Dodgers visited the New York Mets late last month.
"I had a little ingrown hair and tried to scratch it," he said. "It just started getting bigger and bigger."
The Dodgers had a day off July 27. When Turner reported to Dodger Stadium the next day, trainer Stan Conte immediately sent him to a nearby emergency room.
"It was scary," Turner said of MRSA, a contagious and antibiotic-resistant staph bacteria. "It's not a joking matter. I didn't think it was that bad until I came in on the off-day and Stan told me I had to get to the emergency room."
Turner was at the Dodgers' spring training complex in Arizona for the later stages of his recovery.
With his wound still open -- the infected area, which was carved out, couldn't be stitched closed because of fears of reinfection -- Turner had to take extreme precautions when resuming baseball activities.
"It was a pretty crazy program," he said. "I would literally go in the cage and take five swings off the tee and go back in the weight room and sit down for three minutes and cool down. It turned a workout that would normally take an hour, an hour and a half, to 3 1/2 hours because it required so much rest in between to make sure I wasn't sweating."
Turner, who is batting .323 this season, estimated that he took around 24 at-bats against live pitching in recent days.
In his absence, Alberto Callaspo has started the majority of games at third base.
Where is Vin Scully?
Vin Scully couldn't be heard on radio for the second consecutive day, as the Hall of Fame announcer called the game Wednesday for only SportsNet LA's telecast. Scully was under the weather and wanted to save his voice.
For most games, the first three innings of Scully's play-by-play call are simulcast on television and radio.
---
Get our Dodgers Dugout newsletter for insights, news and much more.
You may occasionally receive promotional content from the Los Angeles Times.