Dodgers rookie Alex Verdugo's fiery flair already makes him a fan favorite
Dieter Ruehle, the Los Angeles Dodgers organist, uses an accordion effect to play Vincente Fernández's song "Volver, Volver" --  outfielder Verdugo is a fan.  
Reporting from chicago —
The Dodgers defeated the Cincinnati Reds to begin a three-game series a week ago and manager Dave Roberts shot a text afterward to Alex Verdugo to inform the 22-year-old rookie he was starting in right field the next day.
"I said, 'I'm going to need you tomorrow,'" Roberts recalled. "And he said, "'I got you.'"
That night, before the left-handed-hitting Verdugo stepped into the batter's box to face left-hander Zach Duke in the seventh inning with two on and two out, he and Roberts had a conversation in the dugout during a mound visit. The Reds had just intentionally walked Enrique Hernandez with first base open, electing to face Verdugo. Roberts and Verdugo discussed the situation. Verdugo oozed confidence.
"I told him, 'Doc, don't worry, baby,'" Verdugo said. "I got you. I got you."
Moments later, Verdugo was standing at second base after splitting the left-center field gap for a two-run double. Dodger Stadium roared. Verdugo held his arms out in celebration. He looked and pointed at Roberts. The manager pointed back. He got him.
"I was like, 'Yup. Mmm. Let's goooo!'" Verdugo said.
After the game, Verdugo said he considered the Reds' decision to intentionally walk Hernandez a sound baseball move but a slap in the face. The episode was an example of Verdugo making his presence felt before and after he showcases his well-rounded skill set between the lines. He's lively and light-hearted. He dances. He speaks his mind. He warns everyone, "Don't let the kid get hot!" Teammates laugh, go with it, and egg him on. Roberts said he finds Verdugo genuine and refreshing. Veteran third baseman Justin Turner calls his relentless energy and swagger entertaining.
But the front office had concerns before this season about Verdugo's maturity level, something Verdugo recognized and acknowledged. He said he tried toning down his personality during his brief stints in the majors the past two seasons to fit in. He was more mellow. Calmer. Breaking spring training with the team for the first time, he believes, has allowed his peers to understand him better and given him greater confidence to be himself.
"He's a young guy who brings a lot of energy to the field every day," Turner said. "And he's a guy you kind of just got to nudge him in the right direction and sit back and enjoy the show that he puts on."
Verdugo's shows at Dodger Stadium open with his walk-up song, Vicente Fernandez's "Volver Volver." It elicits a crescendo from the crowd before every at-bat, whatever the score, whatever the inning. The track is an ode to his heritage and his father, Joseph, whose love for Mexican music ensured it was included in Verdugo's childhood soundtrack growing up in Tucson. Joseph would play it when he cleaned the house and picked up his son at school.
The music became embedded in Verdugo's identity. He was born and raised in Arizona but played for Mexico in the 2017 World Baseball Classic. He said his father and siblings speak Spanish, but he doesn't. He wants to learn. He hopes to pick up the language from teammates — though he noted Julio Urias messes with him too much — before hiring a tutor at some point.
"I would just say I'm proud to be Mexican," Verdugo said. "My dad's Mexican. My mom's white, so I'm half. . . . It's kind of made me feel at home. I don't hide who I am. I know I can't speak Spanish. I know all that. . . . Just because you can't speak Spanish don't mean you're not Mexican, doesn't mean you should hold back or not be involved with stuff."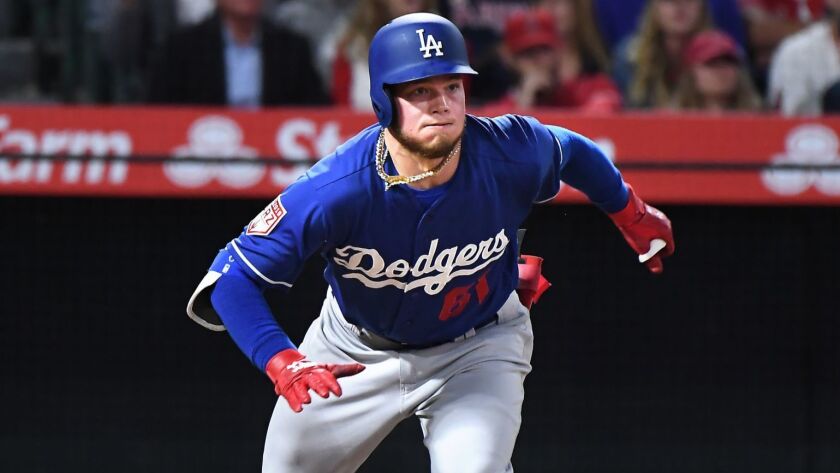 The song has helped Verdugo become an instant fan favorite. His performance on the field has only catapulted his popularity. He exhibited his arm strength throwing out Hernan Perez at home from left field with a 98.4-mph one-hopper to end the eighth inning in the Dodgers' win over the Milwaukee Brewers on Thursday. It tied for the hardest thrown outfield assist this season, according to Statcast. Verdugo jogged off the field, his thick gold chains ricocheting off his chest, yelling to no one in particular.
"Hopefully, in the future, they'll learn from it," Verdugo said after the game of opponents wanting to test his arm.
At the plate, he's batting .333 with three home runs, 13 runs batted in and a .986 on-base-plus-slugging percentage in 53 plate appearances. The success has come in a foreign role. Top prospects usually don't arrive in the majors to find a bench role waiting for them. But Verdugo, who batted .321 the last two seasons with triple-A Oklahoma City, is the Dodgers' fourth outfielder. He's appeared in 23 of the Dodgers' 24 games, but made just six starts.
Sign up for our Dodgers newsletter »
"He's exceeding everyone's expectations," Turner said. "Not that no one thought he couldn't hit .300, .350, or whatever, and play good defense. We all knew that. But to do it in the role he's in and be mature enough to handle it and take advantage of his opportunities, I think it's something we're all really proud of."
While he's become a weapon off the bench, going four for 10 as a pinch hitter, Verdugo has delivered, above all, in clutch situations. With runners on base, he's 10 for 28. With runners in scoring position, he's six for 13. With runners in scoring position and two outs, he's five for nine with three doubles. He produced one of those doubles last Tuesday against Duke. It was Verdugo's third hit of the game. He finished with three RBIs. He couldn't conceal his fiery delight at second base.
"It's good," Verdugo said, "to have a little flavor."
Twitter: @jorgecastillo
---
Get our Dodgers Dugout newsletter for insights, news and much more.
You may occasionally receive promotional content from the Los Angeles Times.