Dodgers outfielder Alex Verdugo has little else to prove in minor leagues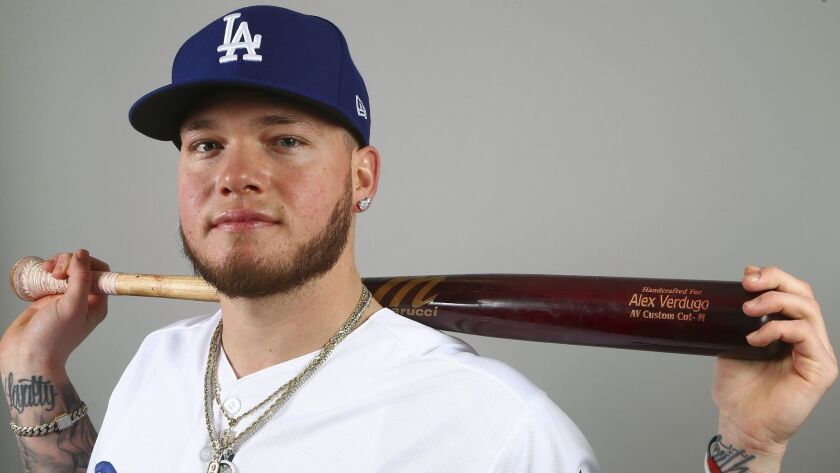 Alex Verdugo believes he is major-league ready. So does Bill Haselman, who managed him in triple-A. And the Dodgers' decision-makers — from Andrew Friedman to Dave Roberts.
Verdugo, 22, has been known as a top-tier prospect for a couple of years now, a standing solidified by his gleaming numbers at triple-A Oklahoma City. There is nothing else to show. The boxes have been checked. All parties agree.
"I feel like I have things to prove," Verdugo said. "In the big leagues, though."
The snag is that there is not an obvious role for him on the club as it is currently constructed.
The Dodgers recently traded outfielders Yasiel Puig and Matt Kemp, but a logjam in the outfield still exists. A.J. Pollock was signed to play center field every day and his arrival pushes Cody Bellinger to right field. Bellinger spent much of last season in center field and wound up not playing against left-handed starting pitchers down the stretch, but the Dodgers plan on him being an everyday player in 2019.
Verdugo's best chance for regular playing time is in left field, though an everyday role might not be available there, either. Verdugo, Joc Pederson, and Andrew Toles were expected to compete for at-bats. But Toles hasn't reported to camp for personal reasons and the Dodgers do not know when he will arrive.
Pederson, like Verdugo, is a left-handed hitter. Unlike Verdugo, he carries extensive major-league experience and has established himself as a force against right-handed pitching. Last season, Pederson slugged 24 home runs and compiled an .893 OPS in 386 plate appearances against right-handers. That is all-star-level production the Dodgers relied on.
"They're both going to play a big role [on] our ballclub this year," Roberts said. "And I just don't think it makes a whole lot of sense right now to try to project what's going to happen. Or try to forecast. I know that they're both major-league players. Obviously, Joc's done it considerably more so we're going to figure it out."
A two-way talent in high school — some talent evaluators believed his future was brighter on the mound — Verdugo has produced at each minor-league level since the Dodgers drafted him in the second round in 2014. Last season, he batted .329 with an .863 on-base-plus-slugging percentage in 91 games with triple-A Oklahoma City. In 2017, he hit .314 with 13 home runs with an .825 OPS in 117 games in Oklahoma City. He broke into the majors that season as a September call-up, playing in 15 games; he appeared in 37 in 2018.
"He gives you a quality at-bat just about every time," Haselman said. "He has a lot of talent."
Verdugo posted those numbers at triple-A in his age-21 and 22 seasons — five years younger than the average player in the Pacific Coast League — while proving he could handle all three outfield positions.
Questions about his power and make-up have surfaced — Verdugo acknowledged his clubhouse presence needs improvement — but that level of production usually merits a significant role on most major-league teams.
"I need an extended period," Verdugo said. "I need to be able to really just have some trial and error. Just have something where you can base it off of where I play. You're going to struggle, have your ups and downs, but, all-in-all I think I'm going to play how I play."
The Dodgers' outfield depth rendered Verdugo an intriguing trade chip over the winter. The rumors churned. Verdugo was aware of them. Earlier on his career, he said, the speculation would have bothered him, but he said he now views it as a positive. Teams wanted him and that is a good thing. He is considered a desirable asset.
"You're not just playing for one team, the Dodgers, we're playing for 29 other teams," Verdugo said.
But Verdugo wants to become more than a trade piece for the Dodgers. He wants to become a steady contributor. He desires to become a bonafide major leaguer. He should get that chance this season, in some fashion.
"I find if I expect something, man, I usually get the opposite," Verdugo said. "So I think I'm just going to come out here and play as hard as I can. We got a lot great, talented people. So it's really just come out here, compete and try to show off yourself as best you can."
Sign up for our daily sports newsletter »
Twitter: @jorgecastillo
---
Get our Dodgers Dugout newsletter for insights, news and much more.
You may occasionally receive promotional content from the Los Angeles Times.