Dodgers Dugout: Kenley Jansen, Rich Hill, Corey Seager... There's a lot to talk about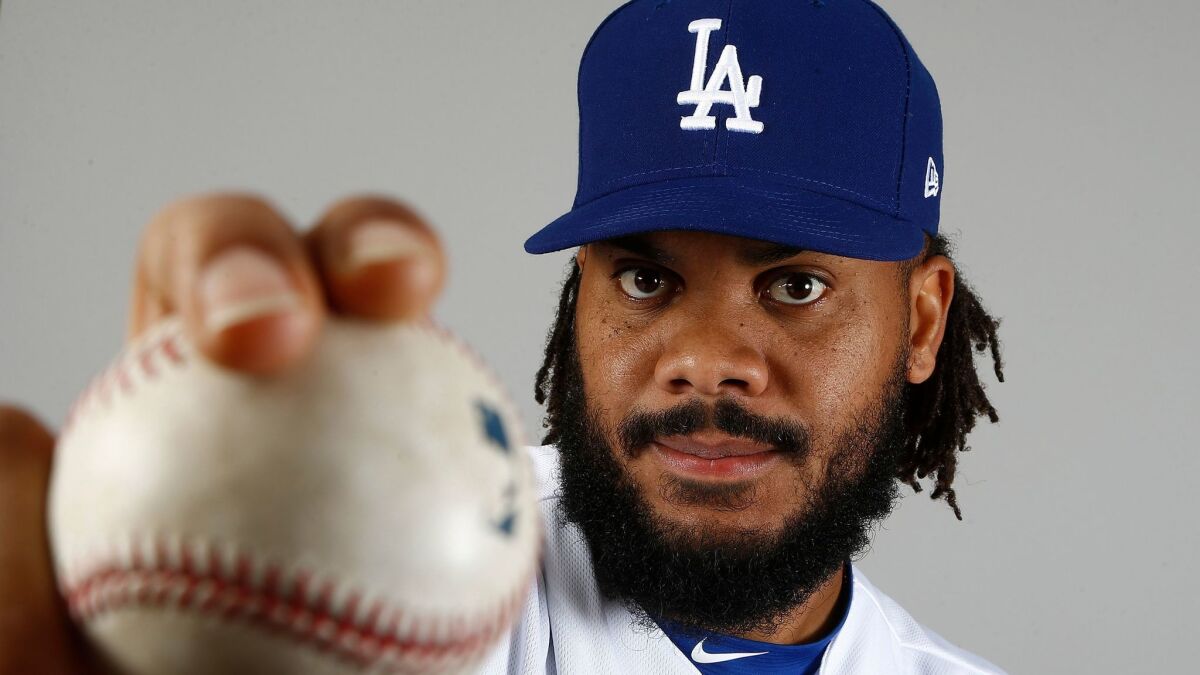 Hi, and welcome to another edition of Dodgers Dugout. My name is Houston Mitchell. My goal this season is to do a Q&A with actors (and Dodgers fans) who star in my two favorite TV shows: Clark Gregg from "Marvel's Agents of S.H.I.E.L.D." and Grant Gustin from "The Flash." If you are out there, guys, please email me here.
Don't get too excited yet
It's nice that the Dodgers swept the Padres, but that is sort of like defeating a child in arm wrestling. Sure, you won, but it's tough to gauge how good you really are.
Tonight the Dodgers face Max Scherzer, and tomorrow it's Stephen Strasburg. We'll know a lot more after those two games.
I'm not sure where Kenley Jansen is, but the guy wearing his uniform needs to find him and bring him back.
What is causing this early season slump by the closer? First, go read this great story by our Dodgers beat writer, Andy McCullough, then come back here. I'll wait.
So, I think it's a number of factors:
1. His constant overuse last season combined with …
2. A limited spring training caused by hamstring problems …
3. Combined with what appears to me to be a much stiffer delivery (for whatever reason), which causes …
4. Slower pitches that stay up in the zone and are as straight as a clothesline.
All that said, I think Jansen will figure it out. If he doesn't, the Dodgers are not making the playoffs.
The big question is, how long do the Dodgers give him to figure it out? The answer, as long as it takes. They don't have a lot of options to replace him. They might try putting him on the 10-day DL to give him time to work on his mechanics, but he needs to pitch in games, so I'm not sure if even that would help.
Nail it down
Guess what? Rich Hill is on the DL with a finger issue. But it's not a blister! He split the fingernail on his left middle finger during his last start, so the team put him on the 10-day DL and he is expected to miss only one start. I'm beginning to think he got a hand transplant from a newborn baby, because he has more finger issues than the knife tester at the Ginsu factory.
The Dodgers have not said who will start for him next week, but it will more than likely be Walker Buehler or Brock Stewart.
Corey's back
In his last six games, Corey Seager is hitting .310 with three doubles. It's not a coincidence that the Dodgers are 4-2 in those games.
Book it
If you can buy only one Dodgers book this year, make it my book, of course. But if you can buy only two Dodgers books, make sure you pick up a copy of the newly published "Brothers in Arms: Koufax, Kershaw, and the Dodgers' Extraordinary Pitching Tradition" by Jon Weisman.
Thanks to the wonders of the internet, I have known Jon for a few years without ever actually meeting him. He used to write a Dodgers blog for The Times, worked for the Dodgers for a while and now works for Showtime. He was kind enough to answer a few questions about his excellent book, which I highly recommend.
Q. Before we get to the book, I have to ask: What's wrong with Kenley Jansen?
Well, there are three main possibilities: health, mechanics and/or the yips. Jansen and the Dodgers seem to be pointing mostly toward mechanics, which is the most benevolent of the three, and I'm not in position to dispute them. I don't think that despair is in order, but I do believe it might require more patience than Twitter typically offers during the ninth inning of a game. If it were easy to fix, anyone could do it instantly.
Q. What was the impetus behind writing this book?
In some respects it grew out of a longtime desire to do a biography on Don Newcombe, which is kind of my dream project. But as I thought about that and other possibilities, I found myself fixated on the fact that for my entire life as a baseball fan, we've been treated to the greatness of the Dodger pitching tradition, and yet somehow among all the books written about the Dodgers, none ever focused on that before. And the more I explored it, the richer it revealed itself to be — and at that point, I was all in.
Q. When I was a kid, my favorite Dodgers pitchers were Lance Rautzhan and Burt Hooton. Yours?
Lance Rautzhan — well, we must be the same age. As a kid, I was probably more of a position players guy — my favorite Dodgers were Reggie Smith and Manny Mota. It's not that I didn't love Don Sutton, but I probably took him for granted. I will say that I had a bit of a fascination with Rick Rhoden. My first phone call to sports talk radio, when I was about 8 or so, was to ask a question about why he had such a high winning percentage (ah, the days of glorifying pitcher wins).
Q. You researched the careers of dozens of Dodgers pitchers and interviewed several former Dodgers. Is there a former pitcher or pitchers that you now appreciate more than you did in the past?
Ralph Branca is someone whom I think many might vaguely know of as a good pitcher who threw a very unfortunate pitch, but I certainly had a renewed appreciation of just how good he was at an incredibly young age. For anyone who thought Julio Urías was overprotected as a teenage prodigy — well, you'll find Branca to be your opposite. He threw an absolutely outrageous number of pitches and unsurprisingly burned out, but he actually plays a much more important role in the Dodger pitching tradition than I think people realize. I'd also mention Claude Osteen, who falls in the shadow of three Hall of Famers — Sandy Koufax, Don Drysdale and Sutton — but really was one of the greatest arms in Dodger history.
Q. I recently did a reader survey of the greatest Dodgers of all time, and there were as many pitchers in the top 10 as hitters. Can you think of another team that has such a rich pitching tradition as the Dodgers?
No, and that goes back to my earlier answer. There are teams that have had good runs of pitching — the Orioles, the Braves, even the Yankees — but none that have the kind of multidecade success that the Dodgers have had. And what I was pleased to find is that it wasn't really an accident. Roughly around World War II, Branch Rickey — among his many other accomplishments — put a ton of energy and effort into developing pitching in the organization, and the results speak for themselves. When I asked Tommy Lasorda about the Dodger pitching tradition, he said, "I think it started with Branch."
Q. OK, to make it more interesting, you get to name an all-time Dodger starting rotation, plus two backups in case of injury. Who do you pick?
I'm not going to try to reinvent the wheel here. Koufax and Kershaw at the top. Dazzy Vance — a strikeout pitcher well before his time and the Dodgers' all-time leader in pitcher Wins Above Replacement — will be my No. 3. Sutton might not seem like an exciting choice, but he belongs, which leaves Orel Hershiser and Fernando Valenzuela to fight it out for the fifth spot, with Newcombe joining them on the staff.
::
Again, I want to thank Jon for taking part in today's newsletter, and I hope you have opened a second browser window right now and are ordering his book.
Ask Ross Porter
Hi, fans! It's good to be back with you to answer your questions during this baseball season. Please send your questions to Houston and he will pass them on to me. List the city in which you live.
John Morey of Edmond, Okla., asks: The Dodgers won the most games in the 2017 regular season. Ross, how often does the team with the best record win the World Series?
Ross: Not that often, John — seven times in the last 33 years.
Anita Armstrong of Lees Summit, Mo., asks: How much more money did each of the Astros make than the Dodgers players by winning the seventh game of the World Series?
Ross: $179,179.43. Houston players were awarded the full World Series share amount of $438,901.57 while the Dodgers received $259,722.14 each.
Danny Pang of Starkville, Miss. asks: Ross, would you please compare Sandy Koufax's curveball to Clayton Kershaw's curveball?
Ross: Their big overhand curves were similar, Danny, creating a tight downspin, rotating from top to bottom. Sandy had more spin on his than anyone in the National League. He had a very low stance and great arm speed. Koufax held his hands closer to his head when he threw his curve. Some say it was more like a sinker as it broke straight down.
Clayton throws from a high angle, an easy, natural delivery that can be deceptive. His lower half rotates before his upper body. Both left-handers' curveballs dropped off the table and were knee-buckling. The drop on a curve is 7 to 20 inches. Average speed of a curveball is 77 miles per hour. The fastest today is 88. The ball slows down 8 to 10 miles per hour before reaching the plate. A batter has half a second to hit the ball.
Kris Kemp of Covina asks: What is the purpose of the corner cutouts on the infield grass at each base?
Ross: The reason is to improve the infield dirt areas for competitive quality footing and bounces. To make a "slide area" around the bases, turf is cut out around the bases by measuring a 13-foot radius within the 90-foot square. The basepaths can be left grassed or turned into skinned basepaths. The average major league field contains 90,000 square feet between the foul lines.
Up next
Friday, Washington (Max Scherzer, 3-1, 1.33 ERA) at Dodgers (Clayton Kershaw, 1-2, 1.73 ERA), 7 p.m.
Saturday, Washington (Stephen Strasburg, 2-1, 3.08) at Dodgers (Hyun-Jin Ryu, 2-0, 2.87 ERA). 6 p.m., KTLA
Sunday, Washington (Jeremy Hellickson, 0-0, 3.86) at Dodgers (Alex Wood, 0-2, 3.91 ERA), 5 p.m., ESPN
And finally
Some of you have asked for the Dodgers' promotional schedule this season. Well, click here and you can see it.
Have a comment or something you'd like to see in a future Dodgers newsletter? Email me and follow me on Twitter: @latimeshouston.
Get our Dodgers Dugout newsletter for insights, news and much more.
You may occasionally receive promotional content from the Los Angeles Times.