Dodgers Dugout: In the wake of Clayton Kershaw's injury, does anyone out there have Yu Darvish's phone number?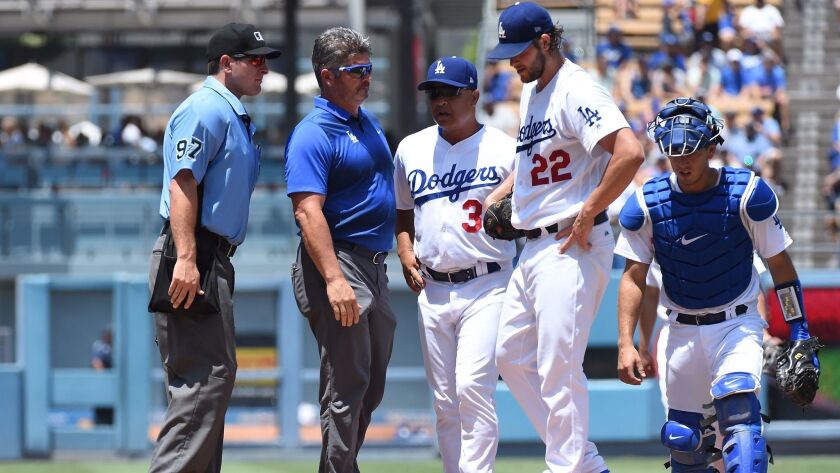 Hi, and welcome to another edition of Dodgers Dugout. My name is Houston Mitchell, and just how long do the Dodgers plan to stick with Alex Wood in the rotation? If you take away his first 11 wins, then he's only 0-1.
Not again
Today's newsletter was going to be about which left-handed reliever the Dodgers should acquire before the trade deadline, until Clayton Kershaw left Sunday's game after pitching two innings because of tightness in his right lower back. The Dodgers will have him examined by the team's back specialist, Robert Watkins, and intend to put him on the 10-day disabled list.
Manager Dave Roberts said this is different than last season's back problem because this is "more muscular."
Kershaw said "some of the symptoms aren't as bad as they could be," which doesn't exactly fill Dodgers fans with hope.
Last season, Kershaw missed 10 weeks because of his back.
So how did this happen? Well, no one knows for sure, but my wife offers this theory based on something she saw on the local news Saturday.
Kershaw spent time Saturday in the hot sun standing on asphalt. In his right arm he carried his 2-year-old daughter. Meanwhile he leaned over with his left arm to pick up backpacks to give to underprivileged youth.
Speaking as someone with three crushed disks in his lower back, doing that motion repeatedly is going to cause some lower back tightness the next day. Let's hope that's all it is, and not something more serious.
Time to make a trade?
With Kershaw out for an undetermined period of time, the question becomes: Should the Dodgers get Yu Darvish? It was already rumored that they were interested, with Dodgers scouts at Rangers games and Rangers scouts at Dodgers triple-A games.
To get Darvish, L.A. will almost certainly have to give up Alex Verdugo, who has been considered almost untouchable. But a long injury for Kershaw could change that.
There's no reason to speculate on what will happen until we know how badly Kershaw is injured. Until then, let's take a look at who the Dodgers have been linked with in rumors, and who they may have to give up to get that person.
Who could the Dodgers get?
Darvish, 30, right-handed starter, Texas: Darvish was one of the best starting pitchers in the AL until he missed the 2015 season because of Tommy John surgery on his right elbow. Since then, he's still among the best with a 3.43 ERA (which is an ERA+ of 132), a 3.52 FIP, a 1.117 WHIP and 275 strikeouts in 233 2/3 innings. He averages a shade over six innings a start. But, he would be a rental for the team, because he is in the final year of a six-year, $56-million contract. That means it is unlikely the Dodgers would want to give up a top prospect for him. But does a Kershaw injury change that line of thinking?
Brad Hand, 27, left-handed reliever, San Diego: Hand, 27, has been one of the better left-handed relievers the last two seasons, pitching in a league-leading 82 games last season. He was an All-Star this season and over the last two seasons has a 2.65 ERA (an ERA+ of 156), a 2.93 FIP, a 1.077 WHIP and 176 strikeouts in 139 1/3 innings. He has inherited 78 runners and allowed 21 to score. He wouldn't be a free agent until after the 2019 season and is making $1.38 million this season. However, the Padres want Verdugo in return for him which makes this deal unlikely.
Zach Britton, 29, left-handed reliever, Baltimore: Britton has been the Orioles' closer since 2014 but has missed most of this season because of tightness in his left forearm. He has not pitched well since coming off the DL earlier this month, with a 5.14 ERA and a 1.857 WHIP in a very small sample size of seven innings. Last season he gave up only four earned runs in 67 innings while saving 47 games. He can be a free agent after the 2018 season and is making $11.4 million this season.
Addison Reed, 28, right-handed reliever, New York Mets: Reed has a 2.35 ERA, a 2.91 FIP, a 1.065 WHIP and 47 strikeouts in 46 innings this season. Since he was acquired by the Mets in Aug. 2015, he has posted a 2.01 ERA with a 0.99 WHIP and 155 strikeouts and 24 walks in 139 innings. He would be a free agent after this season, so he would come at a cheaper cost than Britton or Hand.
Justin Wilson, 29, left-handed reliever, Detroit: Wilson has a 2.68 ERA, a 3.02 FIP and a 0.946 WHIP while averaging 12.4 strikeouts per nine innings. He is making $2.7 million this season and will be a free agent after the 2018 season.
Who could they give up?
So who do the Dodgers have to give up for one of these players? Let's look at their top 10 prospects before the season began and how they are doing now.
1. Cody Bellinger, 21, 1B-OF: No idea what happened to him. Seems to have dropped off the face of the earth.
2. Yadier Alvarez, 20, RHP: He has a 5.31 ERA in 59 1/3 innings with high Class A Rancho Cucamonga this season, striking out 61. He was promoted to double-A Tulsa late last week.
3. Alex Verdugo, 21, OF: The 21-year-old outfielder is hitting .332 with more walks (41) than strikeouts (35) in triple-A Oklahoma City. Pretty remarkable considering the average age of players in triple A is 26.
4. Walker Buehler, 22, RHP: He had a 1.10 ERA after five starts in Rancho, so they promoted him to Tulsa. He had a 3.49 ERA there so they promoted him to Oklahoma City, where he got rocked in his first start. Overall this season, he has struck out 91 in 65 innings and has a 1.117 WHIP.
5. Willie Calhoun, 22, 2B: He is hitting .300 with 20 homers and 61 RBIs at Oklahoma City. His main problem continues to be his shaky defense, with his natural position being DH.
6. Yusniel Diaz, 20, OF: He is hitting .291 with 26 extra-base hits in 77 games with Rancho Cucamonga.
7. Andrew Toles, 24, OF: Out for the season.
8. Gavin Lux, 19, SS: Hitting just .204 in low Class A Great Lakes, but he's only 19, so don't write him off.
9. Jordan Sheffield, 22, RHP: Has a 4.16 ERA in 17 starts with Great Lakes, with a 1.542 WHIP and 70 strikeouts in 71 1/3 innings.
10. Keibert Ruiz, 19, C: Hit .317 at Great Lakes and was promoted to Rancho, where he is hitting .375 and slugging .719 in eight games.
What will the Dodgers do? It all depends on Kershaw. If he is going to be out for a while, then they need to get Darvish or an equivalent pitcher. Giving up prospects is tough, but the Dodgers are the favorites to win the World Series. It's time to roll the dice on Verdugo and do everything to bring home the World Series trophy this year.
The obscure Dodgers record of the week
Which Dodgers have been hit by pitch the most times?
1. Zack Wheat, 73
2. Jackie Robinson, 72
3. Andre Ethier, 58
4. Alex Cora, 52
5. Carl Furillo, 47
6. Ron Cey, 43
7. Willie Davis, 41
8. Whitey Alperman, 39
9. Justin Turner, 38
10. Lou Johnson, 37
10. Jake Daubert, 37
The 10 Dodgers hit the fewest (minimum 1,500 plate appearances)
1. Bill Bergen, 0
2. Al Burch, 1
2. Billy Herman, 1
2. Greg Brock, 1
5. Delino DeShields, 2
6. Phil Lewis, 3
6. Luis Olmo, 3
6. Tommy Griffith, 3
6. Glenn Wright, 3
6. Eddie Murray, 3
All these numbers, and more, can be found at baseball-reference.com.
Next series
Monday, 7 p.m. PT, Minnesota (Bartolo Colon, 2-9, 8.19) at Dodgers (Hyun-jin Ryu, 3-6, 4.21)
Tuesday, 7 p.m. PT, Minnesota (Jose Berrios, 9-3, 3.50) at Dodgers (Kenta Maeda, 8-4, 4.23)
Wednesday, 7 p.m. PT, Minnesota (Ervin Santana, 11-7, 3.26) at Dodgers (Alex Wood, 11-1, 2.17)
Note: Pitchers are subject to change.
And finally
The Yankees are the most hated team in baseball, but the Dodgers aren't far behind. Read all about it here.
Have a comment or something you'd like to see in a future Dodgers newsletter? Email me and follow me on Twitter:@latimeshouston
Twitter: @latimeshouston
---
Get our Dodgers Dugout newsletter for insights, news and much more.
You may occasionally receive promotional content from the Los Angeles Times.