Dodgers mailbag: Should they pursue Tigers ace Justin Verlander?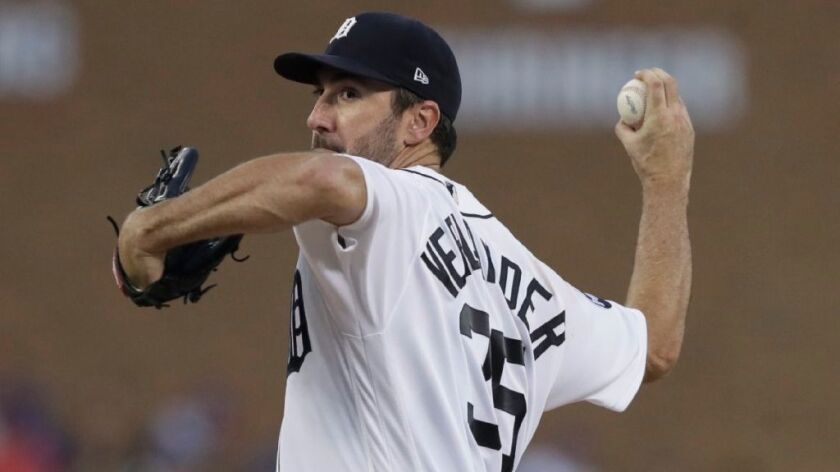 Reporting from chicago —
The Dodgers are 64-29. That translates to a 111-win pace.
I can repeat that again, if you'd like.
64-29.
111 wins.
Yeah.
The Dodgers are playing well. They have won nine in a row, including a sweep of the Marlins over the weekend in Miami. They have won 29 of their last 33. The team has not lost consecutive games since a three-game skid from June 4 to 6. The players get the day off on Monday, followed by two games against the last-place White Sox at Guaranteed Rate Field, a delightfully antiseptic name for a delightfully antiseptic stadium.
Here are the pitching matchups for those two games:
TUESDAY: LHP Clayton Kershaw (14-2, 2.18 ERA) vs. RHP Miguel Gonzalez (4-8, 5.15 ERA)
WEDNESDAY: RHP Kenta Maeda (7-4, 4.38 ERA) vs. LHP Carlos Rodon (1-2, 4.32 ERA)
The July 31 trade deadline is still two weeks away. But the market is already starting to move. On Thursday, the Cubs sent four prospects across the city to acquire White Sox starter Jose Quintana. On Sunday, Washington pried relievers Sean Doolittle and Ryan Madson from Oakland in an attempt to repair its flammable bullpen.
The moves do not exactly put pressure on the Dodgers. They do remove a few useful targets from the market. Questions about the deadline make up a significant portion of this week's mailbag. As always, you can send them to me on Twitter @McCulloughTimes. Let's do this.
I do not think he would make the team significantly better, and I think it would likely require a significant commitment in terms of both prospects and money.
I can expand on my previous, general point.
Justin Verlander would make a lot of sense for the Dodgers if the team required a reliable pitcher who could soak up innings and protect the bullpen from overuse. He would be helpful, theoretically, to a team trying to stay afloat while hoping to win its division. He is usually healthy and usually takes the ball every fifth day.
This is not what the Dodgers need.
The Dodgers are an elite team. They have a double-digit lead in their division. They are on pace for a franchise record in wins. They employ the best pitcher on the planet (Clayton Kershaw), a guy with a 1.56 ERA (Alex Wood) and, in Rich Hill, one of the toughest pitchers to hit in baseball, who has strung together an excellent month. If they want to upgrade their rotation, they need a high-level performer, someone who is definitively better than Brandon McCarthy, their fourth starter.
Is Verlander that player? McCarthy has a lower ERA, a lower FIP, a better strikeout-to-walk ratio, a much lower WHIP. Verlander strikes out more guys and makes a lot more money. The Dodgers owe McCarthy $12 million in 2018. The Tigers owe Verlander $56 million through 2019.
OK, now, obviously, Verlander has a more impressive resume. He won the Cy Young award six years ago. He posted a 2.70 ERA in 12 playoff starts from 2011 to 2014. He was a very good pitcher for a long time. It is unclear if he can replicate that form. He managed to do so last year, but his walk rate has ballooned this year, and he is allowing three men on base every two innings.
To get back to the earlier point: The Dodgers are not thinking about acquiring someone because they need to soak up innings. They want someone to pitch Game 4 of the NLCS and Game 4 of the World Series. Is Verlander a better option than McCarthy? Maybe. You could make an argument either way, but for me, McCarthy has been better in 2017.
Is it worth it to sacrifice the money and prospects to make a marginal improvement, at best? I suppose we'll see. But it doesn't seem like the sort of the move the Dodgers will make.
To quote Dayton Moore: My crystal ball is broken.
The Dodgers are generally considered one of the sport's more active clubs, at least in terms of generating dialogue with other teams. Whether they consummate anything that significantly improves the roster, that I cannot predict. But, probably.
It's possible, but more likely that the team concentrates its resources on acquiring impact relievers. A lot depends on how McCarthy performs over the next two weeks, and whether more impressive starters — Yu Darvish comes to mind — are available than the current crop of guys on the block.
I don't buy the Dodgers making a serious run at Justin Verlander, as previously mentioned.
J.D. Martinez makes sense, but he made a lot more sense before Chris Taylor emerged and Yasiel Puig stabilized. Martinez is probably the best hitter on the market, and other teams have a more acute need for his bat than the Dodgers. Plus, the team is not crazy about his defensive ability. If the Dodgers do pursue an impact bat, keep Andrew McCutchen in mind.
Justin Wilson is definitely a name to remember.
Sonny Gray? He's been ineffective and injured for most of the past two seasons. The cost will be prohibitive. It's a tough one to figure, because he has been pitching better lately, with a 1.33 ERA in his last four starts, and because other teams (Cleveland, Milwaukee) have a more pressing need than the Dodgers.
It's the same argument as Verlander: If it's not a definitive, sizable upgrade, what's the point? It's one of the benefits of maintaining the deepest 40-man roster in baseball.
Marcus Stroman? Jump with both feet into the discussions, if he's even available, but understand that the cost for acquiring a player like Stroman will be quite painful. The same logic applies to St. Louis theoretically putting Carlos Martinez on the market or with Tampa Bay and Chris Archer.
No prospect can be considered untouchable. If Billy Eppler called up Andrew Friedman and offered Mike Trout, I'm sure both Walker Buehler and Alex Verdugo would be available. But Buehler and Verdugo do classify as the team's top prospects — given Yadier Alvarez's relative distance from the majors — so they would be the most difficult for the team to trade.
The only one that comes to mind is the three-team swap with the Reds and the White Sox, because they lost Scott Schebler. And even then, Schebler isn't an All-Star, and the Dodgers did use Frankie Montas to acquire Josh Reddick and Rich Hill. And the jury is still out on Trayce Thompson, who has shown encouraging flashes in his two years as a Dodger.
This front office has whiffed on some free agents — Scott Kazmir and the second go-round with Brett Anderson (bless Brett's heart, a very nice man) did not work out — but they've generally done well in trades.
Possibly.
No. I miss my friends in New York, but I like my current employers very much. I hope they are reading!
To my understanding, his fielding is not reliable enough to say that. It could improve, of course, but there was a reason the team liked having multiple years of control for Logan Forsythe, despite Calhoun's impressive numbers at the plate in the minors.
Sure, it's possible. He might not be playing for the Dodgers, though. Even if he was still on the Dodgers, there aren't many spare at-bats to go around.
Adrian Gonzalez outlined his approach for the final months of the season in a conversation with Dylan Hernandez before the break. Gonzalez will have to accept a reduced role. He can force his way onto the roster — and the team wants him to be healthy and productive for the final months of the season — but I can't see him taking that many at-bats from Cody Bellinger. Gonzalez, as Dylan wrote, has made peace with this.
Brock Stewart will remain a reliever, Dave Roberts has said on multiple occasions. The team believes Stewart can help them as a long reliever, but also could handle higher-leverage situations later in the season. I figure Stewart will stretch back out at the start of 2018.
It's an interesting conundrum with pitchers like Stewart and Ross Stripling. You could argue that both would be better starters than Kenta Maeda and Hyun-Jin Ryu, but they have minor-league options and the ability to be flexible, so they have a less traditional role.
No. I watched the first three seasons, but lost interest. I don't watch much TV.
I buy my jeans from Levi's and The Gap. I do not know why I am answering this question.
We don't have many rules in this Mailbag, but this is one: No creeps allowed.
Enough to fill a closet.
Here is a hot take: Yes.
I'm a couple weeks out of the loop, but coming out of Dominion and the Long Beach shows, I recall Dave Meltzer saying it looked like it would be Tetsuya Naito. I could be wrong about that, obviously. I am not in regular contact with Gedo. I'm not a booker, but it seems like the move would be to set up Omega v. Okada III for the Tokyo Dome in January.
I donated some money to the local economy playing $2 to $5 no-limit hold 'em at the Seminole Hard Rock.
No, but I realized how intense my poker nerd-dom is when I was walking through the Rio about 1 a.m. to register for the next day's tournament and I said to myself, "Whoa, that's Rami Boukai." The same principle applies to similar reactions later in the trip: When I saw Sam Phillips registering for the $1,100 bounty tournament at the Venetian; when I watched Mohsin Charania disgustedly leave the Rio; when Dominik Nitsche stormed past me speaking rapid-fire German; and, of course, when I noticed I was using the urinal next to Pierre Neuville. It was a good trip.
Twitter: @McCulloughTimes
---
Get our Dodgers Dugout newsletter for insights, news and much more.
You may occasionally receive promotional content from the Los Angeles Times.