Column: Dodgers' Adrian Gonzalez might not play until September, but whatever happens, he's at peace with it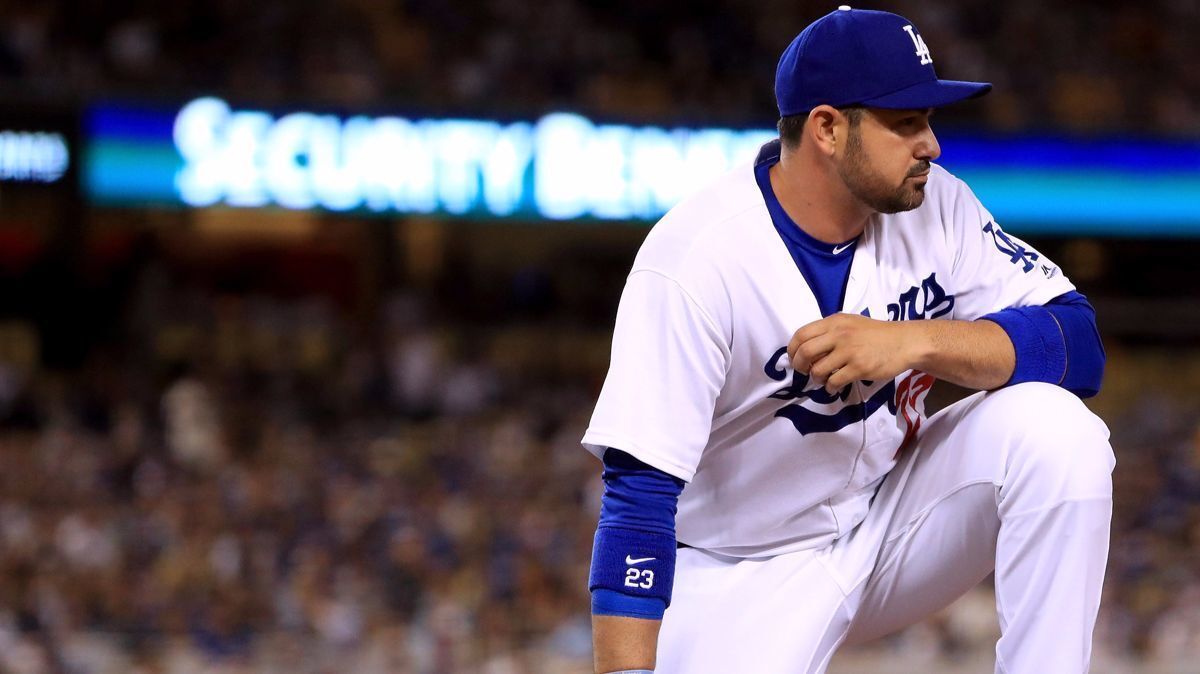 Adrian Gonzalez sighed.
"We have some hypotheticals," he said of current plans to rehabilitate the herniated disks in his back.
He sounded uncertain.
"We're being cautious," he added.
Gonzalez has played in only 49 of the Dodgers' 84 games. He has been on the disabled list for the last three weeks and is expected to remain sidelined until mid-August.
The 35-year-old conceded what many people already knew: His regular season is lost. Whatever he does between now and Game 162 is to prepare for the playoffs.
"I guess a young guy might be worried about, like, 'I need to get back to put up numbers,'" Gonzalez said. "I could care less about numbers. At this point in my career, I just want to have fun, I just want to enjoy being around the guys and win games. I don't think there's any other reason to play the game other than to win."
What was most striking about listening to Gonzalez was how remarkably well-adjusted he sounded in relating to his new circumstances.
Many athletes of Gonzalez's caliber don't age with grace. The determination and stubbornness that help vault them to stardom can prevent them from accepting they are in decline. And Gonzalez is about as competitive as they come. He played an average of 159 games over the previous 11 seasons in establishing himself as one of the game's most reliable performers.
"You're not trying to impress anybody," Gonzalez said. "You feel confident in what you've done and who you are."
Gonzalez is a five-time All-Star and a four-time Gold Glove winner. He has more than 300 home runs and close to 1,200 runs batted in.
"I know that if I'm healthy, I can go out and do really good things on the field," he said. "If I'm not, I can't."
His self-awareness spared rookie Cody Bellinger a return to the minor leagues.
This was back in early May, when the Dodgers were heading into a series against the Padres in San Diego. With Joc Pederson returning from the DL, the Dodgers were planning to option Bellinger to triple A.
Gonzalez intervened.
"The way I was feeling at the time, I told them straight up, 'He's a better guy to help the team win than me hurt,'" Gonzalez said.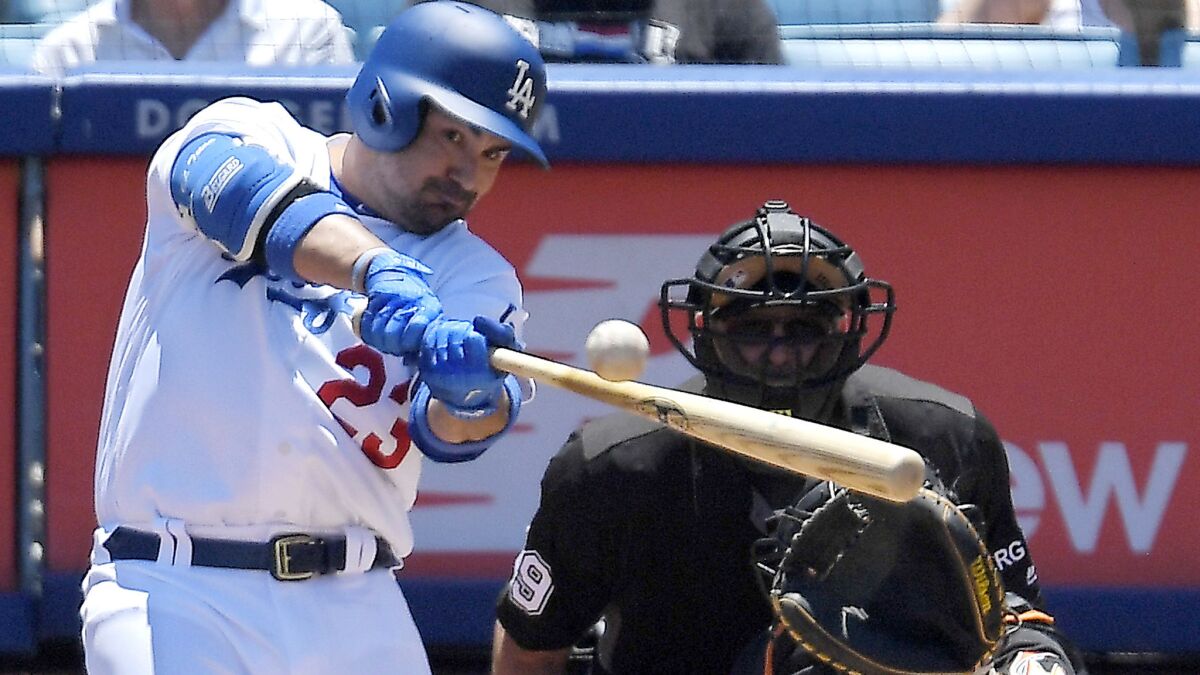 He's one of our team leaders. He's very unselfish.
— Dodgers manger Dave Roberts on Adrian Gonzalez
Gonzalez landed on the disabled list for the first time in his career.
"He's one of our team leaders," manager Dave Roberts said. "He's very unselfish."
Gonzalez returned two weeks later, only to land on the DL again by mid-June.
Bellinger can play in the outfield, but, like Gonzalez, he is a natural first baseman. Gonzalez said he isn't threatened by the emergence of the young All-Star. He said Bellinger's presence actually made it easier for him to go to the DL.
"People try to make it seem like it was harder," Gonzalez said. "I'm not worried about my position. There's a big misconception that people have that we have this competition or that we have this pride, like, 'Oh, no, it's my position.'
"I mean, I'm just here to win. It's not about, 'It's my position,' or, 'It's his position.' It's about winning as a team. If he's the best guy for the team that day, he's going to play. If I'm the best guy for the team that day, I'm going to play."
Or, because of Bellinger's versatility, they both can play.
"It's not a him-or-me type of deal," Gonzalez said.
Gonzalez has only one home run in 182 plate appearances this season, but the Dodgers lineup would be most imposing with a healthy Gonzalez at first base and Bellinger in left field. Other than maybe Justin Turner, is there another player the team would rather have at the plate in the postseason with a runner on third base? Three seasons ago, Gonzalez led the majors in runs batted in.
Gonzalez said he will play in September, regardless of how his recovery unfolds over the next several weeks.
"There should be no question marks," he said. "Put it this way: Even if I'm not quote-unquote 100%, I'm still going to go in September because what I have is what I have. If it doesn't get better with all this time off, it's not going to get better, so I might as well learn to play with medication."
If his body can't withstand starting, Gonzalez said he would be open to being a pinch-hitting specialist.
"I'll definitely be ready for that if that needed to be the case," he said.
The transition from playing nine innings to pinch-hitting is said to be particularly difficult. "I know there's guys who can really do it and guys who can't," Gonzalez said, "but I think I've had enough at-bats in my career that I can have a good at-bat."
He chuckled.
"I can go hit right now and I'm sure I can have a good at-bat right now, bad back and all," he added.
Gonzalez isn't as sure about his long-term future. He plans to dedicate the upcoming winter to strengthening the back that has troubled him over the last two seasons. He is optimistic he can play pain-free again, but said he would consider retiring at the end of next season if his condition doesn't improve.
Gonzalez is under contract for $21.5 million next year, the final year of his seven-year, $154-million deal.
I love playing the game, but I don't need this game.
— Adrian Gonzalez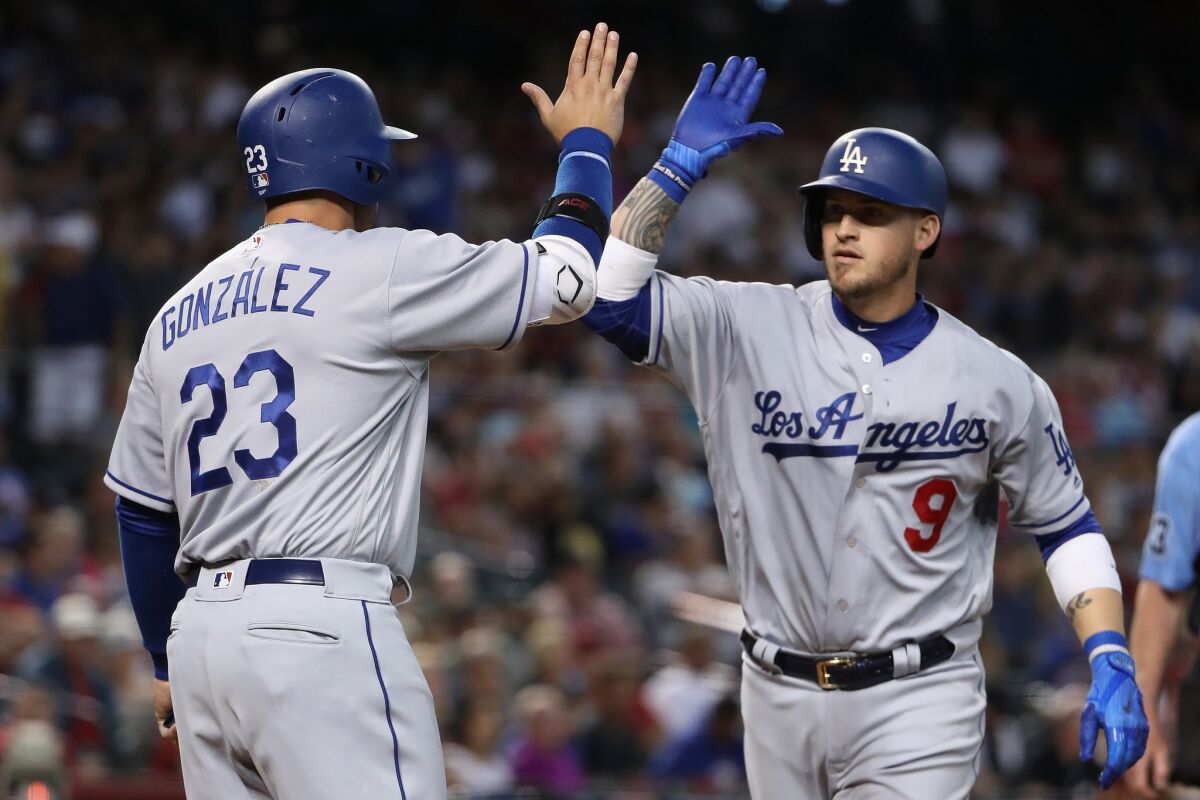 "I love playing this game, but I don't need this game," he said. "I feel a lot of people hang on too long because they need it, it's who they are, it's their identity. It's not my identity. I love playing it. I love being around the guys. I love playing the game. I love the competition. I love the chess match and everything that goes with it. But it's not who I am. The game doesn't define me."
What does?
"Faith, family," he said.
And that could stop him from extending his career in a significantly reduced role.
"I don't know if I would want to sign a contract as a pinch-hit guy," he said. "I don't know if I would want to spend all that time away from my family for one at-bat a day or one at-bat every two days."
But he isn't looking that far ahead. He is trying to take everything in, enjoying what baseball offers him at this stage of his life.
"It's a different perspective," he said. "You enjoy the game. You're not worried about all the other things that a young kid would worry about. I'm not trying to make it to an All-Star game, I'm not trying to win a Gold Glove. I'm just trying to have fun. I'm just trying to help the team win."
He smiled.
In his longstanding quest to help deliver the Dodgers' first World Series in nearly three decades, Gonzalez has found something few athletes of his stature find.
He's found peace.
Follow Dylan Hernandez on Twitter @dylanohernandez
Get our high school sports newsletter
Prep Rally is devoted to the SoCal high school sports experience, bringing you scores, stories and a behind-the-scenes look at what makes prep sports so popular.
You may occasionally receive promotional content from the Los Angeles Times.