Column: What we learned in the NHL: An especially bad time for owner's threat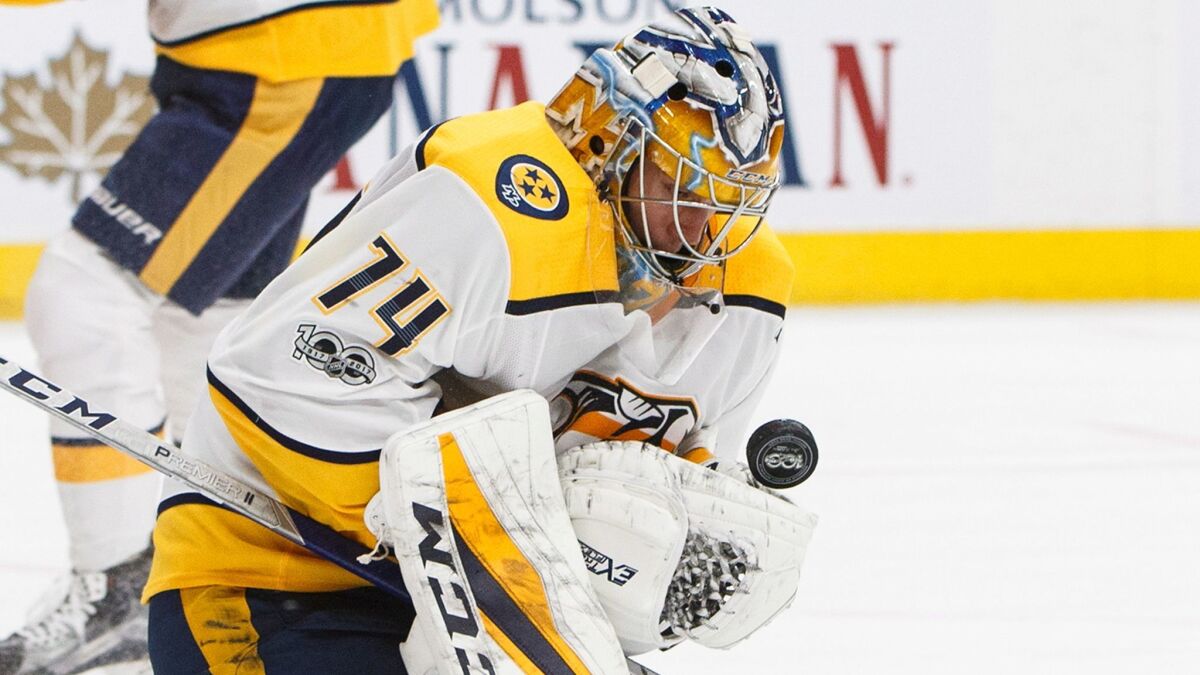 What we learned over the last week of play in the NHL:
Senators' owner kills buzz at own party
There's never a good time for an owner to threaten fans that he might move his team, but Ottawa's Eugene Melnyk chose a particularly bad moment to discuss that possibility. On Friday, a day before the Senators played host to the Montreal Canadiens in the NHL 100 Classic as part of the league's centennial celebrations, Melnyk hinted he might relocate the franchise. "If it becomes a disaster, yes. If you start not seeing crowds showing up," he said. "If it doesn't look good here, it could look very, very nice somewhere else, but I'm not suggesting that right now." He also said the market "has to prove itself," and implied he'd cut payroll. After not selling out several playoff games last spring, the Senators blocked off 1,500 upper-bowl seats at Canadian Tire Centre this season. Excluding Saturday's outdoor game at Lansdowne Park, the Senators' average announced attendance through 15 home games is 15,282, which is 88% of capacity. Fans understandably were upset by Melnyk's remarks, which overshadowed the Senators' 3-0 victory in frigid outdoor conditions.
Preying on opponents
The Nashville Predators' sweep in a trip to Vancouver, Edmonton and Calgary vaulted them back atop the West. They outscored the Canucks, Oilers and Flames by a cumulative 13-1 and capped the trip with a 46-save shutout by Juuse Saros at Edmonton on Thursday and a 32-save shutout by Pekka Rinne on Saturday. The Predators are 6-0-1 in December and, over the longer term, 11-1-2. And standout defenseman Ryan Ellis, who underwent knee surgery last June, resumed practicing with the team and might return in a few weeks.
Capital revival
The Washington Capitals have hit stride after a 5-6-1 start. They've won three straight, eight of their last 10, and grabbed the top spot in the Metropolitan division. Two key factors: Nicklas Backstrom, who went 21 games without a goal, has scored four goals in his last six games. And Alex Ovechkin, renowned for his power-play production, is finding the net at even strength, too. He has 17 even-strength goals, one more than he scored all last season. With 23 total goals, he shares the NHL lead with Tampa Bay's Nikita Kucherov.
Lightning strikes again
Tampa Bay extended its winning streak to seven and regained the NHL points lead at 50. But its depth will be tested while winger Ryan Callahan recovers from an upper-body injury. He's projected to miss three to four weeks. "He's a big loss because he's kind of a heart and soul guy for our team," coach Jon Cooper told the Tampa Bay Times.
To the second century, and beyond
Tuesday marks the 100th anniversary of the NHL's first games. The Montreal Wanderers defeated the Toronto Arenas, 10-9, and the Montreal Canadiens defeated the (original) Ottawa Senators, 7-4, on Dec. 19, 1917. The Arenas went on to win the Stanley Cup. By comparison, the Maple Leafs' last title in 1967 seems recent.
Follow Helene Elliott on Twitter @helenenothelen
---
Get the latest on L.A.'s teams in the daily Sports Report newsletter.
You may occasionally receive promotional content from the Los Angeles Times.