A-Rod still hitting homers, even if Yankees don't want to pay for them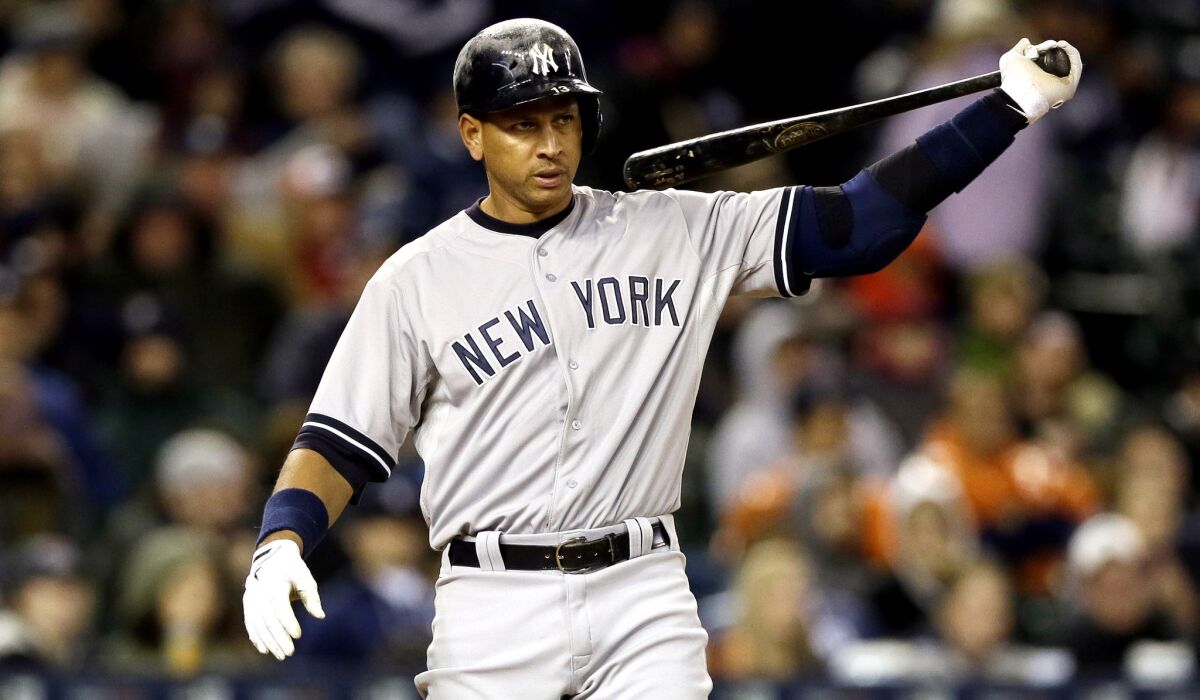 Josh Hamilton could help the Angels win this year. No doubt about it, certainly not from Angels Manager Mike Scioscia or the players.
Owner Arte Moreno banished Hamilton anyway. The New York Yankees decided to let Alex Rodriguez hit home runs for them, even if they threaten not to pay him as promised for the milestone home runs.
Rodriguez has hit four homers so far; Mark Teixeira is his only teammate with more. And Rodriguez led the American League in walks and ranked ninth in OPS through Friday's games, not bad for a 39-year-old who had played 44 games two years ago and none last year.
The Yankees' threat not to pay Rodriguez his milestone bonuses — starting with the $6 million he is due with two more home runs, to tie Willie Mays at 660 — is comical. Rodriguez should say to the Yankees what the Dodgers say to Time Warner Cable: we delivered on our end of the bargain, and it's not our problem if you can't get the marketing done.
Rodriguez is doing his job. He hits home runs. The Yankees whisper that the milestone home runs no longer are marketable achievements because Rodriguez's popularity dimmed after his yearlong suspension as a drug cheat. Too bad, Yankees.
Interestingly enough, here comes a national referendum on Rodriguez's popularity. The Yankees might not publicize the home runs he hit, but they did submit his name for All-Star consideration. When All-Star game ballots are unveiled this week, Rodriguez will be the Yankees' nominee at designated hitter.
Why not vote A-Rod? David Ortiz is batting .211. With Pete Rose sure to steal the spotlight at Cincinnati's All-Star game, A-Rod would not even be the biggest rogue there.
Hate 'em, love 'em
Baseball's villains of the week: the Kansas City Royals, who had nine ejections in a six-game stretch through Thursday. The Royals, who captured America's hearts with their improbable run to the World Series last year, now have America's fans Photoshopping their faces onto the bodies of professional wrestlers.
But the trend is less about the Royals and more about Yordano Ventura, their emerging ace and volatile 23-year-old. Ventura left his first two starts because of cramping — the second after jawing at the Angels' Mike Trout — and his subsequent two starts because of ejection. On Saturday, he was suspended for seven games.
The game log for Ventura's season, from Sam Mellinger of the Kansas City Star: "Violent cramp, normal cramp (and taunt of game's best player), ejection, ejection."
Baseball's darlings of the week: the New York Mets. The 11-game winning streak was nice, but it is not the streak (which ended Friday) that tells you this might be the Mets' year.
It is the sight of the rotund Bartolo Colon, locating what is left of his fastball with precision when he is pitching and making us laugh when he is not. At bat, Colon connected for a run-scoring single — his first RBI in 10 years — with his front foot in the bucket, his helmet falling off and a goofy grin as he made contact.
Colon is kindly listed at 5 feet 11 and 285 pounds. He is 41. And yet there he was on Thursday, catching the Atlanta Braves' A.J. Pierzynski off first base and running him down, all by himself. You can score it caught stealing — 1U — and you certainly can hang a star on Colon.
Now pitching?
It appeared to be comic relief. With the Angels blowing out the Oakland Athletics last Tuesday, 14-1, first baseman Ike Davis emerged from the bullpen to pitch the final inning.
No joke. He retired the Angels in order, on nine pitches, getting three ground balls. His fastball was clocked at 87-88 mph, and he said afterward that he wasn't throwing as hard as he could so he would not wake up the next day with a throbbing elbow.
Davis also said the Dodgers had wanted to draft him as a pitcher out of high school. True story, said Logan White, then the Dodgers' scouting director and now an advisor to San Diego Padres General Manager A.J. Preller.
"I always thought he was a pitcher," White said. "I felt he had a little length in his swing, and he wouldn't hit as well as you'd hope."
If Davis had not been steadfast in his commitment to Arizona State, White said he might well have spent a high draft pick on him. And it might well have been worth it: The only productive player the Dodgers got out of the 2005 draft was Scott Van Slyke, their 14th-round pick, now a part-time outfielder.
Davis, in his sixth season in the major leagues, has 79 home runs and a career batting average of .243.
"He's had a pretty good career," White said.
Power ball
The Angels make their first visit to Oakland this week, and to a stadium the A's had hoped to abandon long ago. The A's are in a holding pattern now, waiting for the Raiders to decide whether to stay in Oakland or move back to Los Angeles.
The odds favor the latter. The developer charged with putting the Raiders deal together in Oakland has not demonstrated he can develop or finance any substantial project, but he has spent time debating fans on Twitter and insulting the NFL's point man on the stadium issue.
The Golden State Warriors, who play in an arena next door to the Oakland Coliseum, already have packed their bags for San Francisco. If the Raiders flee the Coliseum, that would make the A's the lone team left in Oakland.
This is the kind of leverage sports leagues love to have. Over the last decade, the A's have proposed new ballparks in Oakland, Fremont and San Jose, promising all the while to pay for the park. The A's would rather move to San Jose, but Commissioner Rob Manfred would prefer they stay in Oakland — yeah, with a little public money.
"We've had a long tradition of loyalty to fans in our markets," Manfred said. "They put a lot into the game, and we want to remain loyal to them, but those markets also have to participate in providing the kind of facilities necessary to keep a Major League Baseball team."
Twitter: @BillShaikin
---
Get our high school sports newsletter
Prep Rally is devoted to the SoCal high school sports experience, bringing you scores, stories and a behind-the-scenes look at what makes prep sports so popular.
You may occasionally receive promotional content from the Los Angeles Times.