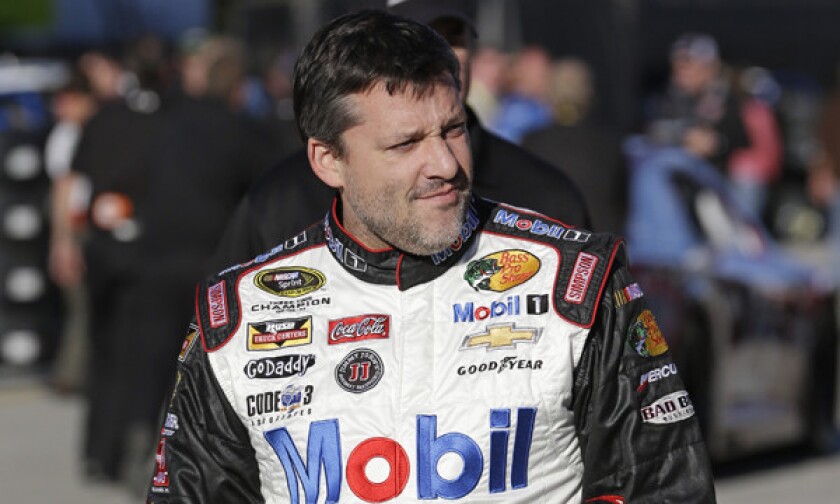 One moment NASCAR's Tony Stewart was doing what he loves, racing a high-powered sprint car at a small dirt track on a summer night, and the next moment his right leg was shattered.
Stewart crashed at full speed into a stalled car in Oskaloosa, Iowa, on Aug. 5. The injury was so gruesome that Stewart later said he "damned near passed out at every doctor visit" when the leg was examined.
Despite being one of NASCAR's biggest stars, and a co-owner of a team, Stewart also raced the smaller sprint cars at short tracks nationwide for the sheer joy of it.
But the Iowa crash abruptly ended his season and required Stewart to undergo three surgeries and months of physical therapy.
Now Stewart is ready to return when the NASCAR Sprint Cup Series season opens Feb. 23 with the Daytona 500.
"I don't know how we could be more prepared," Stewart, a three-time Cup champion, told reporters at media day Thursday at Daytona International Speedway. "I'm excited about it."
First, though, Stewart drove Saturday night in NASCAR's Sprint Unlimited event, an exhibition race at Daytona, and was collected in a multi-car wreck that badly damaged his No. 14 Chevrolet. But Stewart climbed from the car unhurt and said his leg felt fine.
And on Sunday, Stewart and the other Cup drivers will qualify for the front two spots of the 43-car Daytona 500 field. The remaining starting spots will be determined in two qualifying races Thursday.
Fans are waiting to see how the thinner Stewart, who weighs 182 pounds, will hold up once he races again. At 42, he's also among the oldest of NASCAR's marquee drivers. Others include Greg Biffle (44) and Matt Kenseth (41).
But some Cup drivers predicted Stewart would quickly return to his old form.
"He's going to be the same old Tony, like we never missed him," Kurt Busch, who this year joined Stewart's team, Stewart-Haas Racing, told reporters at media day.
At the same gathering, driver Clint Bowyer, when asked whether Stewart would be as good as before, quipped "I hope not. I hope it slowed him down, just a couple tenths [of a second]."
And the gambling site BetUS last week pegged Stewart a 12-1 choice to win his fourth Cup title this year, behind only six other drivers, including reigning champion Jimmie Johnson.
While debilitating injuries are more common in other sports, there isn't much precedent in NASCAR for Stewart's six-month layoff. His penchant for racing sprint cars in addition to driving in the Cup series is an anomaly among NASCAR drivers, and NASCAR safety advances have helped protect its drivers in many big crashes.
In the IndyCar racing series, driver Will Power of Team Penske sat out much of the 2009 season after suffering a broken back in a practice crash. But he won the first two races of the next season.
"It surprised me how easy it came back together," Power said last week during a test session at Fontana, adding that with Stewart, "I think he'll be fine."
This is Stewart's 16th season in the Cup series. He has 48 Cup victories and earned titles in 2002, 2005 and 2011.
But he has never won the Daytona 500, NASCAR's crown-jewel race.
Nicknamed "Smoke," Stewart also is among NASCAR's most popular drivers, partly because he's an exception to the notion that too many NASCAR drivers, conscious of protecting their valuable sponsorships, are publicly bland.
Stewart is outspoken, brash and temperamental, and his fans love it. He has clashed with other drivers, the media, even NASCAR.
Stewart also nurtures an "us-against-them" theme that makes his followers feel set apart. He once dedicated a victory to "every one of those fans in the stands that pulls for me every week and take all the bull from everybody else."
Yet, no one in NASCAR is more concerned about keeping his sponsors happy than Stewart because he co-owns his team with Gene Haas, head of Haas Automation, a maker of machine-tool equipment based in Oxnard.
And what makes Stewart's comeback this year more notable is that he's also juggling major changes at Stewart-Haas.
A three-car team last year with Stewart, Danica Patrick and Ryan Newman, the team parted ways with Newman after announcing plans to bring aboard Kevin Harvick, who had more confirmed sponsorship.
Stewart said at the time his team couldn't also keep Newman and expand to four cars. But while Stewart was recuperating from his crash, Haas, using his company as a sponsor, recruited 2004 Cup champion Kurt Busch to make it a four-driver team.
At the media tour last month, Stewart acknowledged that all four drivers have "alpha personalities" and there's widespread curiosity to see if they'll get along as teammates.
But Stewart told reporters that while "the majority of you guys are leaning on that angle of, 'It's got a great opportunity to be a disaster,' we look at it as a great opportunity to be a huge positive. We're a great support system for each other."
Stewart said the broken bones in his leg would be only 65% healed by the Daytona 500, but doctors put a titanium rod in his leg for added strength.
He'll need it for the 200-lap race, where drivers seldom take their right foot off the gas around the high-banked, 2.5-mile speedway.
It's also a track where multi-car crashes are not uncommon because the cars run close together, and there's apprehension about how well Stewart would endure another accident.
But late Friday, after taking his first laps around Daytona in practice for the Sprint Unlimited race, Stewart told the media he felt "zero percentage of pain in the car."
"That was better than I was hoping for," he said. "It was like putting on an old pair of shoes again."
Twitter: @PeltzLATimes
---