From Cubs to Red Sox, a dream trip for Ryan Dempster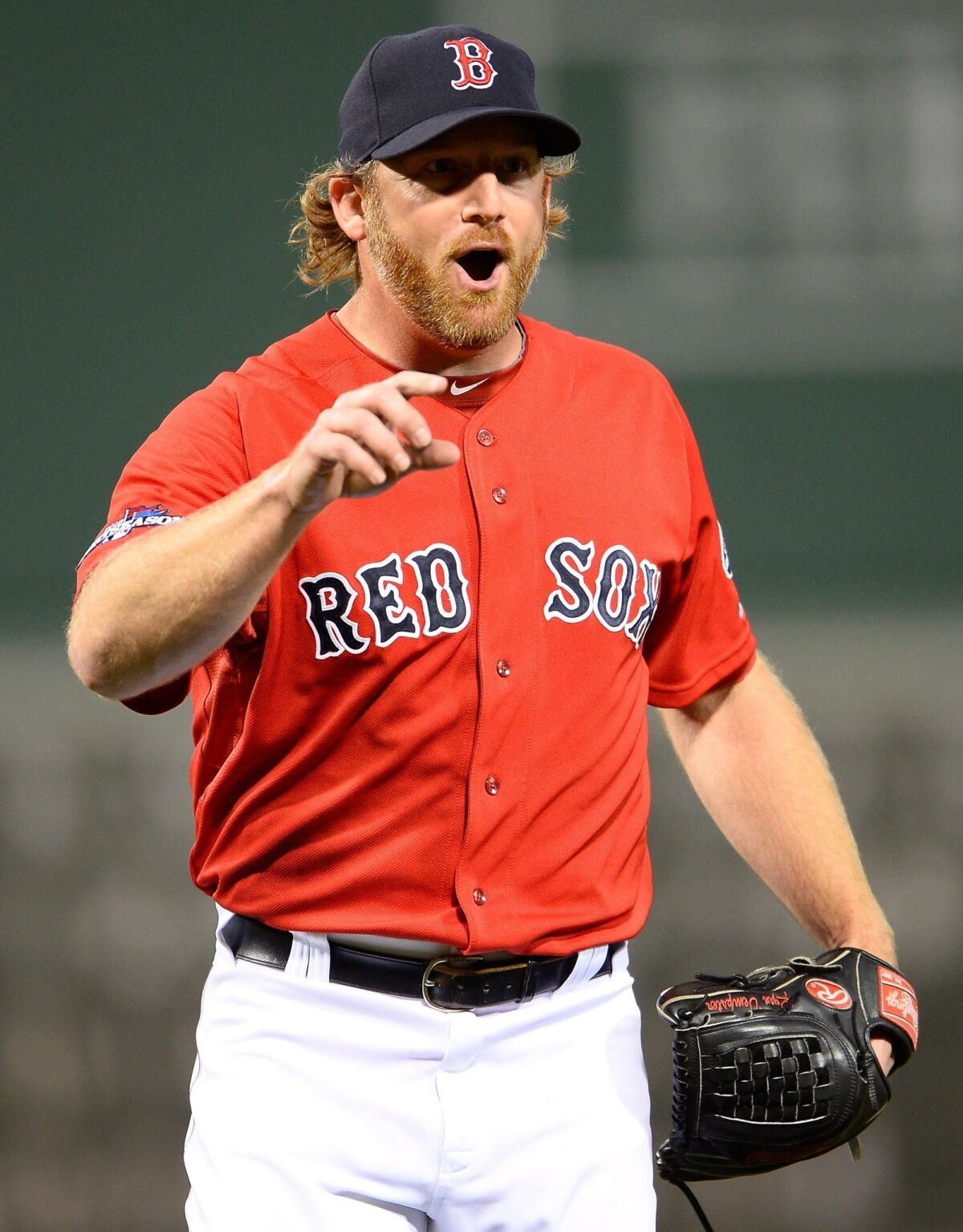 BOSTON — Ryan Dempster spent nine seasons riding the Chicago Cubs' roller coaster, experiencing just about everything one could imagine in a baseball life.
During his time in a Cubs uniform, Dempster played for four managers, from Dusty Baker to Dale Sveum, and once broke his right big toe while jumping over the home dugout railing celebrating a win.
He returned from Tommy John surgery in time for the final two months of the 2004 collapse, and endured a 96-loss season in 2006 that led to the departure of president Andy MacPhail and Baker. He closed for the 2007 division winner, then became a starter and made the All-Star team on another division winner in '08, only to implode in the opening game.
He had an up-close view of the Milton Bradley-fueled crash of '09, helped Mike Quade get hired in 2010, and led a team rebellion against Quade in '11. In his final year in 2012, Dempster was flipped to Texas for prospects at the trade deadline, after trying to get President Theo Epstein to send him to the Dodgers.
After almost a decade of Cubby Occurrences, Dempster wound up signing a two-year deal last winter with a 93-loss Boston team that wasn't expected to compete in the American League East.
But there he was late Saturday night at Fenway Park, celebrating on the field with his son tugging his shirt, heading to the World Series for the first time in his 16-year career.
Who knew?
"We did," Dempster said. "That's the nice part. The 25-guys plus, and the coaches and everybody thought this was possible, and we've got more to do. We've got a lot of hard work to do and a great team ahead of us. We just played a great team. We're ready to go."
After going 8-9 with a 4.57 earned-run average in 32 games, Dempster was the odd man out in the Boston rotation, moving to the bullpen in late September and making only two scoreless appearances in the playoffs.
But the demotion hasn't detracted from his Boston experience, and Dempster knows he made the right move, choosing the Red Sox over Milwaukee and Kansas City.
"It's been good here," he said. "I feel like I had a consistent year. I battled through some stuff the middle of the year and tried to get that under control. I felt like for the most part, 95% of the time I went out there I gave us a good chance to win. Just try to do my part, do whatever they ask me.
"Now I'm going out in the bullpen in the playoffs, and whenever they say my name I'll just try and get outs. We had five guys throwing the ball really well and I had experience out of the bullpen, so it made the most sense."
Dempster's role in the Red Sox clubhouse is similar to one he held in Chicago, serving as the resident cut-up, in the tradition of his close friend, former Red Sox outfielder Kevin Millar. But the one moment he'll never be forgotten for occurred in a game on Aug. 18, when Dempster hit Yankees third baseman Alex Rodriguez at Fenway after A-Rod returned to the lineup while appealing his 211-game suspension for his role in the performance-enhancing drug scandal known as Biogenesis.
"That?" Dempster said with straight face. "Oh, I already forgot about it."
Dempster didn't just take one for the team. He took one for the rest of the players fed up with A-Rod's perceived arrogance regarding PED use.
While he still maintains the plunking was accidental, Dempster acknowledged receiving "tons of texts" from people around the game after the incident, which earned him a five-game suspension.
What kind of response did he receive?
"Everything," he said. "Good, bad, indifferent. . . . It was just one incident. It was funny though, at the time I remember going to New York and one reporter asked me, 'Ever since you hit Alex, the Yankees have the second best record in baseball.' I said, 'Oh, who has the best record?' He said, 'Well, you guys.'"
That moment will always be an indelible part of this crazy Red Sox season, like it or not. And whether Dempster plays a significant role in a postseason game or continues to be a spare part in the bullpen, he's finally where he wants to be, playing in his first World Series after 15 seasons.
"What a feeling, man," he said Saturday night, holding the American League championship trophy as his son, Brady, tugged at his jersey. "It's real surreal.
"We worked really hard all year and it's been an incredible team of everybody taking a turn, whether it's a starting pitcher, a middle reliever, a closer, a guy off the bench. . . . Somebody else steps up every night. It got us to where we are, and we've got four more wins to go."
Twitter @PWSullivan
---
Get our high school sports newsletter
Prep Rally is devoted to the SoCal high school sports experience, bringing you scores, stories and a behind-the-scenes look at what makes prep sports so popular.
You may occasionally receive promotional content from the Los Angeles Times.