Angels' Albert Pujols is confident about returning to form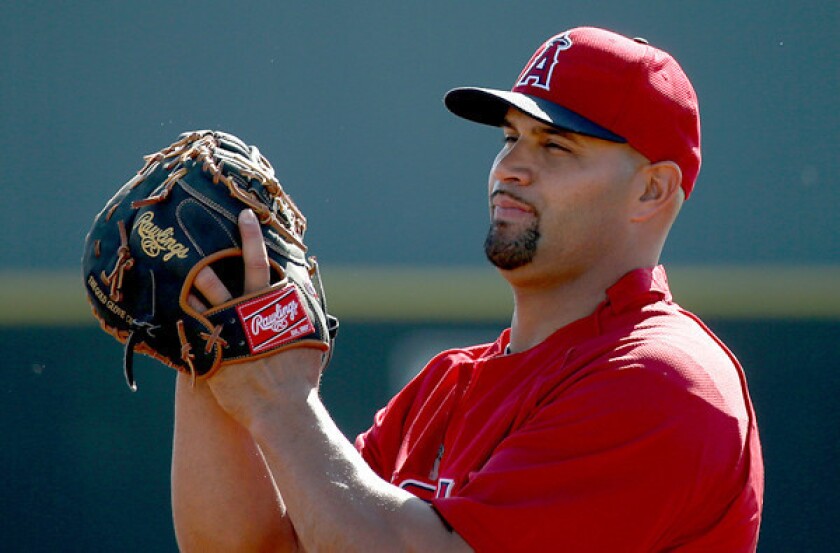 TEMPE, Ariz. -- The Angels might be all about Mike Trout this and Mike Trout that, but Albert Pujols scoffed at the suggestion that he might be motivated by all that Trout has accomplished.
"I don't need to compare with anybody, buddy," Pujols said Sunday. "Just look at my numbers. My job is to stay healthy and go out there and play. I don't need anybody to motivate me to play this game."
The Angels plan to bat Trout second and Pujols third, the keys to an offense that could be formidable if Pujols resembles his St. Louis self. In 11 years with the Cardinals, Pujols was the National League most valuable player three times.
"I want to stay healthy and play every day," he said. "The numbers are going to be there at the end, because I know how to hit."
In 2012, his first season with the Angels, Pujols hit .285 with 30 home runs despite hitting no home runs in April and one in September. In 2013, his season was hampered, and eventually cut short, by a foot injury. He played a career-low 99 games, 65 at designated hitter.
Pujols looked agile at first base in the first inning Sunday, scampering down the foul line to catch a pop fly for the first out and snaring a line drive for the third out.
"He's moving as well as he has in four or five years," Angels Manager Mike Scioscia said.
Pujols said he has no particular number of games he wants to play at first base this season, but he said he would not object when Scioscia wants to rest him.
"If I need a day as a DH, I'll take it," Pujols said. "If I need a day off, I'll take a day off.
"I wish I would have done that earlier in my career. ... I was trying to be that super man and play 162 games. Obviously, that cost me the last couple of years. If I feel good, you're going to see me out there every day. My job is to be in the lineup, to help this organization win. I'm going to do whatever it takes to do that, whether it's at first base or as a DH or taking a day off here and there."
Joe Blanton is fighting for a spot
As the Angels identify their starting rotation, Joe Blanton is on the outside looking in.
If he pitches well this spring and the Angels still like their starting five, they might be able to trade him. If he does not pitch well, they might have to release him.
With scouts from other teams in attendance Sunday, Blanton got off to a rough start in his Cactus League debut. He entered the game in the fifth inning and gave up hits to the first three batters he faced, including a two-run double that gave the Oakland Athletics their final runs in a 3-2 victory over the Angels.
Blanton rebounded to retire seven of the final eight batters he faced. He pitched 21/3 innings, giving up two runs, three hits and one walk. He struck out two.
Scioscia said Blanton "missed some spots" to those first three batters — singles by Jed Lowrie and Josh Donaldson, and a double by Yoenis Cespedes. But Scioscia called the entirety of the outing "a step forward for him," citing the addition of some deception in Blanton's delivery.
"He's hiding the ball a little better," Scioscia said. "He's working hard to get back to where he needs to be."
Blanton, 33, has pitched almost exclusively as a starter since 2005, his first full season in the majors. Scioscia has said the Angels might not carry a long reliever, so Blanton might not make the team if he cannot crack the starting rotation.
He was 2-14 with a 6.04 earned-run average last season, his first with the Angels. They owe him $8.5 million — $7.5 million in salary this year, plus $1 million to buy out his option next year.
Twitter: @BillShaikin
---
Get the latest on L.A.'s teams in the daily Sports Report newsletter.
You may occasionally receive promotional content from the Los Angeles Times.