LeBron James and Lakers reclaim control of series with Game 3 rout of Warriors
It was a slow start for LeBron James, but he kept grinding and grinding, eventually his play building and sending the fans at Crypto.com Arena into a frenzy.
James was the leader the Lakers needed him to be against the Golden State Warriors, and Anthony Davis and the rest of his teammates followed him.
One moment James was chasing down a loose ball, leaping over courtside fans, flying into the stands. Another moment he was barreling down the court for a layup on the fast break. At other times he was emphatically blocking a shot and scoring on layup by doing a 360-degree spin around two would-be defenders.
James was all encompassing for the Lakers as they ran over the Warriors 127-97 on Saturday night in Game 3 of the best-of-seven Western Conference semifinals series the Lakers lead 2-1. Game 4 is Monday night at Crypto.com Arena.
Davis redeemed himself in Game 3. His 25 points on seven-for-10 shooting and 11 of 12 free throws, 13 rebounds and four blocked shots were a much better outcome than his 11 points and seven rebounds in Game 2.
James' brilliance left him two rebounds and two assists shy of a triple-double, the 21 points, eight rebounds and eight assists enough for the Lakers to regain control of the series. He was dominant and efficient, going six for 11 from the field, two for four on three-pointers and seven for eight at the line.
LeBron James, Anthony Davis and their Lakers teammates were about focus and resiliency in routing Golden State in Game 3 to take a 2-1 series lead.
James didn't take a shot in the first quarter. He didn't feel he needed to the way D'Angelo Russell was shooting en route to 21 first-half points.
"Obviously you see the way D-Lo started the game. I think he had our first 11 and then AD chipped in I think seven in that quarter, so it allowed me to kind of focus on the glass," James said. "Also, I had a few assists in that first quarter. Wasn't how the game was played, but that was just how the game was going. And for me I'm never a force guy. I've always been a guy, I let the game come to me and make my imprint when needed."
Still, James was a factor from the start, posting five assists before he took a shot.
His first points arrived with 6:32 left in the second quarter on two free throws. His first basket arrived with 5:22 left in the half on a layup.
"Him putting in that effort just to do the little things," coach Darvin Ham said. "You see a guy like that in Year 20. ... Obviously first-ballot Hall of Fame, top-five dead or alive ever to play in the NBA. To see him doing the little things like that, just his screening, him pushing the pace, him finding his teammates, defending, rebounding, it makes it easy to get these other guys to do it."
James had lots of help, five teammates scoring in double figures as the Lakers led by as many as 34 after trailing by seven following the first quarter.
The goal before the game was to "just to feed" Davis "the ball relentlessly," Ham said, and "have him be assertive and aggressive."
The Lakers went to Davis from the start, throwing him the ball in the post. But as he has done his entire career, Davis didn't force the action. Instead, he passed out to Russell, who struck first with a three-pointer.
Davis' first two points were earned from the free-throw line, after he was fouled with a blow to the head by Draymond Green, knocking the Lakers center to the court and leaving him down holding his head.
Pictures: The Lakers and Anthony Davis retake control of the NBA Western Conference semifinal series Saturday by routing the Warriors in Game 3.
Davis outplayed Green, who had been key to the Warriors evening the series with a similar romp in Game 2. But on Saturday he was never a defensive factor, picking up two fouls in the third quarter, giving him five with 6:54 left in the period and a seat on the bench
Then there was Russell getting the Lakers started. By playing with more force, they were able to get to the line more, making 15 of 21 free throws in the first half and 28 of 37 (75.7%) for the game.
"If you have a ton of energy, you're competitive ... things will usually work themselves out," Ham said. "I just think our guys were really, really, really awesome tonight in terms of their competitiveness, doing the little things, covering for one another, getting the ball, pushing it with pace, just playing a really physical, downhill, forceful game."
The Lakers also were intent on limiting Golden State's three-pointers, holding the Warriors to 29.5%.
Stephen Curry had 23 points but was just nine for 21 from the field, four for 10 from three-point range. Klay Thompson had 15 points, going five for 14 from the field and three for nine on threes.
"We got punked tonight," Thompson said. "Unfortunately on the boards, on the glass, on the free-throw line."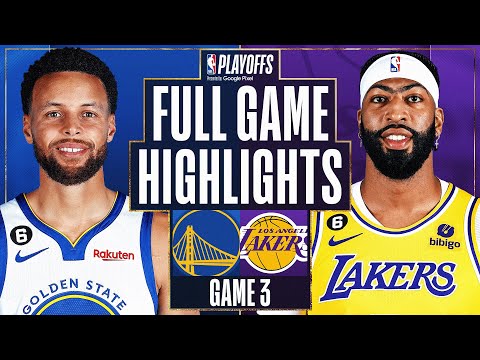 All things Lakers, all the time.
Get all the Lakers news you need in Dan Woike's weekly newsletter.
You may occasionally receive promotional content from the Los Angeles Times.