Pete Rose asks Hall of Fame to let him stand for election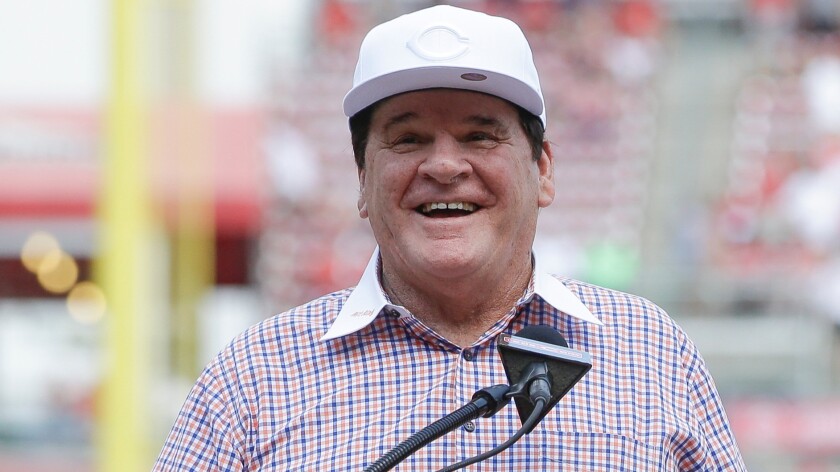 When the Cincinnati Reds announced in January that Pete Rose would be inducted into the team's hall of fame, Rose was asked if he had given up on the prospect of induction into the National Baseball Hall of Fame.
"I haven't given up on Cooperstown," Rose said then.
On Tuesday, his attorneys asked the Hall of Fame to let baseball writers vote on Rose as they would on any other candidate. Baseball's all-time hit leader has been unjustly barred from consideration, the attorneys argued, because of a rule applied only to him.
In 1991 — two years after Rose agreed to a lifetime ban from baseball amid evidence he had gambled on the sport — the Hall of Fame instituted a rule precluding banned players from standing for election. In deciding not to reinstate Rose last year, Commissioner Rob Manfred said Rose's status on baseball's "ineligible list" did not mandate his exclusion of the Hall of Fame.
"It is not a part of my authority or responsibility here to make any determination concerning Mr. Rose's eligibility as a candidate for election to the National Baseball Hall of Fame," Manfred wrote. "In fact, in my view, the considerations that should drive a decision on whether an individual should be allowed to work in Baseball are not the same as those that should drive a decision on Hall of Fame eligibility."
In a seven-page letter to Hall of Fame President Jeff Idelson and first disclosed by Yahoo Sports, Rose's attorneys say the negotiated ban from baseball did not mandate that Rose could not be considered for the hall. The attorneys note that "Shoeless" Joe Jackson appeared on Hall of Fame ballots even after his lifetime ban from the sport.
"No one associated with the game other than Pete has ever been categorically denied eligibility from day one after the conclusion of his career for actions having nothing to do with the way they played baseball," the attorneys wrote.
Rose, 75, would do "anything in his power to be considered, even if writers individually do not believe that he is worthy of admission," the attorneys wrote.
They added that Rose's possible election would not minimize his transgressions.
"The part of Pete's legacy that disgraced the game will never be otherwise," they wrote. "He will forever be the American athlete who fell furthest from the heights of achievement."
Although Manfred is one of 11 members of the hall's board of directors, it is considered unlikely that the hall would rescind or waive its rule to allow Rose to be considered.
If it did, because the Baseball Writers Assn. of America is limited to considering players whose careers ended within the last 20 years, Rose probably would be evaluated by a veterans committee of Hall of Famers, executives and media members.
Hall of Fame members toe a particularly hard line, and it is difficult to imagine how they would look favorably on Rose, who shows up regularly in Cooperstown, N.Y., for induction weekend, selling autographs and stealing at least part of the show.
Dodgers Hall of Fame manager Tom Lasorda, who has served on such committees, told The Times last year: "If you are stupid enough to go out and bet on your own team and bet on baseball, there has got to be something wrong."
MORE SPORTS NEWS
Ricky Nolasco has given Angels an acquired taste
Dodgers rookie Julio Urias is in the mix for playoff rotation
---
Get our high school sports newsletter
Prep Rally is devoted to the SoCal high school sports experience, bringing you scores, stories and a behind-the-scenes look at what makes prep sports so popular.
You may occasionally receive promotional content from the Los Angeles Times.