Final Four in San Antonio will be a mix of traditional powers and one amazing upstart
Two weeks of mayhem — a tumult of historic upsets, buzzer-beaters and at least one celebrity nun — have brought the 2018 NCAA tournament to a crossroads.
The Final Four in San Antonio next weekend will feature a mix of favorites and underdogs, traditional programs and a brash upstart.
Which begs the question: Will this tournament ultimately revert to form or deliver true madness?
As the coach of surprising contender Loyola Chicago put it: "Why not us?"
In the aftermath of this weekend's regional finals, the oddsmakers apparently can think of a few reasons. They have made third-seeded Michigan an early favorite over the 11th-seeded Ramblers and figure Villanova should handle Kansas in a more conventional matchup of No. 1 seeds.
But the past two weeks have proved that when 68 teams gather for a single-elimination, win-or-go-home competition, seedings and pedigree don't necessarily matter.
"Just if you look at the story of teams," Michigan coach John Beilein said, "they just get hot."
Next Saturday, one side of the bracket — East versus Midwest — will represent the status quo.
Villanova looks like the team to beat if only because the Wildcats, advancing to the Final Four for the second time in three seasons, have found a variety of ways to win.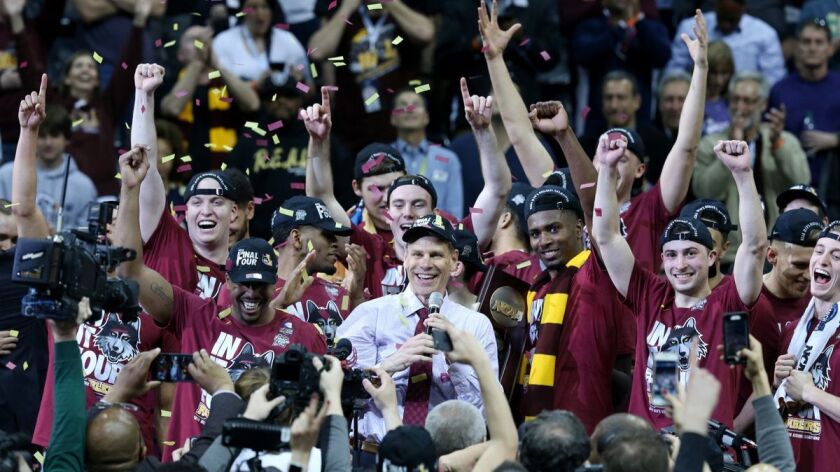 After racing through much of the tournament with offensive punch, Villanova made only 33% of its shots — and about 17% of three-point attempts — against Texas Tech on Sunday.
The Wildcats' 71-59 victory had everything to do with defense and clutch free throws.
"We played a really tough basketball team that had us scouted extremely well, took away our threes, really tested our ability to play tough and ugly," coach Jay Wright said. "I think that was their game plan … and our guys responded."
They now face a Kansas squad that defeated Duke 85-81 in a battle of blue bloods that stretched into overtime, the Jayhawks advancing beyond their region after near-misses the past two seasons.
Their matchup at the Alamodome pits two of the nation's top players — Villanova junior Jalen Brunson versus Kansas senior Devonte' Graham — in a game that should send one team to the final as a clear favorite.
Kansas coach Bill Self said he was "happy for these guys because they deserve to experience what the best of college basketball is, and that will be what takes place Saturday and Monday."
The other side of the bracket — West versus South — is more unorthodox, thanks to a string of upsets that left countless office pools in tatters.
Though Michigan is a reasonably high seed, the Wolverines spent much of the season looking ordinary. Turning things around after a February loss at Northwestern, they have forged a 13-game winning streak on equal parts hustle and grit.
That type of effort was essential in the West final against a Florida State team that deploys wave upon wave of bench players, hoping to exhaust opponents. The Wolverines came away with a hard-earned 58-54 victory.
"We understood we can't control if shots go in or not, but we've got to control our energy and effort," redshirt sophomore Charles Matthews said. "And we did that on the defensive end."
If there has been anything traditional about this tournament, it has been the notion that defense wins championships.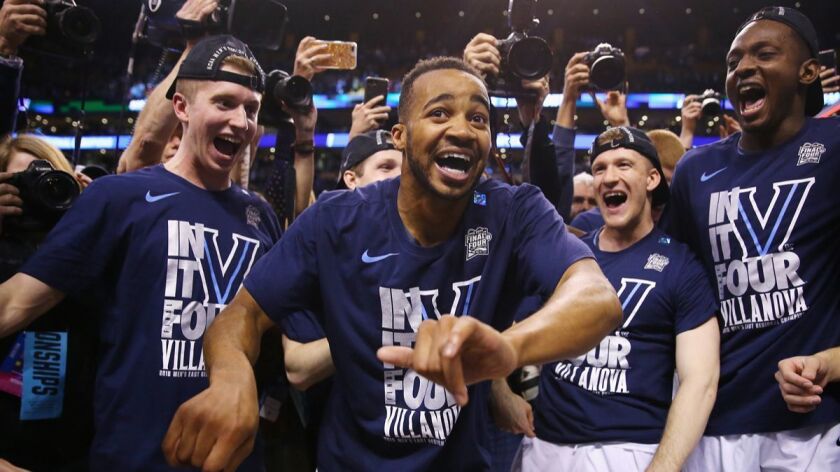 Even after Virginia — surrendering a national-best 53.4 points a game — lost a first-round shocker to Maryland Baltimore County, becoming the first top seed to fall to a No. 16 in NCAA history, the idea of shutting down opponents remained a popular theme.
Villanova and Michigan weren't the only teams crediting defense for their regional wins. Loyola Chicago, which shot a healthy 57% in the South final, talked about limiting Kansas State to 35% from the floor.
"Our defense dictates everything," coach Porter Moser said. "We say it all the time. Our defense dictates our offense."
If nothing else, the allure of the underdog should make the Ramblers, winners of 14 consecutive games, a fan favorite in San Antonio.
The Midwestern school also has something of a pop culture phenomenon in Sister Jean Dolores-Schmidt, the 98-year-old nun and team chaplain. Television cameras have made a habit of showing her on the sideline and there is a bobblehead being rushed into production.
"I just know you see her all over social media," Michigan guard Muhammad-Ali Abdur-Rahkman said.
Only three other 11th seeds have advanced to the Final Four; none has made it to the championship game. So the Wolverines understand that much of the nation is rooting for this unusual tournament to produce a fittingly quirky end.
They also seem to appreciate that anything might happen.
"I don't think any of us cares about rankings, seedings or none of that," forward Moritz Wagner said. "It's about who is going to play better."
Follow @LAtimesWharton on Twitter
---
Get our high school sports newsletter
Prep Rally is devoted to the SoCal high school sports experience, bringing you scores, stories and a behind-the-scenes look at what makes prep sports so popular.
You may occasionally receive promotional content from the Los Angeles Times.