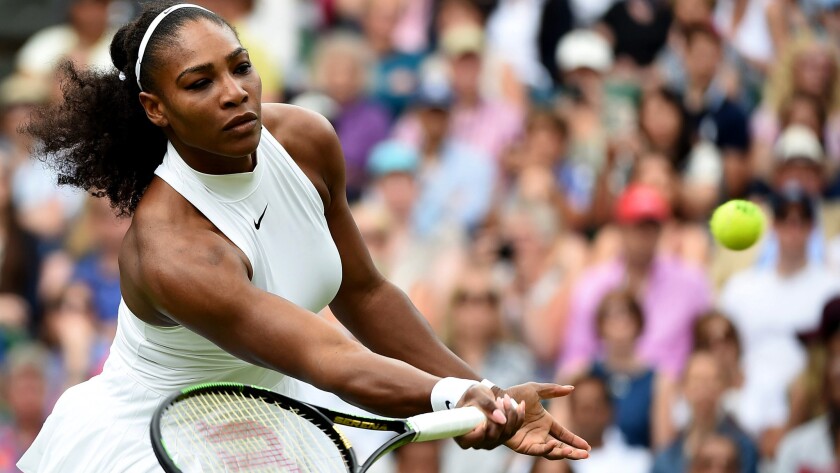 For the American contingent at Wimbledon, it's undeniably a happy fourth (round).
Six of them have advanced to the final 16 – four women, two men – the most since seven got this far in 2004.
"I think the whole stigma of 'U.S. tennis is nonexistent,' is not relevant anymore," said Coco Vandeweghe, who beat Italy's Roberta Vinci, 6-3, 6-4, and will face Russia's Anastasia Pavlyuchenkova on Monday.
See the most-read stories in Sports this hour »
No. 1-ranked Serena Williams advanced by breezing to victory over Germany's Annika Beck, 6-3, 6-0, and Monday will play Russia's Svetlana Kuznetsova.
Williams and Vandeweghe – niece of former UCLA and NBA star Kiki Vandeweghe – join fellow American women Venus Williams and Madison Keys, who collected third-round wins on Friday and Saturday, respectively. Venus Williams will play Spain's Carla Suarez Navarro, and Keys faces Romania's Simona Halep.
American men Sam Querrey and Steve Johnson, doubles partners and friends since childhood, both moved on with third-round victories Saturday. Most surprising of those was Querrey's stunning upset of Serbia's Novak Djokovic, ranked No. 1 in the world with wins in the past four Grand Slam events.
On Monday, Johnson, a former USC standout, plays Roger Federer, who has a storied career but hasn't won a Grand Slam event since winning Wimbledon four years ago. Querrey plays France's Nicolas Mahut.
Serena Williams said she can empathize with the weight of expectations the vanquished Djokovic must feel.
"Every time I step on the court, if I don't win, it's major national news," she said. "But if I do win, it's just a small tag in the corner."
That there was any play Sunday was also an upset of sorts. Typically, the middle Sunday of the two-week tournament does not feature matches, a rest for the players and grass surfaces alike. Rain earlier in the week caused a scheduling logjam, however, so the tournament parted from its "Rest Sunday" tradition and held a full slate of matches for just the fourth time in 139 years.
Tournament organizers made 22,000 tickets available online Saturday and sold them in a mere 27 minutes. Still, some players said the All England Lawn Tennis Club had a more subdued feel than usual.
"Strange feeling a little, yes," France's Richard Gasquet said, "because everywhere I don't see many people around."
It wasn't just the tournament working overtime. In one of the most gripping matches of the day, one that began Saturday but was postponed for darkness, Jo-Wilfried Tsonga outlasted 6-foot-10 American John Isner in four-hour, back-and-forth slog.
Isner won the first two sets, 7-6, 6-3, but Tsonga battled back to tie, 7-6, 6-2. Because there are no fifth-set tiebreakers at Wimbledon, and because both players are far better at serving than returning serve and therefore went back and forth, the final set went 36 games. Tsonga eventually won, 19-17.
That was somewhat reminiscent of Isner's record-setting match against Mahut in 2010, the longest match in the history of professional tennis both in games (183, including a 70-68 final set) and duration (11 hours, five minutes over three days). There is a plaque on the brick wall of Court 18 that commemorates that marathon.
Tsonga, who seemed to feed off the rhythmic clapping and chanting of his name by the crowd Sunday, improved to 6-0 in five-set matches at Wimbledon.
Isner, who's build more like a slim NBA forward than a typical tennis player, said if given the choice he would prefer the tournament switch to fifth-round tiebreakers, "But I can't do anything about it."
Tsonga said he is "50/50" on whether tiebreakers should be used in the fifth set.
"Sometimes, it's better for the body," he said. "At the same time, it's good for the crowd and for the people around, for the story."
The story still causing a buzz Sunday, especially among the players, was Querrey toppling Djokovic and what it means not just for this tournament but for tennis in general.
"I think everyone watched Sam beat Djokovic," Vandeweghe said. "I think that was monumental not only for the tournament but also for Sam himself. I don't know what it's like to beat a No. 1 player, so I can't tell you how the heck he was able to accomplish it."
Asked what that means for everybody who isn't the top-ranked player, Vandeweghe said the message is clear.
"It just means that there's a possibility," she said, "that [No. 1 players are] not invincible. Plain and simple."
MORE SPORTS NEWS
Wesley Johnson, Austin Rivers are in; Durant is out for Clippers
Lakers agree to sign Luol Deng to four-year, $72-million deal
Bud Norris is a winner in his Dodgers debut
Twitter: @LATimesfarmer
---