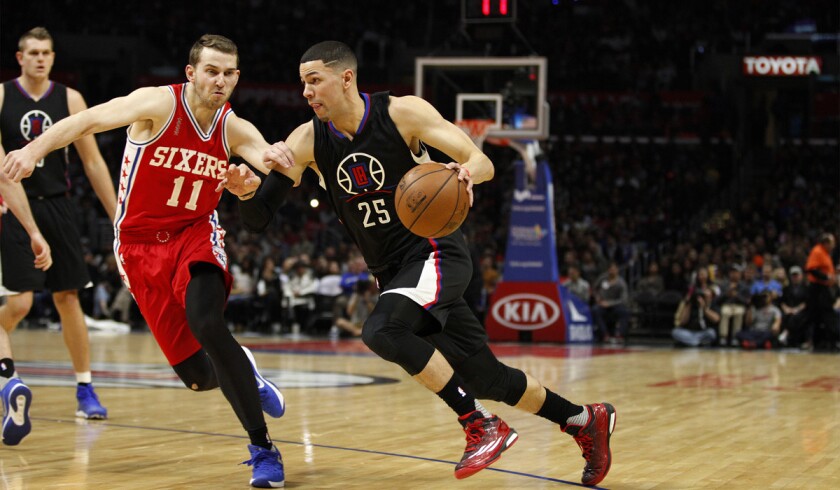 The Clippers received some disappointing, albeit not surprising, news Saturday: Kevin Durant will not join them.
The team learned that the superstar free agent had eliminated it from consideration as he continued to meet with suitors and narrowed his choices.
Durant informing the Clippers they were out of contention before making his final decision was a favor in that it allowed them to start executing their fallback strategy of retaining as many of their own free agents as possible.
They commenced that portion of their plan by reaching agreements to bring back reserves Austin Rivers and Wesley Johnson.
The Clippers agreed to a three-year, $35.7-million contract with Rivers that includes a player option in the third year and a three-year, $18-million deal with Johnson.
Durant was apparently not swayed by the Clippers' pitch of a "Big Four" that would have paired him with stars Blake Griffin, Chris Paul and DeAndre Jordan.
That team would have featured ample star power but also a relatively weak supporting cast because of all the money the Clippers would have had to commit to just four players. Durant also would have had to accept less than a maximum contract in that scenario.
The Oklahoma City Thunder remained the overwhelming favorites to retain Durant, though four other teams appeared to remain in contention.
Durant met with the San Antonio Spurs and Boston Celtics on Saturday, with the Celtics bringing Super Bowl-winning quarterback Tom Brady of the New England Patriots to their pitch meeting.
Boston also strengthened its positioning by reaching an agreement to sign All-Star center Al Horford.
See the most-read stories in Sports this hour >>
Durant was scheduled to meet with the Miami Heat and possibly the Thunder a second time on Sunday before reaching his decision. He also sat down with the Golden State Warriors.
The Clippers were eager to re-sign their own free agents after forward Jeff Green reached an agreement to sign a one-year, $15-million contract with the Orlando Magic on Friday.
Rivers is coming off a season in which he won a new legion of admirers for playing through two nasty cuts around his eye in the final game of the Clippers' first-round playoff series against the Portland Trail Blazers. He averaged 8.9 points and 1.5 assists per game last season while making 33.5% of his three-point shots.
Rivers, who turns 24 next month, has also become a solid perimeter defender, often taking on the assignment of guarding an opponent's top wing player. His salary represents a gargantuan raise from the $3.3 million he made last season but was widely expected because of the accompanying massive rise in the salary cap.
Johnson, who turns 29 next week, was part of the Clippers' rejuvenated bench, averaging 6.9 points and 3.1 rebounds while playing reliable defense.
The Clippers also hope to re-sign free agents Jamal Crawford, Cole Aldrich and Luc Mbah a Moute. The team has made an offer to Crawford, according to someone familiar with the negotiations. The three-time sixth man of the year was mulling the offer but was seriously considering other options, including interest from Golden State.
Landing Durant was widely considered something of a longshot for the Clippers, though securing a meeting with the NBA's 2014 most valuable player represented a flag-waving moment for the franchise when other suitors such as the Lakers and New York Knicks were not given that opportunity.
ALSO
Clippers up the ante; Jamal Crawford is all in
Dodgers management still considering its options in dealing with Clayton Kershaw's injury
Serena Williams leads an American march into fourth round at Wimbledon
---