Column: John Elway, the greatest Bronco ever, is also the John Elway of NFL general managers
John Elway discusses the success he's had in Denver as a general manager.
Reporting from Denver —
John Elway loved that pool table. Shame it couldn't stay.
Elway unveiled it at a party to cut the ribbon on his renovated basement near the end of his legendary career as quarterback of the Denver Broncos. The man cave had everything — a screening room for movies, an elaborate bar to watch games, a poker table, a place where you hit golf balls into a video screen to simulate a round … and that big, beautiful pool table.
"He had challenged me to a pool game, I came downstairs and he was waiting," recalled Bubby Brister, who backed up Elway from 1997-99. "He was just one of those guys who won everything he played. Well, he was talking mess, and I beat him. He looked at the table and said it must be warped or something. I said, 'If it's warped for you, it must be warped for me.'"
Elway has long since abandoned the warped-table theory.
"Bubby absolutely schooled me," he said last weekend, breaking into that familiar smile and easing back in his office chair at team headquarters.
Two days after losing to Brister, Elway replaced the pool table with a new one.
Said Brister with a chuckle: "I went back over there and I was forbidden to go in the basement."
Elway, 56, the greatest player in Broncos history, doesn't take to losing. His competitive spirit knows no bounds. Fast-forward 17 years and he has built a second NFL career that rivals, and in some ways eclipses, the first. He reached a milestone two weeks ago with his 100th game as Broncos general manager. His team won 71 of those, the most of any active GM in his first 100 games, and considerably more than Hall of Fame GMs Bill Polian (61 wins) and Ron Wolf (56).
Elway zigs when others zag. He makes some difficult and controversial decisions, and most of them pan out. Even though John Fox coached the Broncos to the Super Bowl, for instance, Elway replaced him a year later with Gary Kubiak. Fox's team was embarrassed by Seattle on the big stage with a 43-8 loss; Kubiak's team beat Carolina in Super Bowl 50, 24-10.
Until Elway came along, no former quarterback had won Lombardi Trophies for his team as a player and a GM.
"He's one of those guys I used have a poster of on my wall," San Diego Chargers quarterback Philip Rivers said. "We see them twice a year, and I always make a point to try to trot over there pregame and shake his hand and just say hello, because I think it's cool. I mean, gosh, there's John Elway."
When Peyton Manning retired after last season, Brock Osweiler was the unquestioned heir apparent to replace him. Elway didn't think Osweiler was worth the $17 million per year that Houston offered, so he let him walk. Osweiler has 12 touchdowns and 13 interceptions for the 6-5 Texans. Denver has an emerging young talent in second-year Trevor Siemian, who has 15 touchdowns and seven interceptions for the 7-4 Broncos.
Elway's decisions aren't always popular when he makes them, but he doesn't veer from his convictions.
"Football is the one that comes most naturally to me," he said. "I can tell you why I do things, but I can't tell you every reason why I think it's right. I follow my gut a lot."
Elway, who majored in economics at Stanford, amassed a fortune with his business ventures outside of football, including selling his six car dealerships to AutoNation for $82.5 million in 1997. He has four upscale restaurants in Colorado that bear his name. He adheres to the same philosophy he did as a player.
"To be great, you've got to be good for a long time," he said. "That's what great is. That's always been our philosophy in the car business or the restaurant business. The brand may get them there. It gets us a shot. But it's how we handle them when they walk through those doors.
"We've always set out to do things for the long term, not necessarily for the short term. Don't try to pump everything out of it the first year, that's maybe going to hurt you down the line."
Many of the guiding principles that Elway leans on are the ones he learned while building the Colorado Crush, the Arena Football League team he co-owned with Broncos owner Pat Bowlen and Rams owner Stan Kroenke. The club was founded in 2002 with Elway as president, and the original plan was to have his father, Jack, a longtime coach, run the personnel department. Before that came to fruition, Jack died of an apparent heart attack at 69.
Devastated, John carried on and hired Bob Beers, one of his dad's former players at Montana, to coach the inaugural 2003 season. The team finished 2-14, and Elway made the decision to change coaches.
"That was really hard because he was a great guy, but it wasn't the right fit," said Elway, who found it agonizing to fire a close family friend. "You always want people to like you. The one thing I did learn was, 'We'll take care of you monetarily, but we've got to make a change because I don't see this working out.'"
Elway replaced him with Mike Dailey, who led the Crush to the playoffs the next season, and an ArenaBowl championship in 2005. Even though the AFL is gone, Elway still takes great pride in that title. For him, the experience was like graduate school.
"It's on a much smaller scale than the NFL, and there's not nearly as much notoriety, so your mistakes don't get blasted or taken apart," he said. "But it's the same thing. You've got to manage people and find the right coaches and players. It was a great learning experience for me."
Those years taught Elway that there's a big difference between being a team executive and a player. He learned he can't get too attached to people downstairs at the Broncos and still do his job.
He seems like a regular football guy, but he's really smart. I don't think he gets credit for how smart he is.
— Dave Wyman, regarding John Elway, his former teammate at Stanford and Denver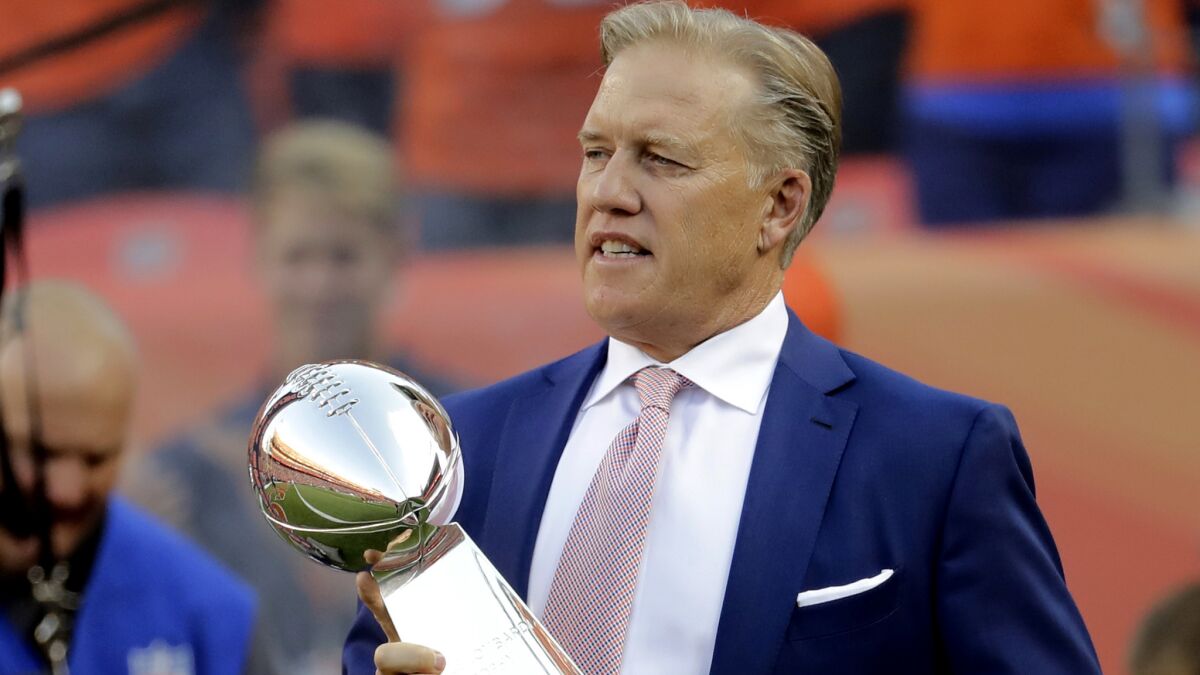 "As much as I'd like to be knee-deep and be part of this team, because that's the fun part, I can't let myself do that," he said, sitting in his second-story office at team headquarters, one with a balcony that overlooks the practice fields. "Because a lot of times, the personal side gets involved, and then it's really hard to make those decisions.
"It gets lonely. But I don't ever want to get into a situation where the personal side makes me not want to make the right decision for the Denver Broncos. That's my job."
Among the toughest choices Elway had to make was switching coaches, especially so soon after Fox t led the team to the Super Bowl. At about 4 a.m. before that game, however, Elway found himself staring at the ceiling of his hotel room, concerned about his team's chances against Seattle, and — even though the Broncos had the league's No. 1 offense — knowing something was missing.
"I woke up and I was trying to talk myself into it," he said. "I'm going, 'Maybe Peyton's the perfect guy, because we can dink these guys. He'll take what they give us. We'll be able to figure out how to get a win…'"
On Denver's first play from scrimmage, the center rocketed a shotgun snap past Manning and the Broncos wound up recovering the ball in the end zone for a Seattle safety. It was all downhill from there.
"Everything's magnified in the Super Bowl," said Elway, who lost his first three as a player before winning his final two. "Mistakes are magnified. Big plays are magnified. It's all magnified by five. So when something bad happens, there's a hush on the whole sideline. It's tough to get through that."
With Kubiak at the helm, and the Broncos boasting the No. 1 defense last season, there was an entirely different vibe for Elway. That was reflected in his far more relaxed morning on game day. Wanting to escape the hubbub surrounding the event, he drove to Palo Alto, his old college town, and had coffee with a group of his close friends from Denver.
"Honestly, it had to be the strangest feeling for him," friend George Solich said. "He's sitting on the same street, just around the corner from where he used to get haircuts in college, and he's about ready to go and be the first general manager who also was a player to win the Super Bowl with the same team. It was pretty cool.
"He never said this to me, but I kind of felt that for him, he liked having all of his friends around. When you're a player, you share the moment with all your teammates. But as a general manager, you want friends around to share it with."
::
The shelves surrounding Elway's desk are crowded with photos of friends and family, and mementos of his illustrious playing career, which began as the No.1 pick out of Stanford in 1983, and ended 16 years later after back-to-back Super Bowl wins.
One picture stands out from the rest, even though it's tucked behind a Stanford helmet. It's of his dad, who was coach of the World League's Frankfurt Galaxy at the time, looking tan and trim with a whistle around his neck.
"I can't tell you how many times I think of him now," Elway said of his father. "It's like, 'What would Jack do?' This is what we talked about all the time, for me to have this position and to have somebody like him to bounce things off of. I miss him."
John had played running back as a fifth-grader in Montana, and wanted to keep playing that position when the family moved to Pullman, Wash., where Jack got a job as offensive coordinator at Washington State. He saw his son as a quarterback.
"I remember him taking me to school in ninth grade, and on the way there he was asking me, 'What position are you going to go out for?'" Elway said. "I said, 'I'm going to go out for running back.' We had a 1968 Impala, one of those with a shift on the steering column. I still remember him putting it in park. Ten minutes later, I get out of the car and I'm a quarterback."
The next year, the Elways moved to the San Fernando Valley, where Jack was head coach at Cal State Northridge, and John was a star quarterback at Granada Hills.
Throughout his NFL career, Elway maintained the ability to make plays with his feet, even though with his bow legs, pigeon toes and barrel chest he didn't necessarily look the part of the most athletic guy on the field.
"I remember before a game in Kansas City, and this was probably 1995, and I'm looking at him when he's all taped up," recalled Dave Wyman, a linebacker who played with him at Stanford and with the Broncos. "He looked terrible. His chest was sticking out. I'm looking at him going, 'What a mess!' And then he'd go out there and just light it up. Running, taking hits, making big plays and throws all over. He's by far the best football player I've ever been around."
Wyman said Elway and Warren Moon are the two teammates he has had who were quarterbacks with the mentality of linebackers. And Wyman got to see a different Elway in the college classroom.
"He seems like a regular football guy, but he's really smart," Wyman said. "I remember being in a class with him at Stanford. For the most part, the football players didn't usually speak up. You're around a bunch of really smart people. I remember Elway a couple of times having answers and speaking up in class. I don't think he gets credit for how smart he is."
::
More of that credit is coming now, as Elway continues to distance himself from others in his profession. Since he took the reins of the Broncos in 2011, no team has had more playoff appearances (five), division titles (five), Super Bowl appearances (two), or Super Bowl victories (one).
It's not as if Elway always has led a charmed life, though. Fifteen months after losing his father, his twin sister, Jana, died of lung cancer in 2002.
"She was my best friend," he said. "She was always the one that would keep me out of trouble… We never argued. We never got mad. She was just a great gal."
It took John 10 years to visit her grave in San Jose.
"I ran from it," he said. "It was Dad, then her. It all happened at once."
Despite all his success, there is an everyman aspect to Elway. He might be the most recognizable person in Colorado, but he doesn't come off as impressed with himself.
"He's got no ego," said longtime friend Craig Andrisen, who's not only Elway's clothier but shared an apartment with him 15 years ago when they were both going through divorces. Elway was remarried to his current wife, Paige, in 2009.
"When you make a reservation at a restaurant in Denver to go eat with him, he'll say, 'Don't use my name,'" Andrisen said. "It will be some place that's difficult to get into and they'll say, 'We can get you in at 5 or at 9.' If you use his name, they'll get you in at 7:15. But John will say, 'Let's try another restaurant.'"
Since his college days, Elway has answered to the nickname "Wood," which is short for "Elwood," a modified version of his last name and a nod to the Blues Brothers.
"If somebody yells, 'Hey, Wood!' I know it's somebody I've known for a long time," Elway said.
Said Solich: "It's neat to be in the company of a guy who has had so much fame and success, and is so recognized, and yet he just doesn't act that way. In fact, what he would prefer is just to be in a quiet place with his buddies, playing golf or fishing or cutting it up, and not have any of that attention.
"But he also realizes that with what he's done and how he's done it, there's a responsibility."
Just as his football career has evolved, so has his personal life. Elway has three daughters and a son, and now a young grandson and granddaughter, with another girl due in January. On his desk is a picture of his 2-year-old grandson, Auggie, wearing a No. 7 Elway jersey.
Elway wants them to call him Grand-dude, but Auggie can't quite pronounce that yet, so he goes by Poppy.
"It's awesome," Elway said. "He lives six minutes from here, so they come by all the time. You don't have to be the disciplinarian. You get to be Mr. Nice Guy."
Chalk that up as yet another win.
Twitter: @LATimesfarmer
Get our high school sports newsletter
Prep Rally is devoted to the SoCal high school sports experience, bringing you scores, stories and a behind-the-scenes look at what makes prep sports so popular.
You may occasionally receive promotional content from the Los Angeles Times.