Tyrann Mathieu isn't letting down the Arizona Cardinals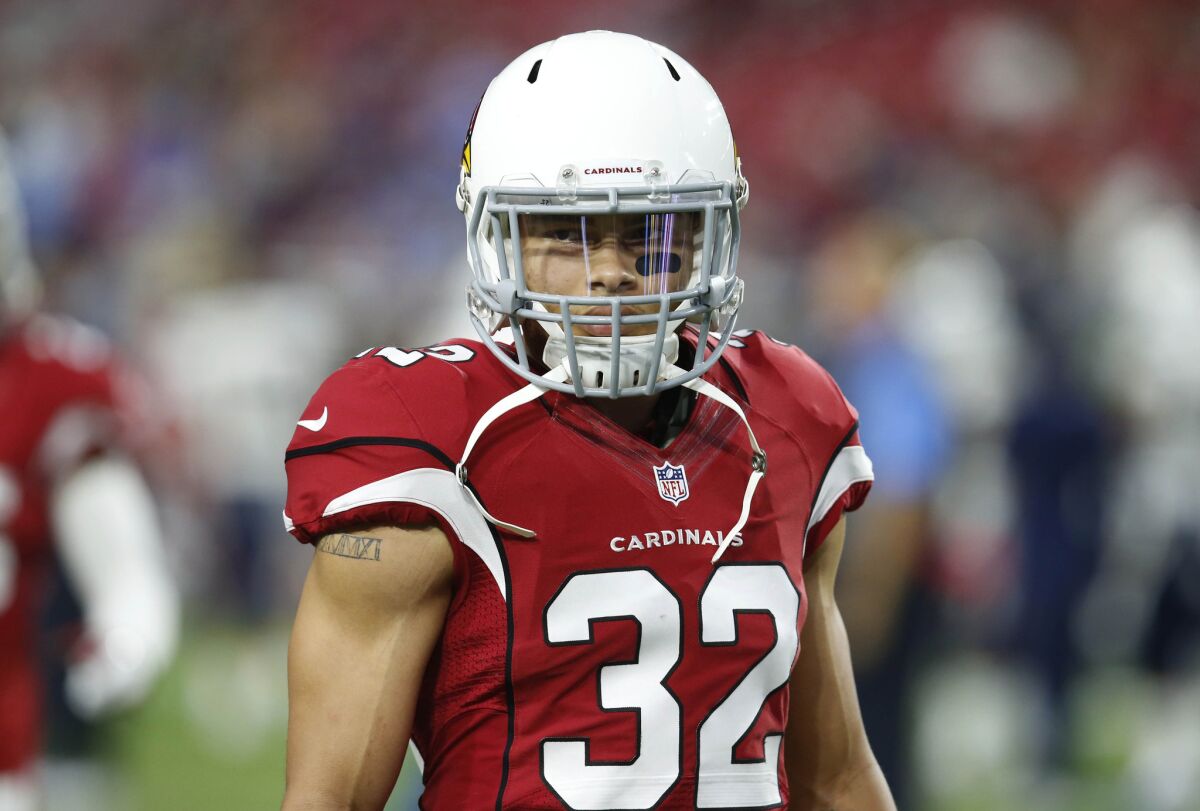 FROM TEMPE, Ariz. —
Undersized and overburdened, that was Tyrann Mathieu.
Not only was he widely seen as too small to play safety in the NFL, but he was weighed down by his off-the-field baggage from college. He had been kicked off the Louisiana State team after multiple positive tests for marijuana, shown the door less than a year after he was a Heisman Trophy finalist as a sophomore.
He was dismissed by a lot of draft experts, too, including ESPN's Bill Polian, the Hall of Fame personnel man, who called him "a poor teammate and poor risk" and advised teams to keep him off their draft boards.
The Arizona Cardinals took a chance, selecting him in the third round of the 2013 draft, and have never regretted it.
"It was tough listening to all those critics," Mathieu said after a recent practice. "Most of those guys had a legitimate argument, but they didn't know what I was going through or the type of person I was. Obviously, I struggled with marijuana, but that wasn't who I was. That didn't define my character and the person I was."
This isn't a story of a miraculous turnaround, or someone guaranteed not to make poor decisions again. Mathieu is quick to say he's somewhere along the path to redemption, certainly mid-journey, and he's in no position to dispense advice to others.
"I just don't want to let my past determine what my future will be," he said.
The 5-foot-9, 186-pound Mathieu starts at free safety for the Cardinals, and has excelled as an NFL playmaker since his rookie season, which was cut short by a knee injury in the 13th game. He was a finalist for defensive rookie of the year and finished his first season with 63 tackles, two interceptions, a sack and a forced fumble.
More important, he earned the trust and respect of his teammates and coaches by staying on the straight and narrow — his college transgressions qualified him for the NFL's random drug-testing program — and focusing his attention on being the best player possible.
"He's as humble, as good a kid, probably as much swagger about him as anybody I've ever coached," said Bruce Arians, the NFL's coach of the year in two of the last three seasons. "Probably the happiest draft choice I've ever made. I get the most pleasure out of him, seeing him get his second chance and what he's done with it."
It goes even deeper. Arians feels a bond with Mathieu, one that stems from an experience the coach had more than 40 years ago, a memory that leaves him with a catch in his throat in the retelling.
"I got kicked out of high school and got a second chance," said Arians, 62. "It was my senior year, the day after football season [ended]. We had 30 guys on a retreat. It was a Catholic school, and we got caught drinking. Twenty-nine guys got suspended, and I got expelled."
Arians was a coveted quarterback at the time and nearly every school that was recruiting him lost interest. Virginia Tech was the only school that didn't pull its scholarship offer. The Hokies assistant coach who recruited Arians believed in him enough to bend the truth on his behalf.
"John Devlin told coach [Jerry] Claiborne at Virginia Tech that I had transferred to another high school to get better math classes," Arians said. "He stuck with me."
Likewise, Arians has stuck with Mathieu, who won the team's Ed Block Courage Award last season in coming back from knee surgery to record 39 tackles, with an interception and a fumble recovery.
"I rely on my instincts a lot," he said. "Just believing what you see on film and what you study."
Mathieu said he didn't feel like himself for much of last season and tended to hold back, in part because he was wearing a knee brace. Since, he has shed the brace and feels "real fortunate to get my instincts back and trust myself again."
Mathieu laughs about how fans react when they meet him, particularly when he isn't wearing pads. They constantly remark about how normal-sized he is.
"Most fans are bigger than me," he said. "They see me on TV and they assume I'm this big guy. When they see me in person it's like, 'Wow, you're smaller than me.' Those guys kind of gain respect for me."
Linebacker Kevin Minter knows the feeling. He played with Mathieu in college, now has the adjacent locker and is still amazed at how big Mathieu plays for his size. Back then, Mathieu was nicknamed "Honey Badger" for his fearless abandon in taking what he wanted on the football field.
"He's that kid that never wrapped his mind around being smaller than everybody else," Minter said. "He thinks he can do anything. You know that kid you grew up with? He thinks he can beat everybody up. Hit everybody. He's that guy. And it's not even just a bark, it's really a bite. He will come at you, and that's the mentality he brings to the field.
"It brings everybody up. That confidence just overflows, it's contagious. It was like that in college, and people are starting to see it now."
Arians has seen it from the start. The coach understands the power of that quest for redemption. The price he paid for that bad decision in high school taught him that.
"To this day, it's still the driving force, to fix my family's name," Arians said, rubbing his eyes. "Just the look on my dad's face will stick with me forever."
Arians has done a lot to restore his family name. Before Lambert Arians died in early 2006, he got to attend Super Bowl XL and watch his son, Bruce, help coach the Pittsburgh Steelers to a victory over Seattle. He got to see Bruce enshrined in the York County (Pa.) Hall of Fame, too.
It's little wonder why Arians was willing to give Mathieu the chance that others wouldn't.
"To me, that's what coaching is all about," Arians said. "It's not turning your back on guys because of public image. It's help them. Give them a chance."
Follow Sam Farmer on Twitter @LATimesFarmer
---
Get our high school sports newsletter
Prep Rally is devoted to the SoCal high school sports experience, bringing you scores, stories and a behind-the-scenes look at what makes prep sports so popular.
You may occasionally receive promotional content from the Los Angeles Times.