Column: L.A. relocation could set up clash of titans among NFL owners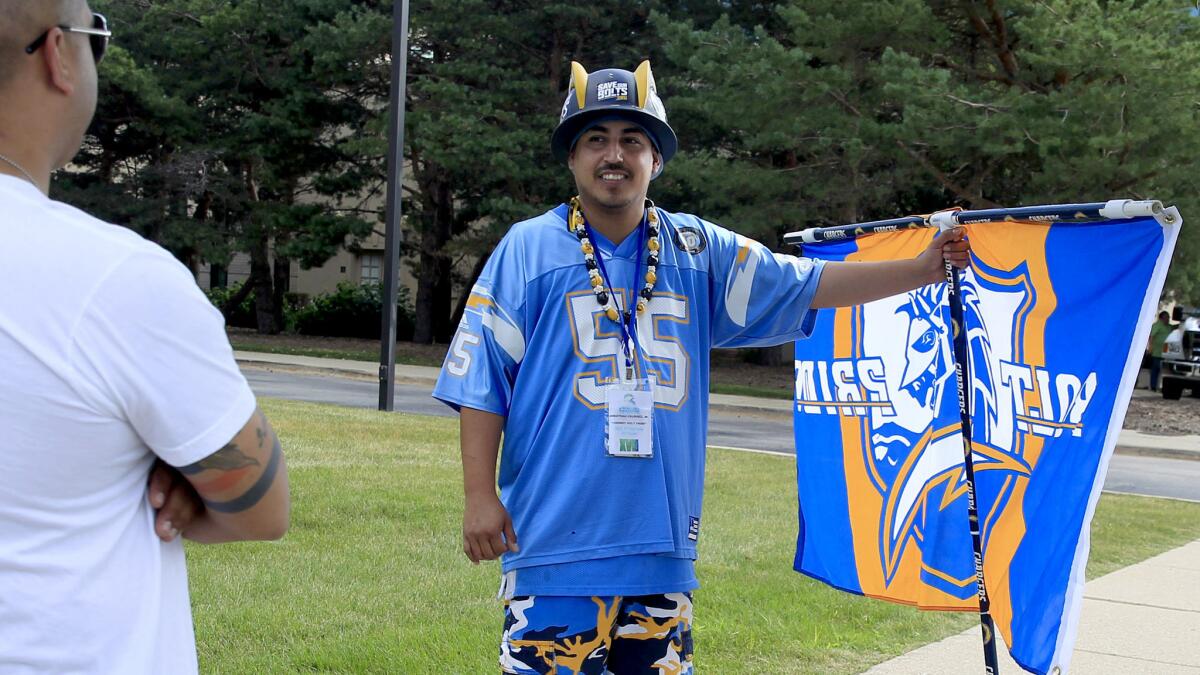 Reporting From Schaumburg, Ill. —
The NFL's meandering road back to the nation's second-largest market wound through Chicago on Tuesday, with team owners hearing the competing Los Angeles stadium pitches for the first time.
A league that goes to great lengths to avoid pitting owner against owner — revenue sharing, salary cap, and cross-ownership rules that preclude owners from fighting over the sports dollar in the same cities — is now bracing for a clash of the titans.
"I guess you could use the metaphor of musical chairs, and there's a bit of that going on," said Steve Tisch, co-owner of the New York Giants and a longtime L.A. resident. "The home [markets] haven't made their presentations to their respective clubs, so that's still a bit of a moving target. The presentations made today were really well done."
See the most-read stories in Sports this hour >>
St. Louis Rams owner Stan Kroenke is proposing a stadium in Inglewood. San Diego Chargers owner Dean Spanos and Oakland Raiders owner Mark Davis are backing a competing project in Carson.
At most, one stadium will be built. Los Angeles will not have three teams. In the current configuration, one and perhaps two teams will be sent back to their current markets, tail firmly between legs.
"Those are the circumstances as they are," NFL Commissioner Roger Goodell said. "You take a risk when you file for relocation as to whether that will be approved. Those are the stakes that each club understands."
Tisch said the commissioner has "a tremendous sensitivity" to the possibility that one or more of the competing clubs could be damaged in the process of applying for relocation, if that application is denied.
Interested in the stories shaping California? Sign up for the free Essential California newsletter >>
"At some point that's going to be inevitable," he said. "I think Roger has thought about it, the L.A. stadium committee has thought about it, and though we're not ready to cross that bridge yet, it is something that at the appropriate time it will be handled very sensitively."
By his estimate, Tisch said the likelihood of at least one team playing in L.A. by 2016 is "better than 50-50."
If the NFL isn't careful, this could be the biggest battle royal among owners since the messy revenue-sharing fight 10 years ago.
Asked if this is a delicate situation, Cleveland Browns owner Jimmy Haslam said, "Yes, I think it is. We're all partners and want things to work out best for the league and individual franchises. The positive is, we have good opportunities in L.A. and we've got two very viable stadium options. There's still work to be done, but I think it bodes well for the NFL."
The presentations took place in private, with owners attending the one-day meeting without their typical entourage of executives. Most were unwilling to share more than the bare-bones facts of the pitches. The Chargers and Raiders presented for half an hour, with Carmen Policy — former president of the San Francisco 49ers and the Browns — doing most of the talking. He fielded three questions from the owners but said they appeared enthusiastic and attentive.
Policy said a Carson stadium "works for California, it certainly works for the Los Angeles market, and now it works for the two teams that are playing in the most dilapidated and terrible stadiums in the league. These facilities predated Candlestick Park in terms of facilitating football, and Candlestick today is rubble and dust."
He called a joint Chargers-Raiders stadium "a silver-bullet solution" for the "California dilemma."
"And you're not only curing the California dilemma, but you're curing it with California teams," Policy said. "These teams were born and bred in California. They've always been in California. They never left California."
Although his colleagues won't say it publicly, Spanos has the strongest backing of the three relocation-minded owners. The league is particularly interested in protecting him, in part because he has been the most thorough in searching for a stadium solution in his current market.
Many owners believe that Kroenke has the better location and stadium plan, and that could ultimately tip the scales in his favor, even if he's less popular among his peers than Spanos. The biggest issue in allowing Kroenke to relocate is St. Louis has done the most of the three home markets to hang onto its team. The NFL would be reluctant to leave public money on the table, particularly because that's so hard to come by in California.
Kroenke and Rams officials almost never speak publicly about their project, so top executive Kevin Demoff drew a large crowd of reporters and TV cameras for the most generic of statements.
"We made a presentation that we thought would help the owners better understand our project," said Demoff, revealing little more than that.
The Rams presentation lasted nearly twice as long as their competition's. Those in the room said the presentation pitched the Inglewood site as the "Los Angeles Entertainment Center," touched on a 6,000-seat theater complementing the stadium, and talked not just of sporting events that could take place there — including the NFL draft, scouting combine and Pro Bowl — but also potentially the Grammys, Academy Awards and Golden Globes.
Also discussed was the process for determining a relocation fee — although no potential amounts were mentioned — and the likelihood that the league will begin taking season-ticket deposits in L.A. even before any relocation decisions are made. By doing that, the league hopes to build a robust list of potential customers with the promise of returning those deposits, with interest, if no team moves or fans otherwise opt to cancel.
Eric Grubman, the NFL executive vice president overseeing the L.A. process, summed up the situation by saying it remains fluid.
"We just don't know what's going to happen because there are variables we can't control," he said. "The primary variable is, 'What happens in the home markets?' "
That will be more clear in October, when representatives from the cities of St. Louis and San Diego are expected to speak to the entire membership. At this point, Oakland is unlikely to be invited, because the league does not believe that city has put forth a serious proposal.
"The road to the end is going to be challenging," Tisch said.
Caution: dangerous curves ahead.
ALSO:
A two-decade NFL-Los Angeles timeline
NFL team in L.A. would have to win over fans with widespread loyalties
San Diego, Oakland, St. Louis converge at NFL owners meeting; L.A. hangs in balance
Get our high school sports newsletter
Prep Rally is devoted to the SoCal high school sports experience, bringing you scores, stories and a behind-the-scenes look at what makes prep sports so popular.
You may occasionally receive promotional content from the Los Angeles Times.