NFL review and preview: It's risky to read too much into Week 1 results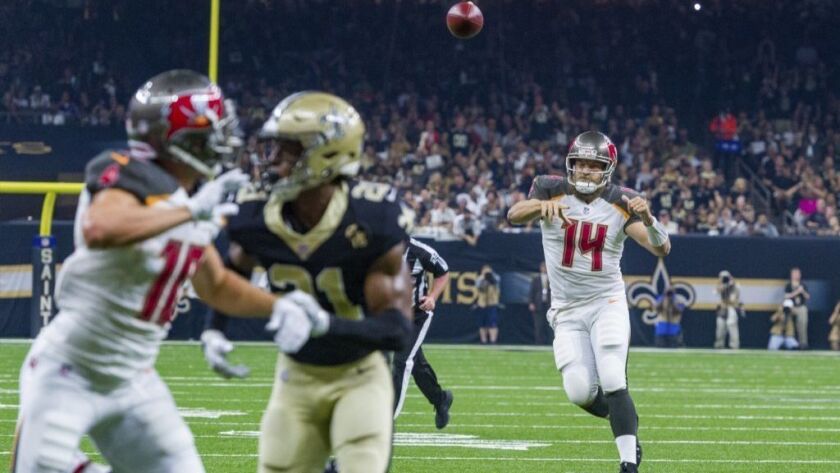 In terms of picking winners, the opening week of the NFL season is always the second-hardest.
The hardest is Week 2.
That's because there are so many false indicators in openers, so many misleading assumptions.
For example:
New England was thoroughly embarrassed at home in last season's opener, winding up on the wrong end of a 42-27 pounding by Kansas City. But the Patriots went on to reach another Super Bowl.
Houston rookie Deshaun Watson looked ho-hum in replacing starter Tom Savage for the second half of a 29-7 loss at home to Jacksonville. There was little indication that Watson would play himself into the early Most Valuable Player conversation before suffering a season-ending knee injury.
And Cleveland looked to be vastly improved from the team that went 1-15 in 2016. The Browns lost a close one to Pittsburgh, 21-18… then went on to lose every other game as well.
So it's risky to read too much into what happened in Week 1 this year, even though some of the signs were convincing. If history is a guide, there's hope for teams like Buffalo, Arizona and Dallas, all of which scored in single digits Sunday in dispiriting defeats.
Conversely, there's no breathing easy for Cincinnati (34 points), Kansas City (38) and Tampa Bay (48), even though those teams lighted up their scoreboards Sunday.
Pittsburgh players were not at all pleased after playing the Browns to a 21-21 tie. After all, Cleveland had lost 13 openers in a row, an NFL record, and was 1-19 in those games since relaunching the franchise in 1999.
But the Browns played well, and the Steelers were sloppy, with three interceptions by Ben Roethlisberger. It was his worst game since being picked off five times against Jacksonville in Week 5 of last season.
Roethlisberger rebounded from that defeat to complete 68% of his passes in a 19-13 victory at Kansas City. So it's noteworthy that the Steelers are once again playing the Chiefs, and this bounce-back opportunity will take place in Pittsburgh. The Chiefs are riding high after their new starting quarterback, Patrick Mahomes, threw four touchdown passes in a 38-28 win over the Chargers.
Kansas City's blistering-fast Tyreek Hill, who is coming off a three-touchdown game against the Chargers, was held to a season-low 34 yards receiving last year against Pittsburgh.
The Patriots play the Jaguars on Sunday in a rematch of last season's AFC championship game, only this one will take place in Jacksonville. These figure to be two of the best teams in the conference, with this matchup pitting the craftiness of 41-year-old Tom Brady against the swarming youthfulness of the Jaguars defense.
Philadelphia's defense came through in the opener against Atlanta, harassing Matt Ryan into making a slew of mistakes in a Thursday night game. The well-rested Eagles play at Tampa Bay, a team that over-delivered at New Orleans with Ryan Fitzpatrick at quarterback. Between Nick Foles and Fitzpatrick, this is the Backup QB Bowl.
The 88 combined points by the Buccaneers (48) and Saints (40) were the most scored in a single game on so-called Kickoff Weekend. The previous high was turned in by Philadelphia (45) and Washington (42), but that was back in 1947.
Also Sunday, Buccaneers receiver DeSean Jackson will face his old team. He exploded for 146 yards and two touchdowns in the opener.
Half of the games in Week 2 are divisional matchups, among them Baltimore at Cincinnati on Thursday night (both coming off commanding wins), Minnesota at Green Bay (two potential Super Bowl teams), and the Rams making their home opener against Arizona.
Chargers coach Anthony Lynn takes his team back to Buffalo, where his success as an offensive coordinator helped pave the way for his current job. Although the Chargers lost at home Sunday, and travel to the Eastern time zone (where West Coast teams often falter), they opened as 7½-point road favorites over the Bills. Then again, it's the experienced Philip Rivers on one side, and rookie Josh Allen could be making his starting debut on the other.
It's probably too early and too small a sample size, but the new kickoff formation rules could mean more big returns. As ProFootballTalk notes, there were two kickoffs returned for touchdowns in 13 games Sunday, whereas there were just seven such returns in the entire 2017 season (256 games).
Follow Sam Farmer on Twitter @LATimesfarmer
---
Get the latest on L.A.'s teams in the daily Sports Report newsletter.
You may occasionally receive promotional content from the Los Angeles Times.