Sam Farmer's NFL Week 16 picks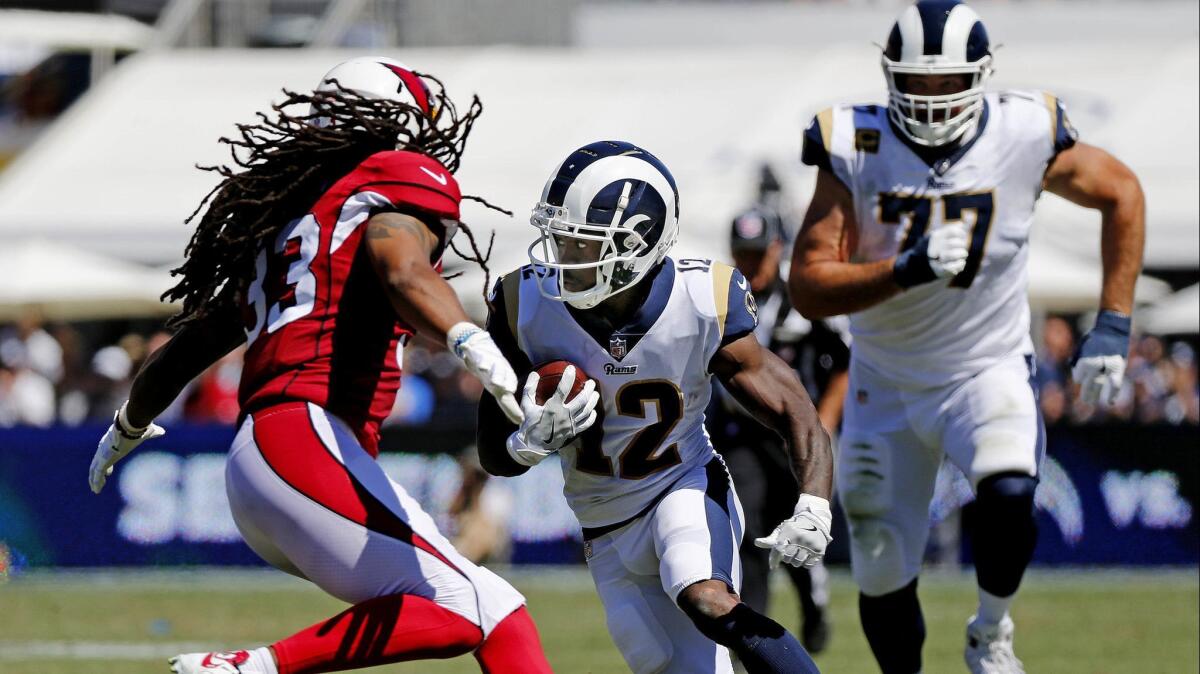 The Times' NFL writer, Sam Farmer, examines this week's matchups. Lines according to Pregame.com (O/U = over/under). Last week's record 11-5 (.688); season 146-76-2 (.657). Using point spreads with the scores Farmer predicted, the record against the spread last week would have been 9-7 (.563); season 108-108-8 (.500). Times Pacific.
Washington (7-7) at Tennessee (8-6)
Saturday, 1:30 p.m.
Titans 21, Redskins 13
TV: NFL Network.
Line: Titans by 10. O/U: 37.
The Titans have found that recipe for good December football. They play solid defense and run the ball well. Washington just doesn't have enough on offense, even though its defense is playing well.
Baltimore (8-6) at Chargers (11-3)
Saturday, 5:15 p.m.
Chargers 24, Ravens 17
TV: Channel 7, NFL Network.
Line: Chargers by 4½ . O/U: 44.
The Ravens have the best defense the Chargers have faced in a while, and probably all season. But the Chargers are rested, and they might be the NFL's most complete team at this point.
Jacksonville (4-10) at Miami (7-7)
Sunday, 10 a.m.
Dolphins 24, Jaguars 17
TV: None. DirecTV: 705.
Line: Dolphins by 4. O/U: 38½.
The Dolphins are looking to bounce back from a bad loss at Minnesota. They typically have a sound defense and a solid secondary. Jacksonville is still fumbling around for an identity.
Cincinnati (6-8) at Cleveland (6-7-1)
Sunday, 10 a.m.
Browns 27, Bengals 23
TV: None. DirecTV: 706.
Line: Browns by 9½. O/U: 44½.
Browns offensive coordinator Freddie Kitchens has done a nice job sticking with the run, allowing Baker Mayfield a little more time and keeping Cleveland's defense fresher. Go with the home team.
Buffalo (5-9) at New England (9-5)
Sunday, 10 a.m.
Patriots 24, Bills 17
TV: Channel 2. DirecTV: 707.
Line: Patriots by 13½. O/U: 44½.
The Patriots have blown chances to clinch the AFC East in consecutive weeks. This one could be closer than expected, for a while, because of Buffalo's defense. Patriots will pull away late.
Houston (10-4) at Philadelphia (7-7)
Sunday, 10 a.m.
Texans 28, Eagles 23
TV: None. DirecTV: 708.
Line: Eagles by 1. O/U: 46.
Eagles are coming off an emotional win at the Rams, but can they keep it going? The Texans are good, but they don't scream, "We're a Super Bowl team!" They find ways to get the W though.
N.Y. Giants (5-9) at Indianapolis (8-6)
Sunday, 10 a.m.
Colts 31, Giants 20
TV: None. DirecTV: 709.
Line: Colts by 9½. O/U: 47.
The Colts are quietly putting together an impressive season. It isn't just Andrew Luck, either. Their front seven is really solid. The Giants offensive line could be in for a long day.
Atlanta (5-9) at Carolina (6-8)
Sunday, 10 a.m.
Falcons 24, Panthers 20
TV: None. DirecTV: 710.
Line: Falcons by 3½. O/U: 43½.
With Taylor Heinicke playing in place of Cam Newton, out with a shoulder injury, the Panthers don't stand much of a chance to keep pace with the Falcons on the scoreboard.
Tampa Bay (5-9) at Dallas (8-6)
Sunday, 10 a.m.
Cowboys 28, Buccaneers 23
TV: None. DirecTV: 711.
Line: Cowboys by 7½. O/U: 48½.
Tampa Bay can play teams tough but just can't close the deal against good opponents. The incentivized Cowboys are primed for a bounce-back game and they play better at home.
Minnesota (7-6-1) at Detroit (5-9)
Sunday, 10 a.m.
Vikings 28, Lions 20
TV: None. DirecTV: 712.
Line: Vikings by 6. O/U: 42½.
The Lions have been a real disappointment, and their offense will struggle to hang in against this NFC North foe. The Vikings are desperate and talented, so they should roll on the road.
Green Bay (5-8-1) at N.Y. Jets (4-10)
Sunday, 1:15 p.m.
Jets 24, Packers 20
TV: None. DirecTV: 713.
Line: Packers by 3. O/U: 47.
Amazingly, the Packers are 0-7 on the road this year, and now they're without Aaron Jones. Aaron Rodgers has a groin injury. The Jets are nothing special, but they can be tougher at home.
Rams (11-3) at Arizona (3-11)
Sunday, 1 p.m.
Rams 41, Cardinals 13
TV: Channel 11. DirecTV: 714.
Line: Rams by 14. O/U: 44.
The Rams need this one badly, not just to hang on to the inside track on the NFC No. 2 seed, but for confidence after back-to-back losses. The Cardinals are just waiting for the season to end.
Chicago (10-4) at San Francisco (4-10)
Sunday, 1 p.m.
Bears 27, 49ers 21
TV: None. DirecTV: 715.
Line: Bears by 4. O/U: 42½.
Kyle Shanahan doesn't get a lot of credit for what he's doing with the 49ers, and he deserves a ton. To win with that no-name, broken-down group is amazing. That said, this isn't the week for them.
Pittsburgh (8-5-1) at New Orleans (12-2)
Sunday, 1:15 p.m.
Saints 31, Steelers 27
TV: Channel 2. DirecTV: 716.
Line: Saints by 5½. O/U: 53.
Like the Rams, the Saints haven't been the same offensively for some time. But New Orleans plays better in the Superdome, and that might be enough against the up-and-down Steelers.
Kansas City (11-3) at Seattle (8-6)
Sunday, 5:15 p.m.
Seahawks 28, Chiefs 24
TV: Channel 4.
Line: Chiefs by 2½. O/U: 54.
The Seahawks were embarrassed by the 49ers last week, but they still have their eyes on the playoffs. The Chiefs have fallen off their early pace, even though they have a phenom at quarterback.
Denver (6-8) at Oakland (3-11)
Monday, 5:15 p.m.
Raiders 24, Broncos 23
TV: ESPN.
Line: Broncos by 3. O/U: 43.
These teams don't have much to play for, but this could be the Raiders' last game in Oakland. That has to mean something, right? Maybe it's enough incentive to lift the Silver & Black to a rare victory.
Get our high school sports newsletter
Prep Rally is devoted to the SoCal high school sports experience, bringing you scores, stories and a behind-the-scenes look at what makes prep sports so popular.
You may occasionally receive promotional content from the Los Angeles Times.