Rams now on the rise, GM Les Snead has some fine-tuning (and contracts) to do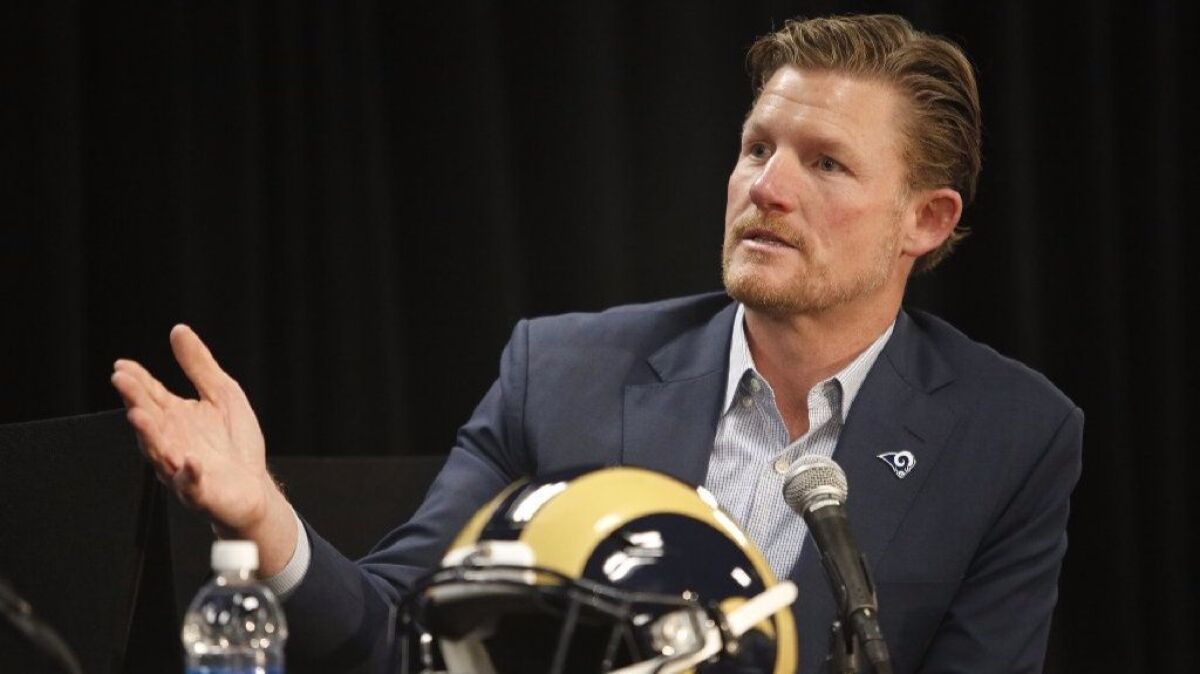 The memory of losing an NFL playoff game was so fresh, Rams general manager Les Snead hardly could bring himself to watch the College Football Playoff championship game this week.
But when Snead finally tuned in, he heard Alabama coach Nick Saban invoke his "Don't waste the feeling," slogan that drove the Crimson Tide to another title a year after they suffered a last-second loss in the championship game.
"I think that's kind of what, where we're at right now," Snead told reporters Wednesday as he evaluated the Rams' turnaround season and looked forward to 2018. "Don't waste that feeling. Let's move to the next step."
Under first-year coach Sean McVay, the Rams went from one of the NFL's worst teams to one of the best, winning the NFC West and advancing to the playoffs for the first time since the 2004 season.
Now, with a team that includes ascending quarterback Jared Goff, star running back Todd Gurley and a solid defense and special teams, expectations are higher.
"You're trying to not just win the division but, OK, repeat and then maybe take the next step and let's go for home-field advantage," Snead said, adding, "Just because we did it last year. … you've still got to do it again."
Snead will be busy this offseason, especially with contract situations involving star defensive lineman Aaron Donald, cornerback Trumaine Johnson, receiver Sammy Watkins, receiver Tavon Austin and safety Lamarcus Joyner, among others.
Snead said he and the coaching staff would take a few weeks to get away from the emotion of the season and then regroup after the Super Bowl so they can be "rational and smart" in their thinking.
"We'll solve a lot of the riddles that week," he said.
The NFL salary cap for 2018 reportedly will range from $174 million to $178 million. The Rams have $50.4 million in cap space, according to overthecap.com.
The biggest looming question for the Rams — as it was throughout the season — is whether they can reach a new deal with Donald, a Pro Bowl performer in each of his four pro seasons.
The Los Angeles Times' Gary Klein and Lindsey Thiry discuss personnel decisions the Rams must make in free agency plus look ahead to position needs in the draft.
Donald is due to earn about $6.9 million next season in the fifth-year of his rookie contract. He sat out all of training camp because of the contract dispute but probably could not afford to do that again because, under the collective bargaining agreement, he would lose service time toward gaining eventual free agency if he does not report by a certain date.
The Rams and Donald's representatives worked to reach a deal on a "daily, weekly basis" before and during part of the season before mutually agreeing to wait until its conclusion, Snead said. He gave no timeline for when he expected a new deal to be done.
"It is a major priority," he said, "as it always will be until we get it done."
But Donald's situation will not preclude the Rams from working through other contract issues.
"He's an important domino," Snead said of Donald. "If we're doing cards, he's one of the cards where if you're a poker player you want to play last.
"But the way we attack that list of names, can't say that Aaron would be first. We'll have them all going on simultaneously and try to knock them out. We've got a little bit of a general plan as it is now. We'll come back and fine-tune it."
Snead said he "definitely" could foresee a scenario in which Johnson, a pending free agent, returns after playing for nearly $17 million on the franchise tag.
"Obviously, he fit in, played an important role," Snead said. "But I do think we want to sit down with everyone and go, 'OK, are the guys we have ideal?' Especially when it gets to guys that are obviously going to demand — command based on their ability and their performance — top dollar."
Austin's situation is intriguing because he carries an $8-million salary-cap hit in 2018 after a season in which he lost his job as punt returner and was utilized mainly as a decoy on offense.
Snead, like McVay, praised Austin for a team-first attitude despite his dwindling role.
"He was able to do some things and assist others," Snead said, "but we definitely got to talk about Tavon."
Linebacker Robert Quinn and linebacker Mark Barron are other veterans with contracts that could make them vulnerable. Quinn carries a cap hit of $12.4 million, Barron $10 million, according to spotrac.com.
But when asked about them, Snead said, "The goal is not necessarily to save money. The goal is to make sure we can fit everybody into the budget."
Gurley, in the running for the league's most valuable player award, is another piece of the puzzle as he enters his fourth season.
"He's another domino that's important," Snead said, adding, "There's going to be the list of names, 'OK, they're coming up soon.' How do we keep this team together as long as possible? ... The goal is always to keep those core pieces, those difference-makers around as long as possible."
Snead's focus last offseason was finding pieces to improve an offense. The moves — signing receiver Robert Woods, tackle Andrew Whitworth, center John Sullivan and trading for receiver Sammy Watkins — paid off.
With defensive coordinator Wade Phillips now having implemented his 3-4 scheme, the Rams are expected to focus on strengthening that unit.
"We get that thing to dominant," Snead said, "it would be kind of fun."
After last season and the firing of coach Jeff Fisher, Snead was considered to be on something of a hot seat as he entered his sixth year in the job.
Now, after the Rams' surprising turnaround, he and McVay are regarded as a solid combination.
"From a foundational standpoint, being on the same page with Les and his staff and our coaching staff I think has been instrumental in being able to have things go well," McVay said the week before the playoff game, "and then the players have gotten it done."
Snead echoed those comments.
"We shared core values in how the Rams should look, be built, how the culture should be," he said.
Asked if he felt personal vindication after the Rams' successful season, Snead demurred.
"I always try to go, 'It's not about me or Les Snead,' " he said. "I think you can do well in this job if you can always think, 'Hey, it's about the Rams. It's about where you're at in the standings.' "
Follow Gary Klein on Twitter @latimesklein
---
Get the latest on L.A.'s teams in the daily Sports Report newsletter.
You may occasionally receive promotional content from the Los Angeles Times.