Greg Zuerlein aims to get back to normal as Rams' 'Mr. Automatic' at kicker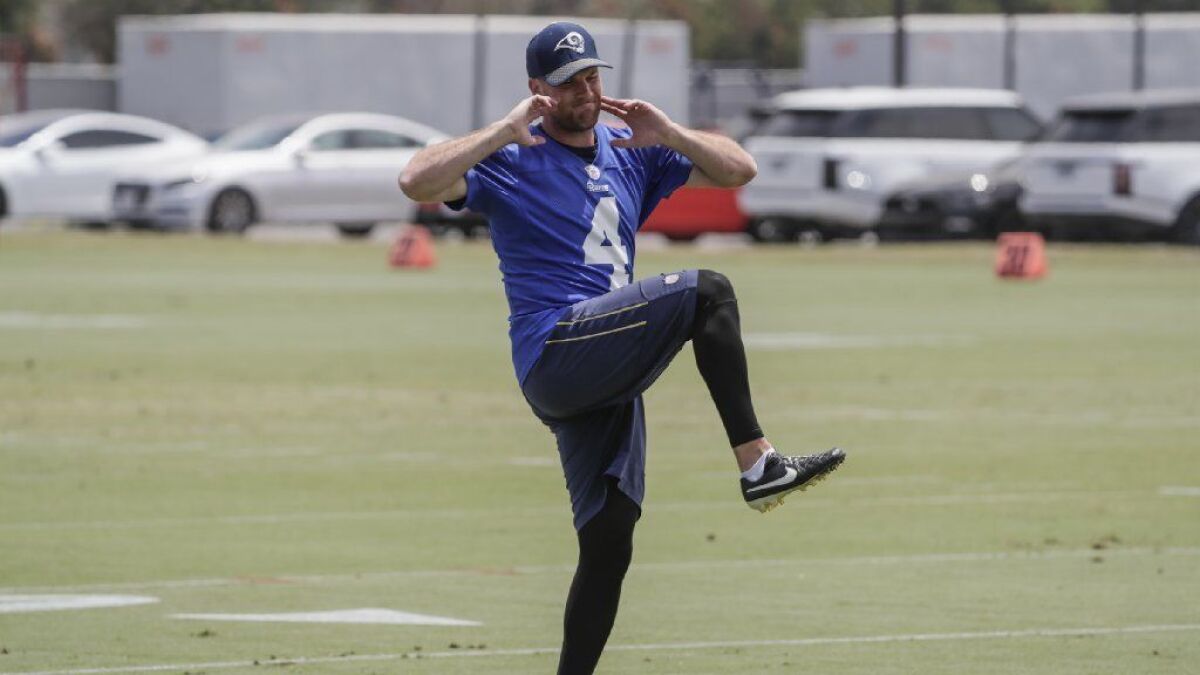 Back pain lingered throughout the 2017 NFL season. It spiked before the Rams' Week 14 game at Seattle, and afterward knocked Greg Zuerlein facedown on the floor.
For several days, the veteran kicker known as "Legatron," "Greg the Leg" and "Mr. Automatic" could barely walk while awaiting surgery to remove part of a disc that was disturbing a nerve.
"As soon as I had the surgery done, I could walk like normal," Zuerlein said last week. "The relief was instant, so I was pleased with that.
"From there, it was just strengthening all the muscles around it so it's protected, and then having the nerve recover.
"That's all happened, so I feel great."
Zuerlein's ability to come back and perform at or near his 2017 level could be vital for a Rams team billed as a Super Bowl contender under second-year coach Sean McVay.
The Rams' offense again will feature no shortage of game-breaking skill-position players.
Quarterback Jared Goff is an ascending star, running back Todd Gurley the reigning league offensive player of the year and new receiver Brandin Cooks a speedy, deep-ball threat who is expected to make the NFL's top-scoring team even more potent.
But if the Rams are to maintain or improve their output, and advance beyond the wild-card round of the playoffs, they'll probably require a physically sound Zuerlein.
Despite appearing in only 14 games last season — he was sidelined for the final two games of the regular season and a playoff defeat to the Atlanta Falcons — Zuerlein still finished with a league-leading 158 points for a team that averaged 29.9 points per game.
Zuerlein, 30, began his recovery from surgery with rest, core work and stretching. He participated in this spring's voluntary offseason workout program and organized team activity workouts, progressing in May from one-step kicks to three-step kicks.
But he did not practice field goals or participate in full-squad drills during organized team activities.
"I always just show up every day, the trainers tell me what to do and then we just go from there," Zuerlein said, adding, "We're just slowly building up the power."
Last week, during the final OTA practices, Zuerlein worked with snapper Jake McQuaide and holder/punter Johnny Hekker for the first time since the Rams' 42-7 victory over the Seahawks.
"I'm just trying to get back to having my form because it feels goofy swinging my leg right now," Zuerlein said, laughing.
Preparing for his seventh NFL season, Zuerlein is part of Rams special teams units that rank among the NFL's best. Zuerlein, Hekker, McQuaide and kick returner Pharoh Cooper all were selected to the Pro Bowl after helping the Rams finish 11-5, win the NFC West and advance to the playoffs for the first time since 2004.
Despite nagging discomfort throughout the season, Zuerlein made 38 of 40 field-goal attempts, including a seven-for-seven performance in a 35-30 Week 4 victory at Dallas.
Two-and-a-half months later, in the hours leading up to the Rams' game at Seattle, Zuerlein could barely stand because of back and leg pain. He kicked two first-quarter field goals, but an extra-point attempt bounced off an upright, several kickoffs were uncharacteristically short and one bounced out of bounds.
On the team's plane ride to Los Angeles, Zuerlein had to lie facedown on the floor. He did the same on the team bus. Special teams coordinator John Fassel said Zuerlein also was placed facedown in a reclined seat of Fassel's car for the ride home from the Rams' facility.
The Rams put Zuerlein on injured reserve, and he underwent surgery. He was back in the Rams' locker room soon after, but his season was finished. The Rams signed free-agent kicker Sam Ficken, who made four of five field-goal attempts in three games.
In March, the Rams put an exclusive free-agent tender on Ficken, giving them an insurance policy as Zuerlein works his way back.
Zuerlein "might do some stuff" during the Rams' mandatory minicamp this week, McVay said. The workouts will be the team's last until it regroups for training camp in late July.
"He's definitely on track," McVay said of Zuerlein. "He's making progress, and he feels good, but that's something we wanted to be real mindful of — not rushing him back — knowing we have a long way to go until kind of things really start to matter."
Said Fassel: "He could probably do more than we asked him to do, but there's no rush with a seventh-year kicker. It won't take him long in training camp to be ready."
Zuerlein is looking forward to regaining the power in his kicks. And his rhythm.
"That's really all it is — just getting my form back," he said. "Because physically, everything is great. … Just need to shape up the leg."
Follow Gary Klein on Twitter @latimesklein
Get the latest on L.A.'s teams in the daily Sports Report newsletter.
You may occasionally receive promotional content from the Los Angeles Times.