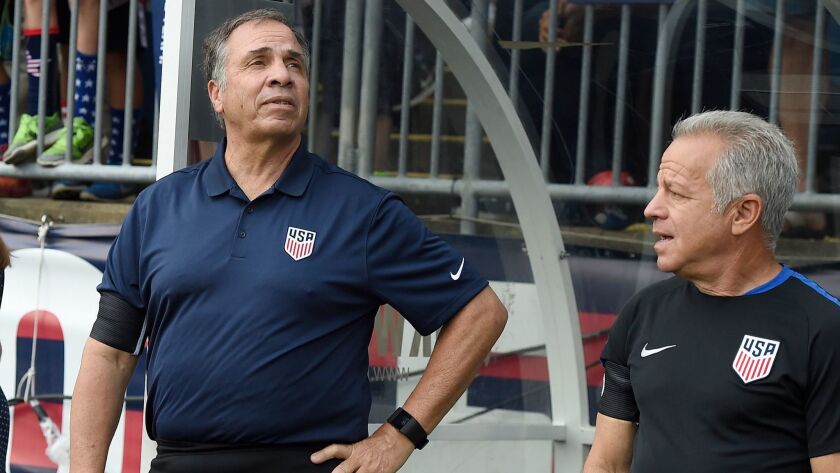 The U.S. men's national soccer team hasn't lost since Bruce Arena took over as coach in December, has climbed from last to third in the CONCACAF World Cup qualifying table and played Mexico to a 1-1 draw on the road last month. But none of that has paid off in the FIFA world rankings, where the U.S. has fallen 12 spots to No. 35 overall.
The 12-spot drop was the largest among the top 56 teams in the rankings and dropped the U.S. behind countries such as Iran, Northern Ireland, Egypt, Senegal and Tunisia. It's also the second-lowest the U.S. has been ranked since the FIFA table was established in 1992. In July 2012, the U.S. was 36th.
World Cup champion Germany, which won this month's Confederations Cup in Russia, is ranked No. 1, having vaulted over Brazil and Argentina, who are second and third, respectively.
Portugal, Switzerland, Poland, Chile, Colombia, France and Belgium round out the top 10.
Mexico, unbeaten in World Cup qualifying, improved one spot to No. 16, its best showing since 2012. Costa Rica, the only other CONCACAF team in the top 40, is ranked 26th.
The rankings are determined by a formula that awards points based on the results of full international matches over the last four years, with more recent results and more significant matches being more weighted more heavily.
The top 35
1. Germany (+2)
2. Brazil (-1)
3. Argentina (-1)
4. Portugal (+4)
5. Switzerland (+4)
6. Poland (+4)
7. Chile (-3)
8. Colombia (-3)
9. France (-3)
10. Belgium (-3)
11. Spain (-1)
12. Italy (0)
13. England (0)
14. Peru (+1)
15. Croatia (+3)
16. Mexico (+1)
17. Uruguay (-1)
18. Sweden (+16)
19. Iceland (+3)
20. Wales (-7)
21. Slovakia (0)
22. Northern Ireland (+6)
23. Iran (+7)
24. Egypt (-4)
25. Ukraine (+12)
26. Costa Rica (-7)
27. Senegal (0)
28. Congo (+11)
29. Ireland (-3)
30. Bosnia and Herzegovina (-1)
31. Ecuador (-7)
32. Netherlands (-1)
33. Turkey (-8)
34. Tunisia (+7)
35. U.S. (-12)
Twitter: kbaxter11
---