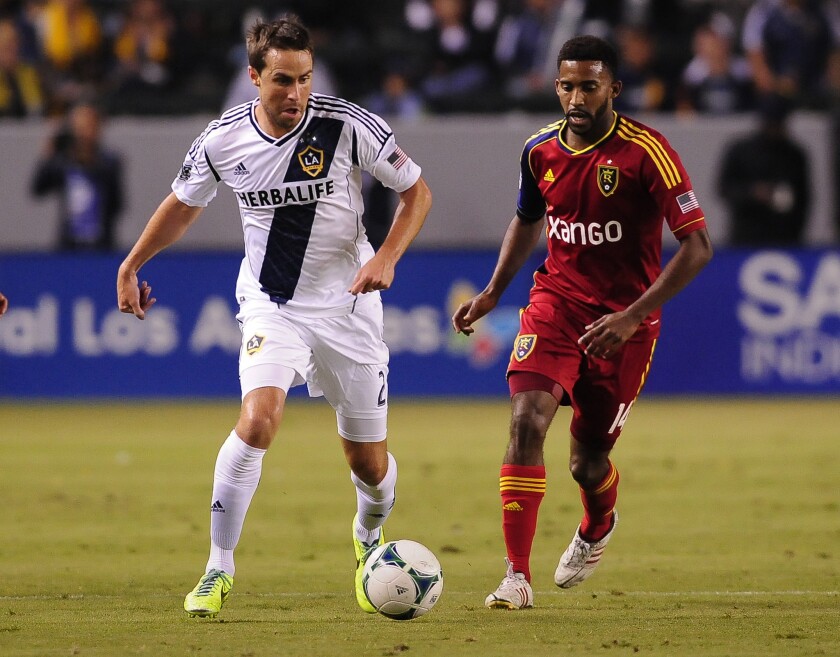 When Todd Dunivant played the first regular-season home game of his career with the San Jose Earthquakes 13 years ago, the median base salary of a Major League Soccer player was less than $45,000 a year and no one in the league was making close to $1 million.
When Dunivant's current team, the Galaxy, plays the final regular-season home game of his MLS career Sunday against the Portland Timbers, the median base salary will be more than $112,000 and 23 players will be making more than $1 million — many of them way more.
That's not a coincidence. Because for all Dunivant has done as player, winning five MLS titles, making an All-Star team and playing for the national team, his biggest contribution to professional soccer in the U.S. may have come as a negotiator. As a member of the executive council of the MLS Players Union, he helped usher in changes to the salary structure that have seen the amount teams spend on payroll jump nearly 250% in the last seven years.
"His contributions have been tremendous," said Bob Foose, the union's executive director. "He's worked incredibly hard on union issues. He will leave some big shoes to fill."
On the field, however, Dunivant's career has been derailed by a series of injuries to his calf, quadriceps, abdomen and groin. An ironman who ranks fourth in Galaxy history in games (193), starts (188) and minutes (16,643) by an outfield player, Dunivant, 34, has played just 10 MLS games and 438 minutes the last two seasons.
But even after announcing in August that this season would be his last, Dunivant refused to relax, rehabbing his latest injury — plantar fasciitis in his right foot — with a goal of playing one last MLS game in the StubHub Center.
That probably won't happen. Although Dunivant has been training regularly with the first team and says he is fully fit, with the Galaxy locked in a tight battle for home-field advantage in the playoffs, it's unlikely Coach Bruce Arena will have the luxury of using a defender who has played just one minute in the last 6 1/2 months.
Still, Arena says that won't detract from what Dunivant has done in the previous 13 years.
"Everybody would like to go out in a blaze of glory," Arena said. "But . . . he's proven what he needed to prove on the field. And off the field.
"He's still an important part of our team and he deserves the respect and applause for the kind of career he's had and the way he's conducted himself as a person and a player."
The Galaxy entered the regular season's penultimate weekend guaranteed a playoff berth but can finish no higher than second in the Western Conference. FC Dallas clinched the conference's top seed with a win Saturday. The Galaxy can still finish second, which would guarantee it home-field advantage in the first round of the playoffs — an important perk for a team that has the league's best home record and the conference's second-worst road mark.
Lose the last two games, though, and the Galaxy could tumble to sixth, forcing it into a one-game playoff on the road just to qualify for the conference semifinals.
"The game we're playing is a game we need to win," Arena said. "So we're going to play the best team we can and do everything we can to get three points."
Arena is hoping that team includes forward Giovani dos Santos, who returned to training after missing two games with the Mexican national team because of a muscle strain. Dos Santos has three goals and four assists in eight games with the Galaxy.
As for Dunivant, his final game in a Galaxy uniform could come Wednesday in far-off Guatemala City, where Arena will rest his regulars against CSD Comunicaciones in the last group-play game of the CONCACAF Champions League. After that, Dunivant will continue to train with the team during the postseason and though he's unlikely to suit up for a game, if the Galaxy successfully repeats as MLS champion he'll earn his sixth ring, tying him with former teammate Landon Donovan for the most titles in league history.
"The next couple of weeks and months should be reflective," said Galaxy President Chris Klein, a teammate of Dunivant who retired in 2010. "He's had an amazing career. And to be able to think back on that, to think of the championships and the teammates and the coaches and everyone that has been involved in that, he should be proud of that."
That process has already begun.
"Obviously, I'm going to miss it. But it's a step I'm ready to take," said Dunivant, who has an economics degree from Stanford. "That collective-bargaining stuff . . . I'm very proud of the work that I did on that. The league has come a long way because of it. I'll always savor that.
"On the field, having a 13-year career . . . and to be able to win five championships and to play with the players that I've played with and to be at the level that I've played is all a dream come true."
Follow Kevin Baxter on Twitter @kbaxter11
---