Galaxy can't rally against Sporting Kansas City and fall 2-0
An encore is rarely as thrilling as the first act. And that was certainly the case in Zlatan Ibrahimovic's second cameo with the Galaxy on Sunday.
The Swedish superstar came on early in the second half and though he failed to deliver the magic he did in his MLS debut a week ago, it wasn't for a lack of effort. In 28 minutes, Ibrahimovic had a team-high five shots and put three of them on goal.
But unlike last week, when he scored twice, this time none of his shots went in in a 2-0 loss to Sporting Kansas City.
"He's not going to work miracles every time he steps on the field," Galaxy coach Sigi Schmid said.
Maybe. However he did wake his team from an hourlong slumber, help force Kansas City goalkeeper Tim Melia to make a career-high 10 saves and brought the announced crowd of 25,846 to its feet just by standing up to stretch in front of the Galaxy bench.
And during his time on the field, the Galaxy outshot the visitors 14-3 — with Ibrahimovic putting three on goal in a six-minute span. But the fact that none of them went in is all that matters, Ibrahimovic said.
"If you don't score you don't win," he said. "They wanted it more than us. Losing 2-0 at home is not good. We need to focus more on the beginning.
"But everything is new for me. I'm here one week. If they're not hungry, I'll make sure they will be hungry."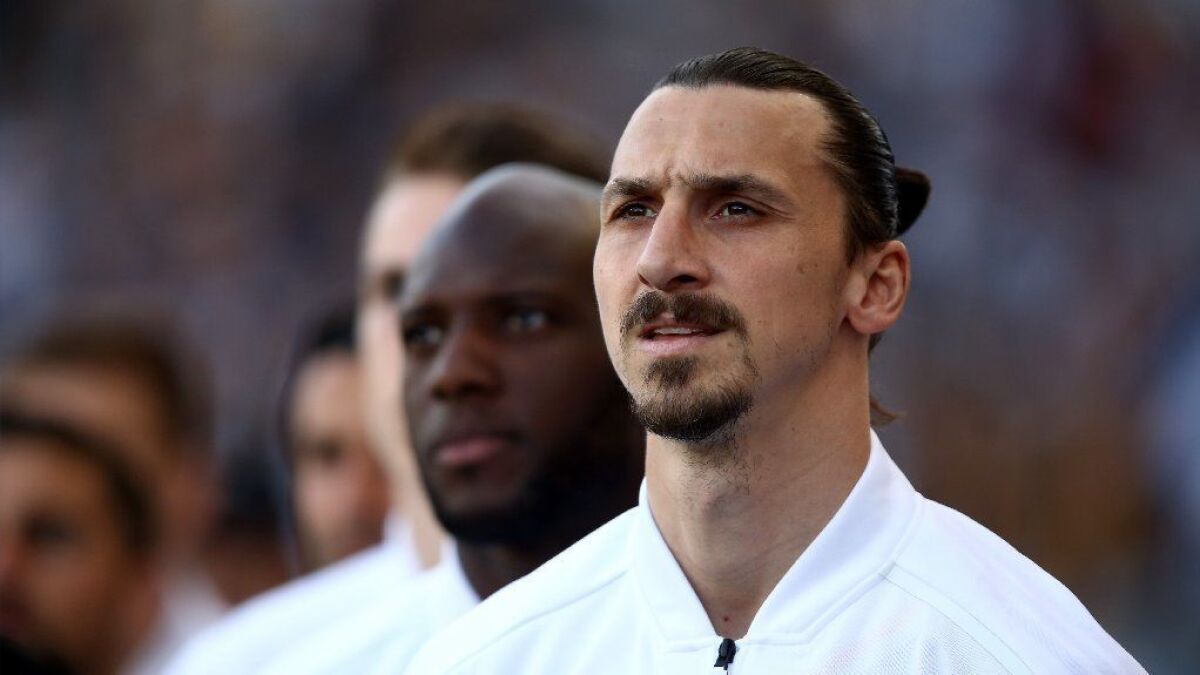 So Kansas City (4-1-1), playing without Felipe Gutierrez, the league's leading scorer who stayed home with a bruised pelvis, feasted. The visitors took advantage of two defensive mistakes to score a pair of second-half goals five minutes apart, extending their lead atop the Western Conference standings.
The first came in the 56th minute when Daniel Salloi pounced on a poor clearance off a corner kick and beat Galaxy keeper David Bingham for his first goal of the season. That appeared to startle the Galaxy (2-2-1), who opened the second half with four quick shots.
"I'm sick and tired of us going down a goal before we decide to wake up," Schmid said.
But with Ibrahimovic preparing to check into the game, Johnny Russell doubled Kansas City's advantage, taking a long ball over the top, cutting between Galaxy defenders Daniel Steres and Ashley Cole at the right edge of the penalty area to draw Bingham off his line, then pushing a shot in at the far post.
With David Beckham looking on from a club suite, Ibrahimovic rushed on for the Galaxy seconds later and, just as it did in last week's come-from-behind win over LAFC, the team immediately took it up another notch.
"His energy helps that because the crowd's energy gets into the game," Schmid said. "That helps the players because they respond to the crowd. And Zlatan obviously draws the attention of the opposition. That opens up some space for everybody."
But teammate Jorden Skjelvik, who nearly turned a nice Ibrahimovic cross into a goal with 15 minutes to play, said the team needs to to make its own energy.
"We can't wait for him to come in every match," he said of Ibrahimovic.
Even with Kansas City marking him tight when the Galaxy had the ball, and mostly playing a time-wasting game of keep-away when they didn't, Ibrahimovic made his presence felt. One of his three shots on goal was a booming free kick in the 83rd minute that was gobbled up by Melia while in stoppage time what looked to be a promising breakaway was broken up when defender Ike Opara ran Ibrahimovic down from behind.
Ibrahimovic also put three crosses into the center of the box, but none of them led to goals, while the Galaxy bounced three of their 22 shots off the post on the night.
"Sometimes it doesn't go in," he said. "Sometimes it goes in."
Follow Kevin Baxter on Twitter @kbaxter11
---
All about the beautiful game
Go inside the L.A. pro soccer scene and beyond in Kevin Baxter's weekly newsletter.
You may occasionally receive promotional content from the Los Angeles Times.