The NBA has never in its 72-year history had a more successful regular season than it did in 2017-18, according to Forbes.
Television ratings increased on each of four networks that broadcast games. Attendance records were broken. So were records for merchandise sold. The value of franchises was at an all-time high.
However, a question persisted about whether the league could maintain that momentum through the playoffs without teams from the nation's three largest media markets — New York, Los Angeles and Chicago — for the first time since 1960.
If television ratings are an indication going into Game 1 of the Finals on Thursday night between Cleveland and Golden State, we have an answer.
As TNT's Marv Albert would say, "Yes!"
Both networks — TNT and ABC/ESPN — have reported significant ratings increases over last season, peaking when both Eastern and Western conference finals extended to Game 7s for the first time in the same year since 1979.
Cleveland's victory at Boston on Sunday night had a 9.1 rating (an average of 13.305 million viewers, 17.463 million for the final half-hour), the highest ever for an ESPN telecast of an NBA game.
Golden State's victory at Houston on Monday night did even better for TNT. The 10.3 rating (an average of 14.8 million viewers, 17.9 million for the final half-hour) was the second-highest rated NBA telecast ever on cable TV.
That game went head-to-head with Game 1 of the NHL Stanley Cup Finals between Las Vegas and Washington on NBC. With the compelling story lines of an expansion franchise advancing this far in its first season against a long-suffering team led by three-time MVP Alex Ovechkin, the NHL also had it highest television ratings in years.
The national number was 3.72 (an average of 5.279 million viewers, peaking at 5.906 million). The gap was smaller than the last time a Stanley Cup Finals game was televised nationally at the same time as an NBA playoff game, basketball dominating those ratings, 11.2 to 2.7. Even so, the Golden Knights-Capitals game finished third in sports programming for the night behind the Warriors-Rockets game and TNT's studio show, "Inside the NBA."
The L.A. ratings were similar to the national numbers, an 11.9 rating for the NBA compared to a 3.2 for the NHL.
So what can we expect for the remainder of the NBA playoffs? The popular "Inside the NBA" team of Ernie Johnson, Charles Barkley, Shaquille O'Neal and Kenny Smith will not appear together. Some version of the show — with Barkley, O'Neal and Smith appearing with other guests — will be on NBA TV.
All of the games are scheduled for ABC, with hours of additional coverage throughout each day on ESPN and its multiple platforms. Games will be called by Mike Breen, working his 13th Finals, with analysis by Jeff Van Grundy and Mark Jackson.
As for a narrative, we can expect continued conversation about whether LeBron James or Michael Jordan is the greatest player of all time.
Kobe Bryant appeared to have contributed common sense to a nonsensical question Monday night.
"We can enjoy one without tearing down one," he wrote on Twitter. "I love what he's [James] doing. Don't debate what can't be definitely won by anyone."
Then he couldn't help but add hashtags reminding everyone that he has five rings, Jordan has six and James continues on "his quest."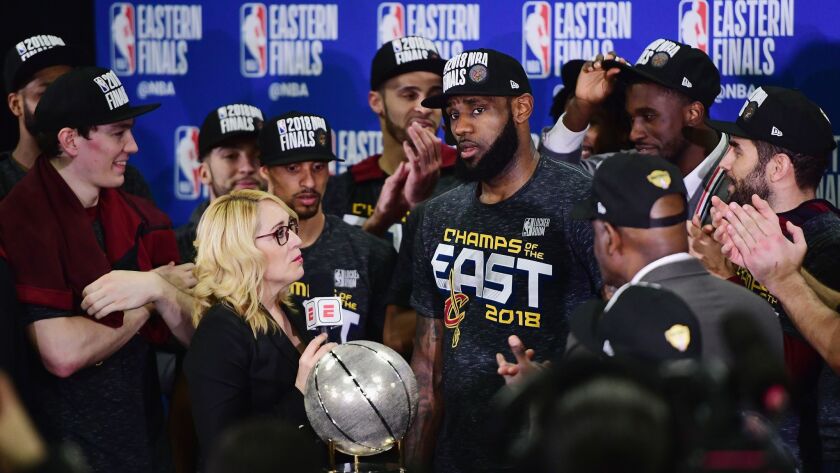 Interpretation: About to appear in his eighth Finals, James has a mere three championships.
We see what you did there, Kobe.
Van Grundy and Jackson were deliberate in their answers on the topic during a conference call Tuesday, preferring to add context.
"You can put several guys in that discussion when you talk about Michael Jordan and what he was able to do all those years, absolutely unstoppable," Jackson said. "Kareem with the one shot that nobody had any answer for, Wilt scoring 100 and averaging 50 and 25. Shaq in his dominance, Kobe in his dominance. You can go on and on."
Van Gundy said inside and outside players can't be fairly compared.
"Everybody would agree that Kareem was impossible to defend," he said. "And I still just marvel at Jordan. I have no doubt that he was the best individual offensive player from the perimeter position that I have ever seen and I think I will ever see in my time in the NBA."
Although some people contend that fans have Warriors-Cavaliers fatigue and won't watch them in the Finals for a fourth consecutive year, expect the ratings to remain high.
As the size of the audience for these playoffs suggests, James is must-see TV. He might not yet be Mike, but he certainly is being like him.
---