UCLA isn't giving itself much of a shot at winning games these days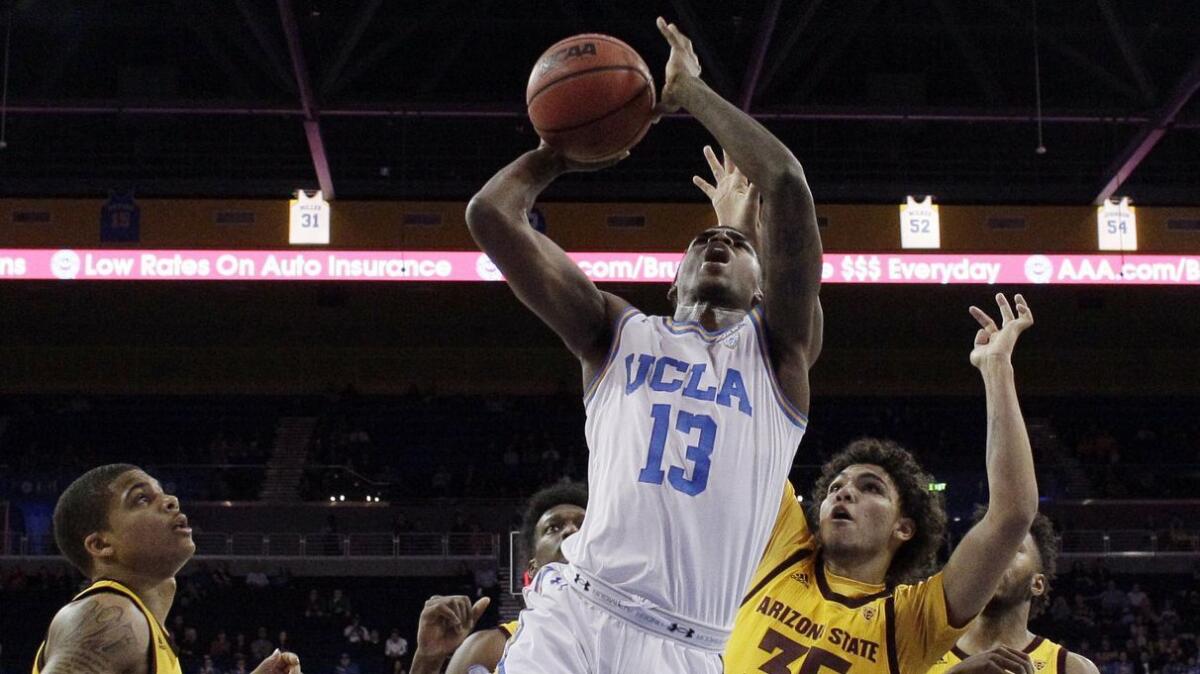 They're like accountants who can't add, teachers who can't spell and architects who can't draw.
The UCLA Bruins are struggling at the most fundamental aspect of what they do. They can't shoot the basketball.
The Bruins added an inability to make shots near the basket Thursday to their season-long problems at the free-throw line and beyond the three-point arc. Interim coach Murry Bartow estimated that his team missed 15 to 20 shots within four feet of the rim during an 84-73 loss to Arizona State at Pauley Pavilion.
It came as no consolation that some of the misses came while absorbing blows to various body parts.
"The officials obviously were letting it go, and they were letting it go on both ends," Bartow said afterward. "But it was physical inside and to be honest, we worked all week [on] finishing against contact and we did miss a lot of shots around the rim."
Some long-range misses in the final minutes ended any comeback hopes. After the Bruins (10-9 overall, 3-3 Pac-12 Conference) shaved what had been a 12-point deficit to eight, Kris Wilkes and Jaylen Hands missed three-pointers on consecutive possessions and the Sun Devils extended their lead once more.
When UCLA later got back to within eight points, Wilkes missed another three-pointer and Prince Ali and Wilkes missed putbacks. On the Bruins' next possession, Hands missed a three-pointer and Cody Riley was called for a charge after grabbing the offensive rebound.
UCLA's shooting woes were hardly confined to a few crucial minutes. For the game, the Bruins made 40.9% of their shots, 36% of their three-pointers and 47.6% of their free throws.
"We had a lot of opportunities to hit shots and we just didn't hit them," Wilkes said after making five of 13 field goal attempts on the way to 15 points. "I know I had a few opportunities that I should have hit and I didn't hit. And as a team, it just trickled on and everybody missed a lot of shots."
It's been a maddening theme. UCLA hasn't made more than half its free throws over its last three games and hasn't made more than 40% of its three-pointers over its last 12 games.
The team's shooting percentages are ugly across the board. UCLA ranks eighth in the Pac-12 in field-goal percentage (45.4), 10th in three-point percentage (33.1) and 12th in free-throw percentage (60.4). The Bruins' free-throw percentage also ranks No. 346 out of 353 Division I teams.
Bartow said there was only so much his team could do to improve its free throws.
"You can't harp on it and harp on it and harp on it," Bartow said. "I think what you do is you drill it, you rep it. The guys who are poor free throw shooters, you get them in the gym a lot and [make sure] they make a lot, make sure their technique is correct, make sure they're relaxed up there."
Sign up for our daily sports newsletter »
UCLA's problems from beyond the arc are all the more irksome, considering the Bruins led the Pac-12 in three-point accuracy the previous two seasons. Of course, having the since-departed Aaron Holiday and Thomas Welsh on those teams helped.
Bartow recently said he wanted his team to keep taking "a lot of threes" so long as they were not contested. But whether the Bruins have been confronted by a hand in the face or found an open look, it hasn't seemed to matter.
Maybe some salvation can come from facing an opponent stuck in an even worse funk. Arizona (14-6, 5-2), which will play the Bruins on Saturday night at Pauley Pavilion, made only 27.8% of its shots and 25% of its three-pointers in a rare blowout loss to USC on Thursday.
UP NEXT
VS. ARIZONA
When: Saturday, 7 p.m.
Where: Pauley Pavilion.
On the air: TV: ESPN2; Radio: 570.
Update: This will be the only meeting between the teams during Pac-12 play because of the conference's unbalanced schedule. It's the second consecutive season the longtime rivals will face each other only once prior to the Pac-12 tournament.
Follow Ben Bolch on Twitter @latbbolch
Get the latest on L.A.'s teams in the daily Sports Report newsletter.
You may occasionally receive promotional content from the Los Angeles Times.