Kevin Porter Jr. shows off his skills as USC routs Arizona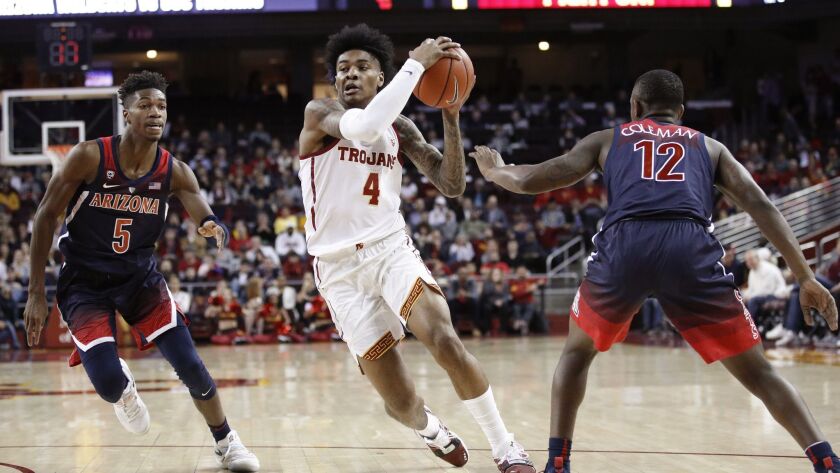 After six minutes of Thursday night's game against Arizona, Kevin Porter Jr. trotted onto the Galen Center floor in front of a live audience for the first time since Dec. 1. Less than a minute later, he swished a three, pushing the Trojans' early lead to nine points.
A few possessions passed before Porter grabbed an offensive rebound outside the circle in the paint. It was then that the freshman wing, saddled for two months by a mysterious leg injury and his own maturity off the court, decided to show everyone what they'd been missing. Porter gathered himself and, with little momentum, exploded toward the rim with the ball cupped in his left hand, reared back and went for the type of highlight play that made him famous in dark, dunk-loving corners of the internet.
The ball clanged out.
The next time down, the ball found him again, this time in the air. He corralled it but couldn't convert the potential alley-oop, missing a layup. Porter drew a foul, though, and he motioned to the student section with his hand in the air, as if to acknowledge that he knew how this may look but just bear with him a little longer.
It was all good with the USC students, who were in the middle of a delicious 80-57 victory over Arizona, a rare blowout of the Wildcats that would go down as the Trojans' biggest win in the series since a 100-76 romp in 1973 when Arizona was still in the Western Athletic Conference.
The historically resounding result felt great, sure, but how much greater would it have felt if Porter had completed that monster jam?
"It looked cool to me," USC junior center Nick Rakocevic said. "He lifted off from far as hell, it was crazy. If he would have put that one down, that would have brought the house down."
The young folks may have come out to see Porter dunk, but they were lucky to see him play at all. Porter missed the Oregon and UCLA games because of an undisclosed conduct issue that occurred during the team's trip to Oregon, but USC coach Andy Enfield saw enough improvement in Porter's understanding of his expectations as an elite college basketball player to unleash him Thursday. Enfield said Porter's situation would be evaluated weekly from here on out, so maybe don't get too comfortable seeing him.
In 17 minutes Thursday, Porter tried to settle in, scoring an efficient 14 points and making three of four three-pointers.
"Kevin came in and played within the flow of the offense and played good defense, and he just fit in perfectly," Enfield said. "You can see he's talented in certain areas. We need him to learn on the fly here because he's missed so much time this year."
Porter, the projected NBA lottery pick from Seattle, seems to realize that he does not have to force the issue with his time on the floor, especially when the Trojans are clicking like they have been at home the last month of the season. USC (11-8 and 4-2 in the Pac-12) has won six in a row at Galen Center and can make it seven Saturday night against Arizona State.
That is largely due to the continued dominance of Rakocevic, who is well on his way to a third Pac-12 player-of-the-week honor in four weeks after a double-double — 27 points and 12 rebounds. Bennie Boatwright chipped in a double-double of his own with 12 points and 12 rebounds. The game was never in doubt for USC, which held Arizona to 27.8% shooting from the floor with a stifling zone defense the Trojans employed the entire game.
It's shocking to see such a poor performance from Arizona (14-6, 5-2), which had won five in a row over USC dating to 2016.
"This is the first time in my career that I've beaten Arizona," Rakocevic said. "We wanted this win tonight. Everybody was locked in. Now beating a good team by double digits, two teams actually back to back, we've really got the momentum going. Now we finally sunk in on what needs to be done to continue to win these games."
Just imagine how good USC could be the rest of the season if Porter starts making his dunks.
"He's the most athletic person I've ever seen in person or ever played with," Rakocevic said. "I've seen him do cooler stuff. He's incredible. One of these games, I'm willing to bet you, he's going to do something crazy or put it on somebody's head or something crazy like that. It's coming."
Sign up for our daily sports newsletter »
Twitter: @BradyMcCollough
---
Get the latest on L.A.'s teams in the daily Sports Report newsletter.
You may occasionally receive promotional content from the Los Angeles Times.