UCLA loses third consecutive game after faltering in second half against Arizona State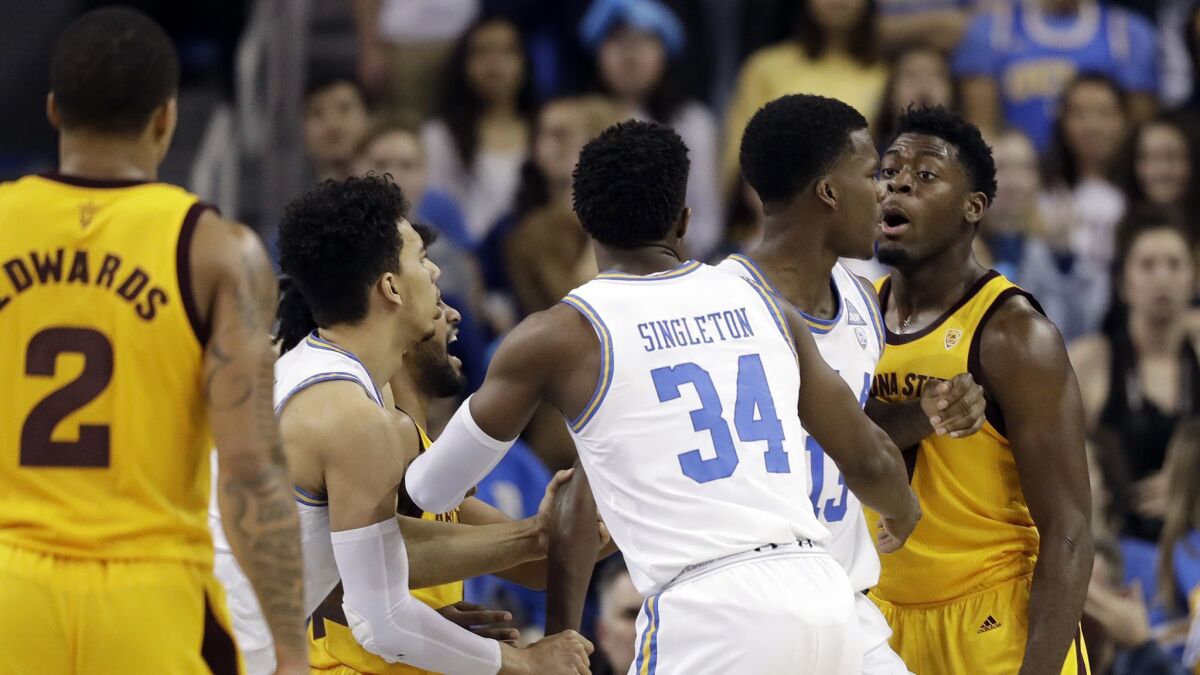 It's a gymnastics school now.
The shifting dynamic became apparent at halftime Thursday night when the UCLA basketball team headed to the locker room and its more popular counterpart took the court inside Pauley Pavilion. An energetic dance routine and a few backflips by the Bruins women's gymnasts prompted roars from a crowd lusting for a worthy cause to support.
When the basketball team came back out for the second half, the acoustics changed considerably. There was mostly audible unrest. What had long been UCLA's flagship sport continued to sputter, an 84-73 loss to Arizona State giving the Bruins a third consecutive defeat in a season once again trending heavily in the wrong direction.
The crowd of 7,555 was considerably smaller than the 10,270 who had showed up three days earlier to support the defending national champion gymnastics team during a victory over Arizona State.
The Sun Devils basketball team departed a much happier bunch after outhustling the Bruins (10-9 overall, 3-3 Pac-12 Conference) in the first half after spotting UCLA the game's first 11 points and finding its shooting touch against the Bruins' 2-3 zone in the second half.
Arizona State (14-5, 5-2) made five of its first eight three-pointers after halftime, wiping out a one-point deficit to surge ahead 70-59. UCLA called a timeout and the Bruins looked stunned as they milled about on the court before heading to the huddle.
"The energy's great, the spirit's great," UCLA interim Bruins coach Murry Bartow said. "We just have to play better."
It would somehow get worse, the crowd groaning a few minutes later after UCLA guard Jules Bernard missed consecutive free throws, continuing his team's problems from the line.
But the Bruins had one final push left in them. Point guard Jaylen Hands drove for a one-handed dunk that he followed with a steal and a ferocious two-handed slam, pulling his team to within 72-64.
Hands topped those moves with a flying one-handed dunk, making it a seven-point game with 2:49 left, but UCLA would come no closer amid more missed three-pointers and free throws.
It appeared as if the Bruins had caught a break a few minutes earlier when Arizona State's Romello White missed two consecutive free throws. But before fans could even celebrate winning Chick-fil-A sandwiches as part of a promotion, Sun Devils guard Luguentz Dort grabbed the offensive rebound and dunked on UCLA's Kris Wilkes while getting fouled.
Dort got in Wilkes' face and the players appeared to exchange words, leading to offsetting technical fouls. Dort made the free throw he was owed and the Sun Devils were back up by 11 points.
Wilkes and Hands each finished with 15 points, but it wasn't nearly enough after the Bruins made three of 14 three-pointers (21.4%) and six of 15 free throws (40%) in the second half. No other Bruin finished in double figures scoring.
"There's no secret formulas here," Bartow said. "If we make free throws, if we don't turn it over, if we make open threes — and I thought we probably missed 15 to 20 shots within four feet of the rim."
UCLA forward Jalen Hill, who supplanted Chris Smith in the starting lineup, supplied some energy around the basket, finishing with eight rebounds and five points. But Hill also had three first-half fouls and ceded his spot to Cody Riley starting the second half.
Dort scored 16 points to lead four Arizona State players in double-figures scoring and forward Zylan Cheatham snared 20 rebounds to go with nine points. The Sun Devils grabbed 15 offensive rebounds and outrebounded UCLA 48-40.
"We didn't box out like we should box out," Wilkes said. "In the zone, you really have to box out and find somebody and hit them and I think we rely on our athleticism too much and that didn't work out a lot."
Bartow tried to remain upbeat after his record since replacing Steve Alford fell to 3-3, praising his players for sustaining their effort amid the recent downturn.
"The fight with our team is good, so it has nothing to do with the spirit of our team," he said. "Obviously we've lost three in a row, but these guys continue to practice hard, work hard."
Sign up for our daily sports newsletter »
Follow Ben Bolch on Twitter @latbbolch
---
Get the latest on L.A.'s teams in the daily Sports Report newsletter.
You may occasionally receive promotional content from the Los Angeles Times.