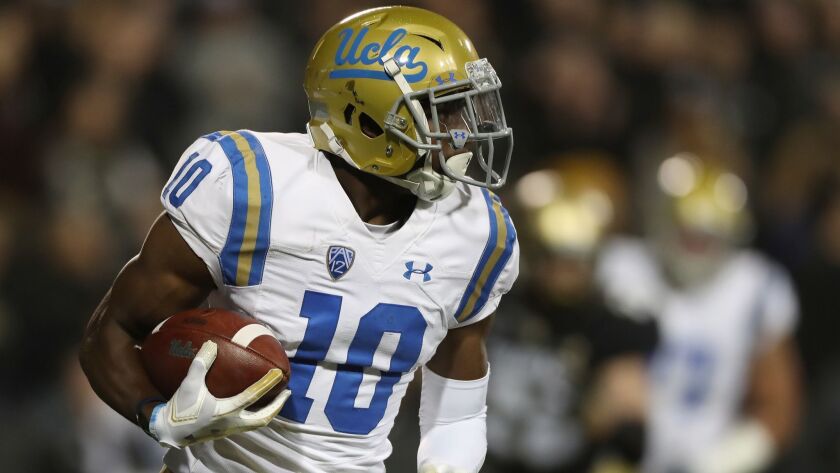 If big people beat up little people, as UCLA coach Chip Kelly likes to say, then Demetric Felton is proving another football truism.
Quick people outrun slower ones.
Felton has sprinted his way into the picture as one of the fastest and shiftiest players on the Bruins' roster, having been listed as a starting receiver on the depth chart this week for the first time.
The redshirt sophomore's new designation is the result of strong showings in consecutive games. He caught a career-high three passes for 49 yards against Colorado and followed it up with two catches for 44 yards last weekend against Washington.
Felton said his sliding catch between two defensive backs that went for 31 yards in the fourth quarter was his favorite play of the latter game. It kept the Bruins' faint upset hopes alive on a drive that ended with tailback Joshua Kelley's two-yard touchdown run.
"I've definitely just been waiting on my moment to be able to show my team that I can help them," Felton said.
UCLA went on to lose the game but may have found a new go-to receiver.
Felton was used primarily on a handful of running plays last season, averaging 7.5 yards per carry. He caught only two passes for minus-three yards while waiting for a bigger role.
"I learned that you've got to be your biggest supporter," Felton said. "Because sometimes you get down on yourself and you don't think that chance is going to come no matter how hard you work. But I know if you keep working it's going to come."
Kelly has freely utilized the onetime backup to Theo Howard, moving him around the field and using him as a mainstay on special teams. All of which beats barely playing.
"I want to be able to move around and move in different places so I can make plays a lot of different ways," Felton said.
Felton showed his value on special teams when he pummeled Washington's Aaron Fuller, holding him to one yard on a punt return.
"He's really stepped up," Kelly said. "Felt's a young guy that's pretty dynamic with the ball in his hands."
Etc.
Kelly said linebacker Jaelan Phillips and receiver Kyle Philips were continuing to try to work their way back from injuries that sidelined them against Washington. Neither player appeared this week during the portions of practice open to the media. … Offensive tackle Justin Murphy, who hasn't played since suffering an injury late in the game against Colorado on Sept. 28, also was limited in his practice participation while wearing a yellow noncontact jersey.
Follow Ben Bolch on Twitter @latbbolch
---