Holiday books: 56 fabulous works of fiction and poetry
---
Fiction
The Japanese Lover
Isabel Allende
Atria, $28
This intergenerational story follows the intertwined lives of a Polish girl sent to San Francisco during World War II who falls in love with a Japanese boy.
Numero Zero
Umberto Eco
Houghton Mifflin Harcourt, $24
A contemporary thriller from the author of "The Name of the Rose" filled with corrupt Italian journalists, a CIA-linked conspiracy, the murder of a pope and a couple in love.
The Story of the Lost Child
Elena Ferrante
Europa, $18 paper
The fourth and last installment in Ferrante's popular Neapolitan Novels series wraps up the story of Lila and Elena, two women with a close but tumultuous friendship.
Purity
Jonathan Franzen
Farrar, Straus and Giroux, $28
In Franzen's latest, a young woman takes up with California anarchists then travels to South America to work for a Wikileaks-type organization headed by a charismatic German activist.
City On Fire
Garth Risk Hallberg
Knopf, $30
Hallberg's 944-page novel, subject of a major bidding war, follows nine people brought together by a shooting in Central Park and the New York City blackout of 1977.
Beauty is a Wound
Eka Kurniawan
New Directions, $19.95 paper
This epic comic novel from one of Indonesia's most celebrated authors is a magical-realism take on the story of the country in the modern era.
The Story of My Teeth
Valeria Luiselli
Coffee House Press, $16.95 paper
A metafictional tale of Mexican auctioneer Gustavo "Highway" Sánchez Sánchez, who sells his teeth, claiming they belonged to authors and philosophers.
Thirteen Ways of Looking
Colum McCann
Random House, $26
In this short story collection written after he was the victim of assault, the National Book Award-winning author tackles crime, writing and coping with loss.
After Alice
Gregory Maguire
William Morrow, $26.99
The author behind the mega-hit "Wicked" returns with a book for grown-ups, an idiosyncratic take on Lewis Carroll's "Alice's Adventures in Wonderland."
Death By Water
Kenzaburo Oe
Grove Press, $28
The Japanese Nobel Prize winner confronts the legacy of World War II in this novel about a writer investigating the drowning of his father.
Under the Udala Trees
Chinelo Okparanta
Houghton Mifflin Harcourt, $26
An 11-year-old girl flees war-torn Nigeria and falls in love with another refugee — a girl who belongs to a different ethnic group.
A Strangeness in My Mind
Orhan Pamuk
Knopf, $28.95
The Turkish Nobel Laureate's first novel in seven years is a richly told story of a luckless street vendor coming of age in Istanbul.
Two Years Eight Months and Twehty-Eight Nights
Salman Rushdie
Random House, $28
In Rushdie's riff on "One Thousand and One Nights," good and bad djinn (genies) and their descendants battle over goodness, art, and the city of New York.
Undercover
Danielle Steel
Delacorte, $28
The latest from the bestselling romance novelist is about a love affair between an ex-DEA agent and a former website fashion editor who meet in Paris.
Mendocino Fire
Elizabeth Tallent
Harper, $24.99
Tallent, an award-winning writing teacher at Stanford, publishes her first book in 22 years, a collection of short fiction set on the California coast.
Killing and Dying
Adrian Tomine
Drawn & Quarterly, $22.95
In this collection of six graphic short stories, Tomine, known for his exacting, wry New Yorker covers, tackles anger, failure, and the frustrated desire of people to make art.
The Big Green Tent
Ludmila Ulitskaya
Farrar, Straus and Giroux, $35
This epic novel of the Soviet Union follows three friends who become artists and are forced to deal with the oppressive secret police.
Gold Fame Citrus
Claire Vaye Watkins
Riverhead, $27.95
After a climate disaster has turned the American West into a wasteland, a former model tries to flee Los Angeles with her boyfriend and a foundling toddler.
---
Mystery/Thriller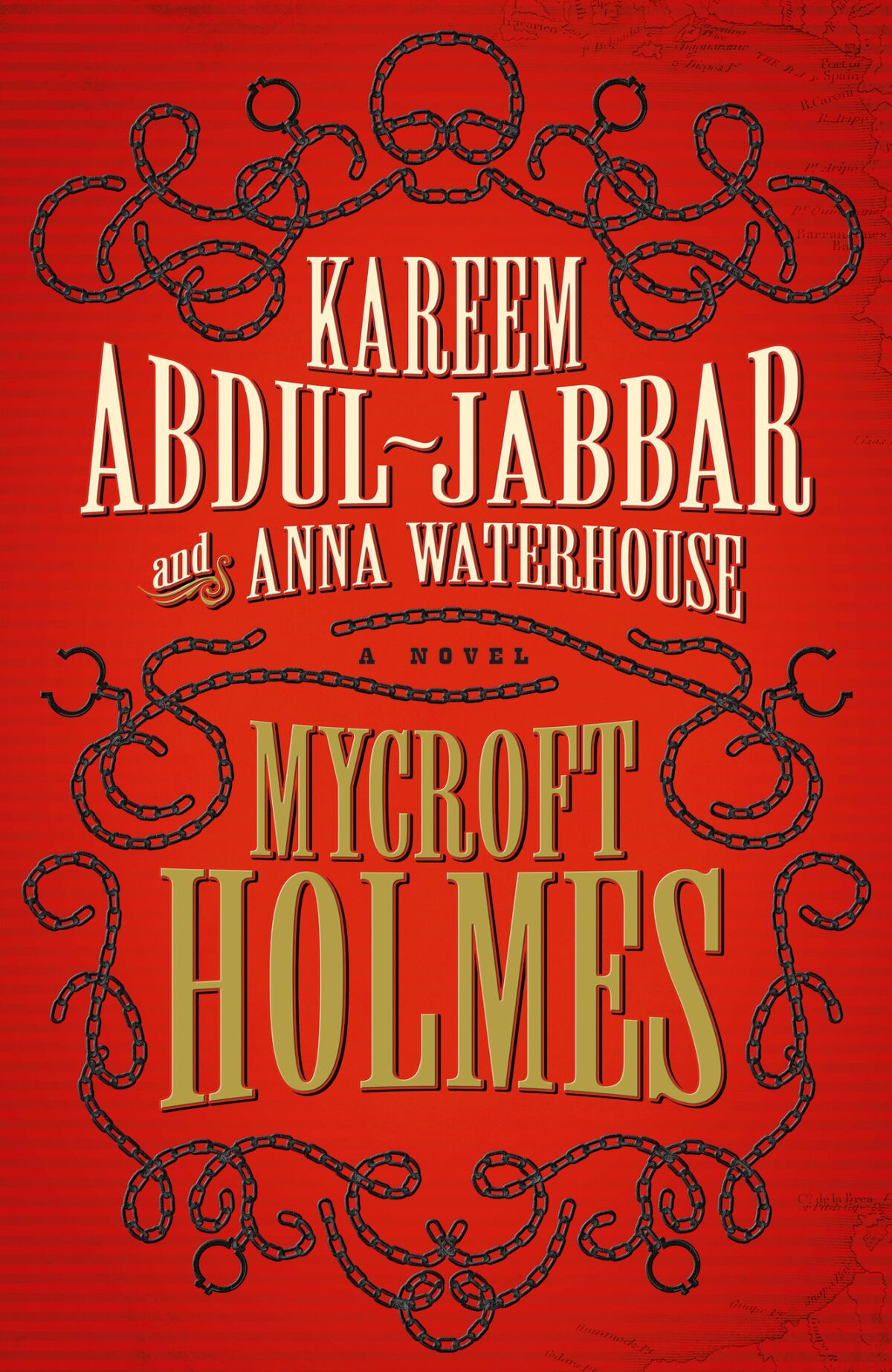 Mycroft Holmes
Kareem Abdul-Jabbar and Anna Waterhouse
Titan Books, $25.99
The legendary Laker turns his talents to fiction with this novel about Sherlock Holmes' older (and, by Sherlock's own admission, smarter) brother.
Dead Soon Enough
Steph Cha
Minotaur, $26.99
Los Angeles private eye Juniper Song is hired to tail an Armenian American surrogate mother who's frantically looking for her best friend, a missing activist.
Make Me
A Jack Reacher Novel
Lee Child
Delacorte, $28.99
The 20th book in Child's Jack Reacher series finds the gruff investigator in a small town where he meets a detective whose partner has gone missing.
The Crossing
Michael Connelly
Little, Brown, $28
Connelly crosses the streams of two mystery series when ex-LAPD detective Harry Bosch decides to help out his half-brother, the Lincoln Lawyer.
Depraved Heart
A Scarpetta Novel
Patricia Cornwell
William Morrow, $28.99
Medical examiner Kay Scarpetta investigates the mysterious death of a film producer's daughter and a psychopath who might be trying to frame her niece.
Career of Evil
Robert Galbraith (J.K. Rowling)
Mulholland, $28
The third novel featuring detective Cormoran Strike finds the P.I. on the trail of a man who sent a woman's severed leg to his assistant.
Playing with Fire
Tess Gerritsen
Ballantine, $28
An American violinist comes upon a compelling piece of sheet music in Rome, but playing it delivers terrifying results and a troubled past.
The Golem of Paris
Jonathan Kellerman and Jesse Kellerman
Putnam, $27.95
An LAPD detective whose family is falling apart pursues an unsolved murder, and his investigation takes him to France.
The Girl in the Spider's Web
A Lisbeth Salander Novel
David Lagercrantz
Knopf, $27.95
Lisbeth Salander, the girl with the dragon tattoo, returns in the hands of a new author. This time, she helps a journalist track down a young hacker.
Splinter the Silence
Val McDermid
Atlantic Monthly Press, $26
An ex-cop and a psychologist are on the case when several women apparently kill themselves after falling victim to a cruel cyberbully.
Those We Left Behind
Stuart Neville
Soho Crime, $27.95
A Northern Irish teenager convicted of murdering his foster father is released from prison, and the late man's son wants to exact revenge.
---
SF/Fantasy
Wake of Vultures
Lila Bowen
Orbit, $25
In a fantastical version of the Old West, a biracial heroine is pursued by monsters after killing a dangerous stranger; the first in a planned series.
Our Lady of the Ice
Cassandra Rose Clark
Saga Press, $25.99
Eliana Gomez, a private eye working in an Antarctic city populated by both humans and robots, is hired to protect a wealthy woman's secret.
Son of the Black Sword
Larry Correia
Baen, $25
This India-influenced fantasy series opener takes place in a post-apocalyptic world where demons rule the seas and human tyrants rule the land.
Ghost Summer: Stories
Tananarive Due
Prime Books, $15.95 paper
So Cal author Due's first short-story collection, which includes an award-winning novella, spans science fiction, fantasy and horror.
The Bazaar of Bad Dreams
Stephen King
Scribner, $30
The master of horror's 11th short story collection focuses heavily on end-of-life issues and includes King's commentary about the tales.
The Eternaut
Héctor Germán Oesterheld and Francisco Solano Lopez
Fantagraphics, $39.99
The legendary Argentine comic, continued by Lopez after creator Oesterheld was "disappeared," is a science fiction allegory being published for the first time in English.
A Knight of the Seven Kingdoms
George R.R. Martin
Bantam, $30
No, it's not the eagerly awaited sixth book in Martin's "A Song of Ice and Fire" series, but it is a genuine George R.R. Martin prequel to "Game of Thrones."
Slade House
David Mitchell
Random House, $26
The "Cloud Atlas" author's latest, which began as a Twitter project, is a short fantasy novel about a darkly mysterious house in England.
Radiance
Catherynne Valente
Tor, $24.99
Set in an interstellar alternate-universe Hollywood, this novel pieces together the story of a second-generation filmmaker who mysteriously disappears on Venus.
Futuristic Violence and Fancy Suits
David Wong
Thomas Dunne Books, $26.99
A science fiction thriller/satire by the author of "John Dies at the End," Wong's latest follows a young woman on the run in a cartoonish, frenetic near-future.
---
Poetry
The Selected Poems of Donald Hall
Donald Hall
Houghton Mifflin Harcourt, $22
The former U.S. Poet Laureate, now 87, is known for his unpretentious poems about nature; he selected his favorite work for this collection.
Bright Dead Things
Poems
Ada Limón
Milkweed Editions, $16 paper
A finalist for this year's National Book Award, this fourth collection from Sonoma native Limón tackles themes of identity, self, death and love.
Felicity
Poems
Mary Oliver
Penguin Press, $24.95
Pulitzer Prize winner Oliver is best known for her verse about the natural world; her new collection focuses on the wonders of love.
Bright Scythe
Selected Poems
Tomas Tranströmer
Sarabande Books, $17.95
This collection by the Swedish Nobel Prize-winning poet, who died this year, is newly translated; the English versions are accompanied by the Swedish originals.
US(a.)
Saul Williams
MTV Books, $15 paper
Saul Williams, a poet known for his careers in hip-hop and acting ("Slam"), returns to print with his first collection in nine years.
More holiday book lists
Get our L.A. Goes Out newsletter, with the week's best events, to help you explore and experience our city.
You may occasionally receive promotional content from the Los Angeles Times.