Holiday books: 19 mesmerizing coffee table titles
A "teakettle house" in Galveston, Texas. Image from the book "Cabin Porn: Inspiration for Your Quiet Place Somewhere."
(Ryder Pierce / AP)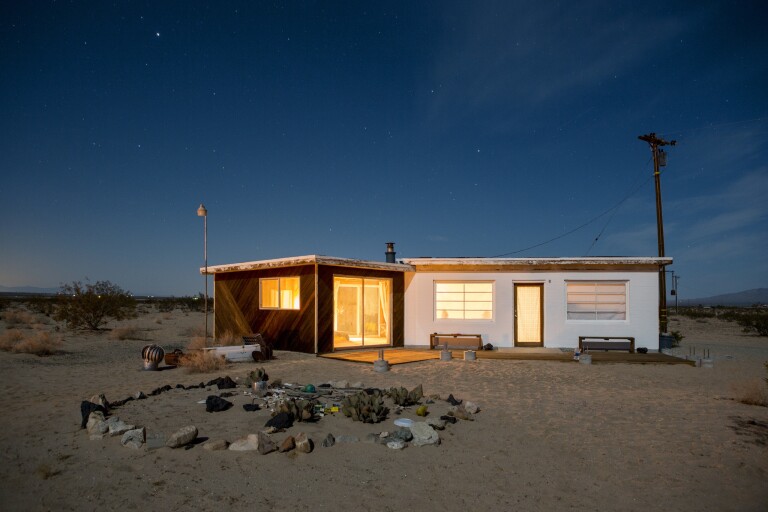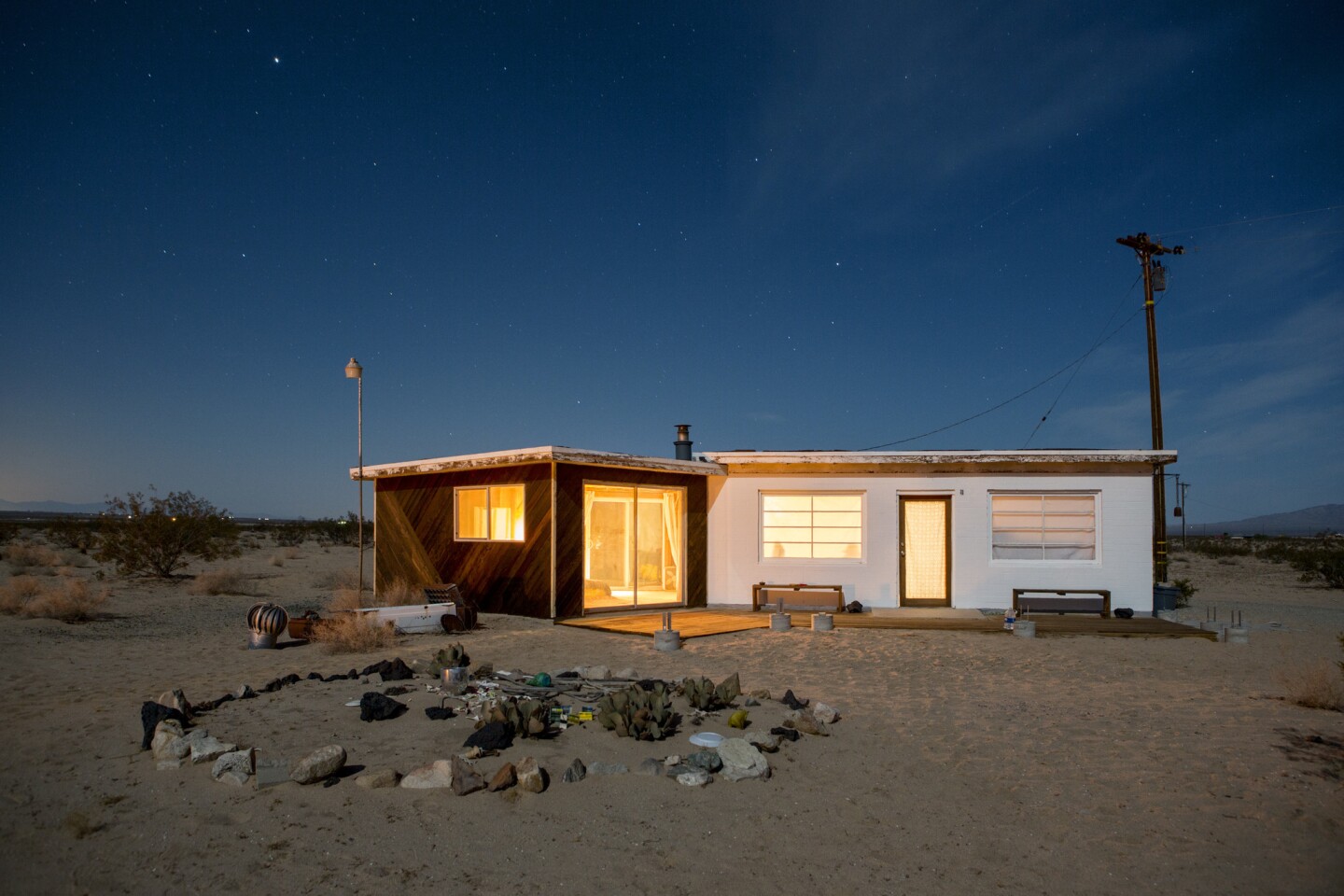 A home in Wonder Valley, a community east of Twentynine Palms, Calif. The wings of this home meet at a 135-degree angle, and from the bedroom on the left, occupants have an unobstructed view of the sunrise. Image from the book "Cabin Porn: Inspiration for Your Quiet Place Somewhere."
(Noah Kalina / AP)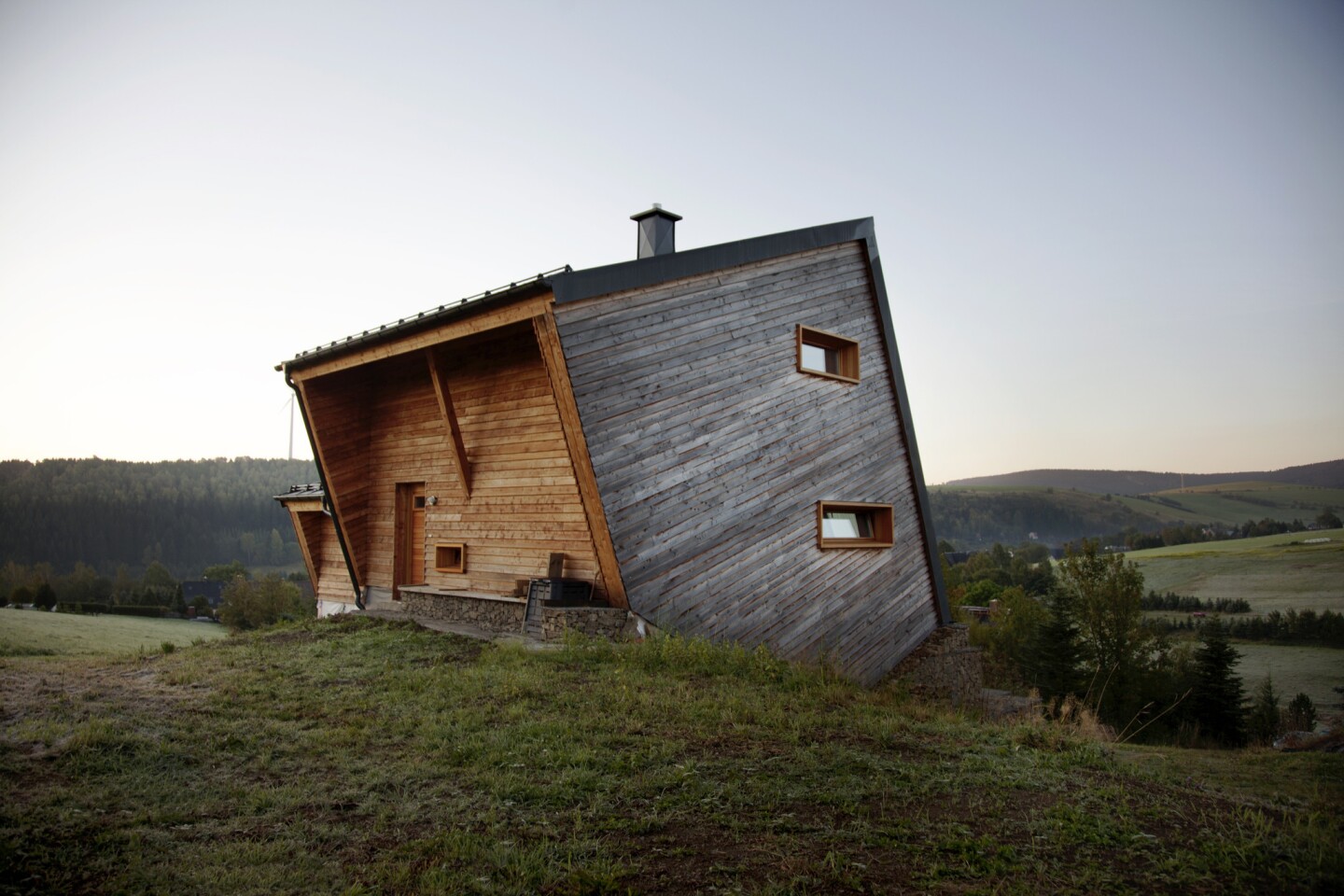 A home built at an unusual angle in Oberwiesenthal, Germany. Image from the book "Cabin Porn: Inspiration for Your Quiet Place Somewhere."
(Sebastian Heise / AP)
A dwelling in Scottsdale, Ariz. The shelter was built perpendicular to the chimney to create a cloistered outdoor space. Image from the book "Cabin Porn: Inspiration for Your Quiet Place Somewhere."
(Noah Kalina / AP)
A boathouse on the Obersee, a lake in Bavaria, Germany. Image from the book "Cabin Porn: Inspiration for Your Quiet Place Somewhere."
(Jenn and Willie Witte / AP)
A forest camp near Cardigan, Wales, with a fireplace, sofas and deck. Image from the book "Cabin Porn: Inspiration for Your Quiet Place Somewhere."
(Jackson Tucker Lynch / AP)
Tribbles invade the Enterprise in an image from "Star Trek Pop-Ups."
(Liz O. Baylen / Los Angeles Times)
Photo collections to peruse and ponder: Snoopy, 'Star Trek,' high art, cultural icons and cabin porn.
---
Coffee Table Books
The Living Bird
100 Years of Listening to Nature
the Cornell Lab of Ornithology
Mountaineers books, $29.95
Vyn's dynamic photos of birds are the focus of this book, a story of the Cornell Lab's work that's a virtual encyclopedia of our feathered friends.
Heirloom Harvest
Amy Goldman and Jerry Spagnoli
Bloomsbury, $85
Luminous, moody daguerrotypes of the heirloom fruits and vegetables conservationist Amy Goldman grows at her farm in New York's Hudson Valley.
Welcome to Marwencol
Mark Hogancamp and Chris Shellen
Princeton Architectural Press, $29.95
Hogancamp was attacked and left with a traumatic brain injury; afterward, he became an outsider artist, creating and photographing a remarkable miniature WWII-era world.
Only What's Necessary
Charles M. Schulz and the Art of Peanuts
Chip Kidd
Abrams, $40
This celebration of the 65th anniversary of Peanuts digs into Schulz's archives and to share original artwork, unseen treasures and great early comic strips.
Cabin Porn
Inspiration For Your Quiet Place Somewhere
Zachary Klein, Steven Leckart and Noah Kalina
Little, Brown, $30
A temporary escape from urban life, with photos of treehouses, snowy retreats, modernist cubes, desert cabins and stories of the people who call them home.
Grizzly: The Bears of Greater Yellowstone
Thomas D. Mangelsen and Todd Wilkinson
Rizzoli, $60
Ten years of following Yellowstone's Grizzly 399 and her offspring result in these dramatic, intimate photographs of wildlife in the wild.
Ai Weiwei
Tim Marlow, John Tancock, Daniel Rosbottom and Adrian Locke
Abrams, $75
A photo book of the massive Ai Weiwei show on exhibit at the Royal Academy in London, along with documentation of his process.
Star Trek Pop-Ups
Courtney Watson McCarthy
Thames & Hudson, $29.95
Although the book has elaborately constructed pop-ups for all of the television iterations of "Star Trek," it's impossible to beat the page of cascading Tribbles.
Haute Coiffure
Charlie Le Mindu
Roads Publishing, $70
The first book by cult favorite Le Mindu, who has created exuberant and extrordinary hair styles and wigs for movies, the runway and Lady Gaga.
Dirt Meridian
Andrew Moore
Damiani, $50
Moore's aerial and large-format photography documents the arid landscape of the contemporary West, including the Dakotas, Nebraska and New Mexico.
The Beach Boys
America's Band
Johnny Morgan
Sterling, $29.95
A photo tour of the Beach Boys' musical history, focusing mostly on the 1960s with album art, publicity photos and more intimate snapshots.
Ellsworth Kelly
Tricia Paik
Phaidon, $125
This monograph, which comes in its own slipcase, covers the 92-year-old abstract painter's career from the 1940s to the present.
Map
Exploring the World
Phaidon Editors
Phaidon, $59.95
More than 300 maps from diverse sources in the past and present that beautifully illumunate how we understand place.
A History of Photography in 50 Cameras
Michael Pritchard
Firefly Books, $29.95
A meta-gift for photography lovers, this modest photo book presents the history of photography as told through 50 cameras, from daguerrotypes to digital.
Peter Schlesinger
A Photographic Memory 1968-1989
Peter Schlesinger with Hilton Als
Damiani, $50
In luscious color, Schlesniger — then David Hockney's partner — quietly captured the artists and scenesters of London and Los Angeles at play.
Tom Kundig
Works
Tom Kundig
Princeton Architectural Press, $65
Award-winning architect Kundig provides a narrative of 19 new projects that display his rugged elegance and integration with nature.
Uh-Oh
Frances Stark: 1991-2015
Frances Stark and Ali Subotnick
Prestel, $45
A midcareer retrospective of Los Angeles artist Frances Stark, whose works of playful, interdisciplinary self-documentation are on exhibit at the Hammer Museum.
Dennis Stock: James Dean
Dennis Stock and Joe Hyams
Thames & Hudson, $40
Stock took the iconic photograph of Dean in Times Square in the rain; it's here with many others, intimate and casual, he shot on assignment for Life magazine.
Fashion Tribes
Global Street Style
Daniele Tamagni
Abrams, $35
Portraits from striking fashion subcultures, including South African dancers, Cuban youth, Burmese punks, Bolivian wrestlers, and dandies in Democratic Republic of Congo.
More holiday book lists
---
Life is stressful. Our weekly mental wellness newsletter can help.
You may occasionally receive promotional content from the Los Angeles Times.