Star-studded Oscar rehearsals preview the big show, minus the surprises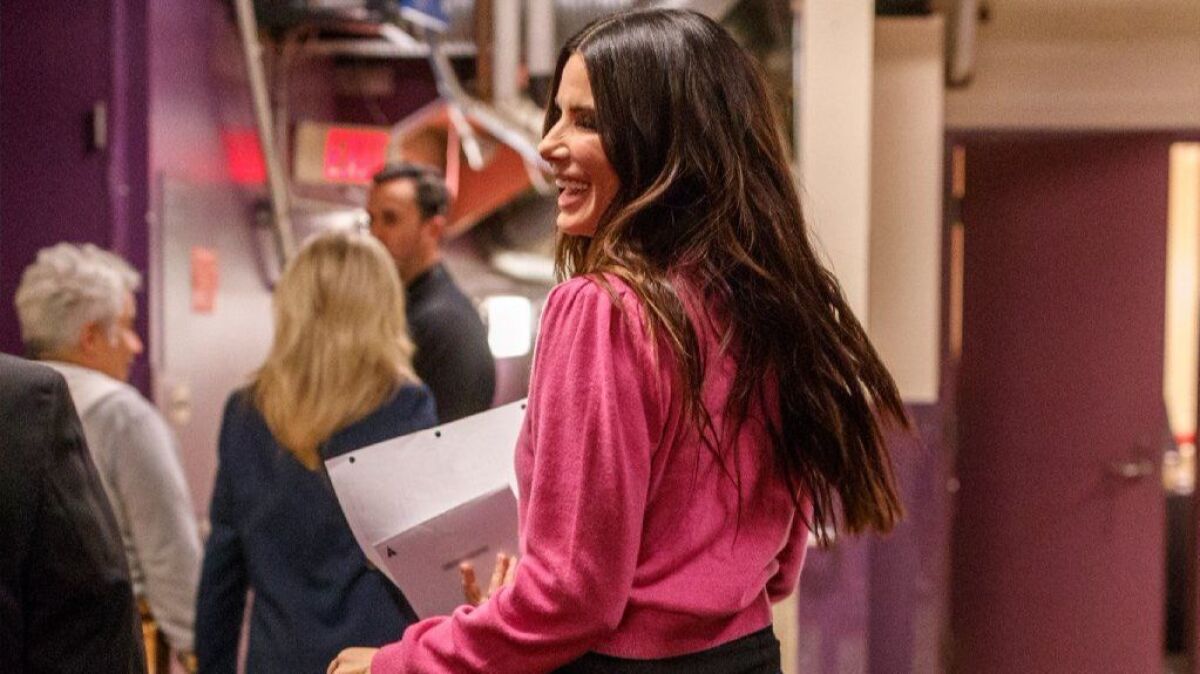 "Meryl Streep!" the 7-year-old shouted. "I've met Meryl Streep!"
Viola Davis' daughter, Genesis, bounded down the steps of the Oscars stage and hopped into the seat where "The Post" star would sit just a day later. With roughly 24 hours left until the Dolby Theatre opened its doors to for the Academy Awards, the auditorium was filled with production staffers, seat holders featuring the images of nominees and one very excited kid.
One might imagine that the child of an Oscar-winning actress might be unfazed by celebrity. Not Genesis. As she watched her mother rehearse her presentation for Sunday's show, she was wide-eyed, taking note of all the stars who would be in attendance.
"Denzel! Imagine if he won!" she mused, pointing to Denzel Washington's saved seat. Davis, meanwhile, finished running through her lines, and so her daughter was told it was time to "go see Mommy now."
"I don't want to!" she pouted, reluctant to leave her seat at the center of the action.
Which makes sense. Genesis was one of the few — alongside a handful of rehearsal actors and a few reporters — to be granted an early look at Sunday's show. And for the select group who are allowed inside the Dolby's tightly-guarded walls, there are rules: No speaking to presenters unless they speak to you. All pictures must be approved by Academy of Motion Pictures Arts and Sciences to make sure the images don't reveal too much of the set. You can talk about who is presenting an award, but you can't say which award that person is presenting — or what they're going to say when they present it.
To wit: Ashley Judd, Annabella Sciorra and Salma Hayek — all of whom have disclosed in recent months that they were sexually harassed by Harvey Weinstein — turned up to present together. But their role in the show must remain secret for a few more hours.
Saturday's rehearsal — which the media witnessed about four hours of — was meant largely for the presenters, who are required to turn up to the Dolby in the days leading up to the show to practice. (Rehearsal for the Golden Globes is optional.) That's because there are so many moving pieces during the Oscars, and so many things that can go wrong — a lesson the Academy learned all too well last year when Faye Dunaway and Warren Beatty accidentally announced the wrong best picture winner.
The rehearsal gives the production team a chance to work out the kinks — and there were a few on Saturday. Eva Marie Saint, 93, struggled to read the teleprompter at one point due to the size of the font.
"Imagination — what is it? Innovation? I haven't been to school lately," she joked.
"If you would like, we can make that [font] bigger," advised Gary Natoli, the show's stage manager. A few minutes later, the text was enlarged to ensure the "On the Waterfront" star could see it clearly.
"And the Oscar goes to," she continued, acting as if she was about to open an envelope before stopping. "You'll never know."
Natoli walked over, reminding the actress that the envelope — which had a fake winner inside — should indeed be opened during the rehearsal. He began tearing it for her when she gently pushed him aside.
"It's all gonna be fine," she assured him. "I'll be fine. I don't know about you."
Jane Fonda and Helen Mirren, who will be presenting an award together, also had some adjustments to make. After reading off the teleprompter, Fonda said she thought the eye line was off and suggested the screen be raised.
"It's strange focusing here," said the two-time Oscar winner. "Are we the only ones that feel that way?"
Production accommodated the request, and both of the actresses were satisfied.
"But just to let you know, I'll be a little taller tomorrow," Mirren said, using her hands to indicate the height of her heels.
"This is a little bit higher than what I'm actually wearing," Fonda said, pointing to her tall shoes.
While Fonda and Mirren had turned up looking camera-ready, other presenters took a more casual approach to the rehearsal process. Ansel Elgort, who will turn up alongside his "Baby Driver" co-star Eiza González on Sunday, showed up in an oversized sweatshirt with a fuzzy, three-dimensional smiley face on it and track pants. Sandra Bullock arrived wearing pants instead of the gown she'll put on for the black-tie affair — which she fretted might cause a wardrobe malfunction.
As she stood center stage, a microphone emerged from the ground and began rising toward her face.
"Oh, suddenly that dress is just riding up," she kidded. "Now everyone's going to be hoping for chiffon just billowing up."
Unlike some of the other presenters, Bullock — who said she was on day four of antibiotics and described herself as a "phlegm factory" — wanted to make sure she had everything down pat.
"That's where I see myself?" she said, pointing toward a monitor reflecting her image on stage. "Great. Just get rid of the chins."
"And how dark will it get?" she asked. "I mean, don't leave me in the dark up here. I mean, can you imagine? It's, like, pitch black."
Others had little time for chitchat. Mahershala Ali, last year's best supporting actor winner for "Moonlight," ran through his lines without error and departed immediately afterward. Emma Stone, too, got through the process quickly — though she did get excited when she spotted her seat in the audience.
Rita Moreno, meanwhile, savored the experience. She'd brought her daughter, Fernanda, along with her, and the two gleefully posed for selfies with the seat placards.
"She's wearing the same dress she wore in 1962 when she won [for 'West Side Story']," Fernanda said, watching her mom on stage. "She bought the fabric herself and had an architect make it."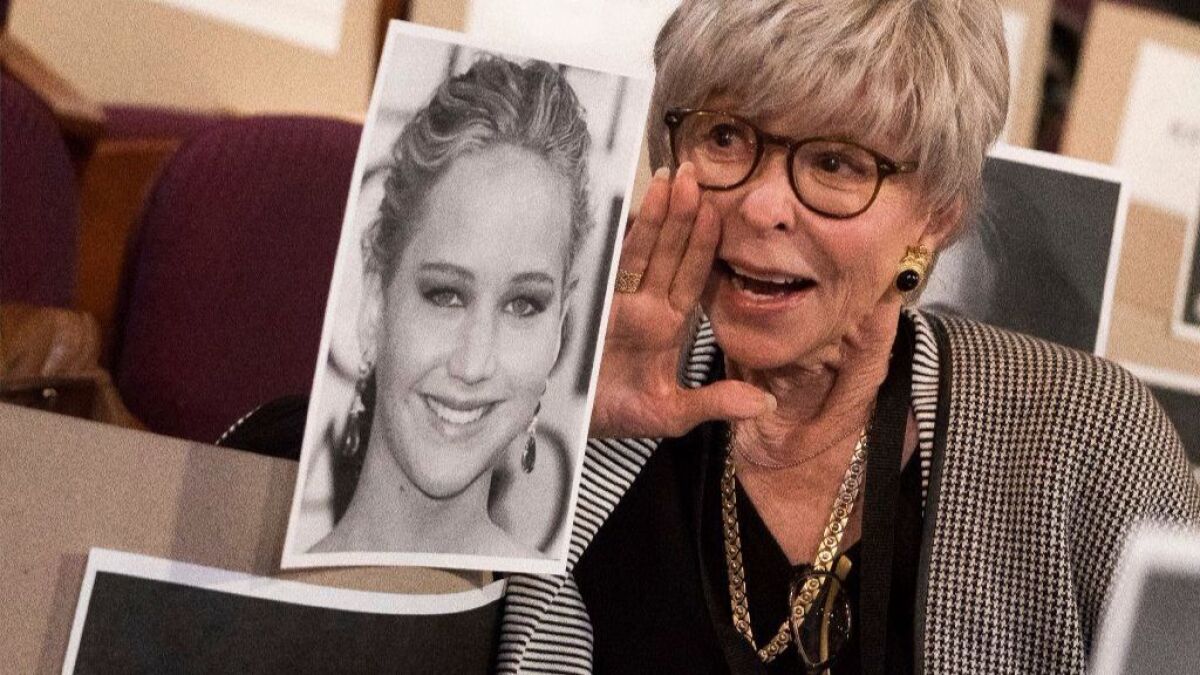 On stage, Moreno fidgeted with the rehearsal envelope to get a sense of how difficult it would be to remove the winner's card.
"Is this what the real envelope looks like?" she asked Natoli. "I was really concerned about this. I'm wearing gloves."
After successfully pulling the card from the envelope, she playfully dropped it on the ground.
"Oh, no!" she said with fake exasperation. "I had to do that just once. Should I say it like that? 'Oh, no!' and throw it on the floor?"
No one seemed to find the joke particularly funny, given last year's envelope mishap. So how will the best picture announcement go down this year? Like everyone else, we'll have to tune in on Sunday to find out — we were kicked out just before rehearsal began for the big prize.
Follow me on Twitter @AmyKinLA
ALSO
Why #TimesUp will 'stand down' at the Oscars
How the Oscars preferential ballot turns the best picture race into a celebration of the 'least disliked'
Get our L.A. Goes Out newsletter, with the week's best events, to help you explore and experience our city.
You may occasionally receive promotional content from the Los Angeles Times.