How the Oscars preferential ballot turns the best picture race into a celebration of the 'least disliked'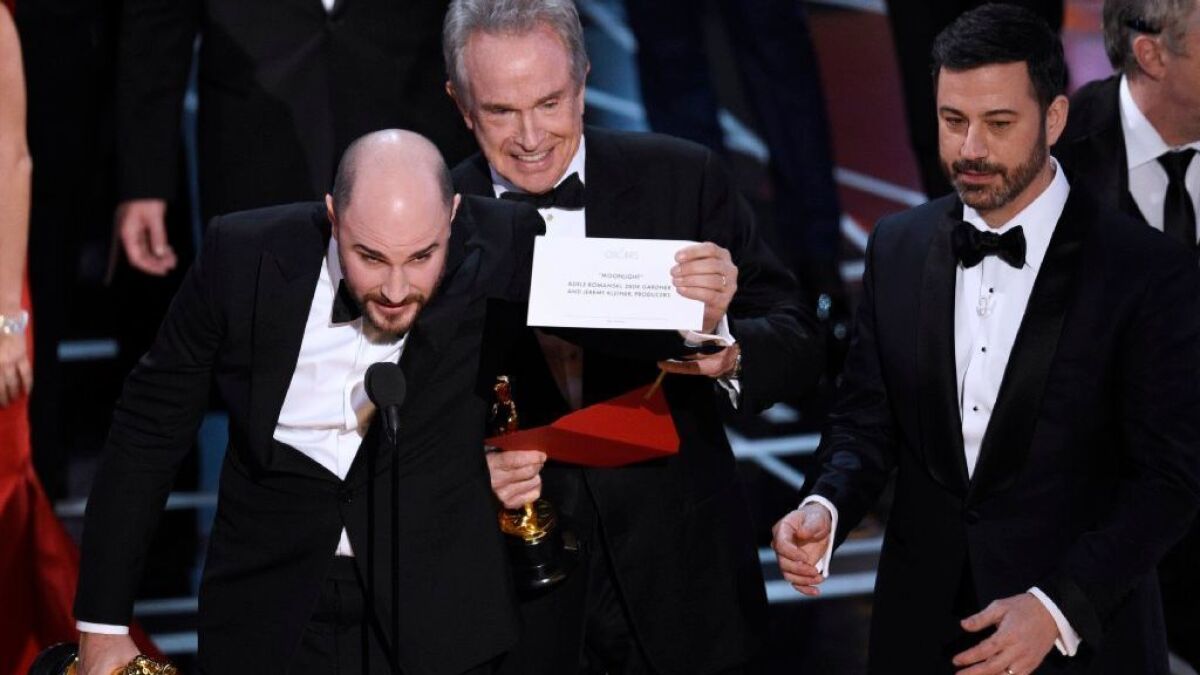 We can debate the reasons why "Moonlight" prevailed over "La La Land" in last year's best picture race — maybe it was the movie that better reflected the moment, perhaps new voters gravitated toward a new sensibility, possibly an aversion to Ryan Gosling mansplaining jazz.
But there's no argument as to how "Moonlight" won. More academy members ranked Barry Jenkins' intimate coming-of-age story higher on their ballots than Damien Chazelle's retro-leaning, romantic musical.
With its 14 nominations, "La La Land" may well have had more No. 1 votes for best picture than "Moonlight." PricewaterhouseCoopers won't spill the beans on that count.
But the firm's accountants do readily acknowledge that the Oscar winner sometimes isn't the movie that is most passionately loved. Often, it's the picture that is most generally liked — or, for those glass-half-empty types, the picture that is least disliked.
And in this front-runner-free awards season that sports a handful of contenders like "Three Billboards Outside Ebbing, Missouri," "The Shape of Water," "Get Out," "Dunkirk" and "Lady Bird" that all own pockets of support, that rule of likability may hold particular sway.
"The idea of the preferential ballot is to reflect the wishes of the greatest number of voters," says Ric Robertson, who was the motion picture academy's chief operating officer in 2009 when the best picture field was expanded from five to 10 nominees and the preferential ballot reinstituted.
"Otherwise you might end up with a movie that, say, 25% of the people love and the rest can't stand," Robertson continues. "This way, hopefully, you have a winner that most people can live with."
When the academy's 7,258 voting members marked their ballots this year — the vast majority vote electronically; this is the last year of the paper ballot — they cast a single vote in 23 of the 24 Oscar categories. The nominee with the most votes wins.
For best picture, though, members are instructed to rank the nominated movies (and this year that's nine titles). It's a simple point-and-click maneuver, ordering the films one through nine.
There were some growing pains when the academy went digital six years ago, says PricewaterhouseCoopers accountant Rick Rosas, but familiarity has eliminated most voting hiccups.
"There might have been a time when some members voted for just one movie, but now just about everyone puts the movies in descending order," Rosas says. "Most voters understand the importance of doing that ranking."
Here's why that ordering is important: When Rosas and fellow PwC accountants Kimberly Bourdon and Mark Lobel sort the best picture ballots, they place them in stacks based on members' No. 1 votes. They then eliminate the movie with the fewest first-place votes, giving those votes to each ballot's second-ranked film. The process continues — smallest stacks eliminated, votes redistributed to the next choice down — until one movie has more than 50% of the vote.
That's the best picture winner. And, more often that not, that movie is the one that placed second or third on hundreds of ballots. (Rosas passes when asked how often a movie pulls in 50% of the vote when ballots are first counted.)
"I'll be honest: I didn't get it at first," says an Oscar-nominated producer of the preferential process. "I thought it was a weighted ballot, so I just voted for one movie. But then I realized I was wasting my vote if I did that — unless, of course, my movie is the one that wins. And it usually isn't."
The academy first used the preferential voting system from 1934 to 1945 (and most of those years had 10 nominees for picture). Also called instant-runoff voting, it's an electoral system used around the world — including cities like San Francisco and Minneapolis and in Maine congressional, gubernatorial and state legislature races — for elections with more than two candidates.
Complete list of 2018 Academy Award nominations »
The thinking behind the system is to ensure that each ballot will have maximum influence, putting a premium on the choices that voters rank near the top.
For the Oscars, if, say, an academy member puts "The Post" first and it's knocked out early — as awards season pundits predict — then there's a measure of satisfaction in seeing that same ballot continue to have an effect on the outcome. For example, if the "Post" ballot has "Get Out" ranked second, then it goes to Jordan Peele's social satire and stays there until one of three things happens: "Get Out" accumulates 50% of the vote and wins, another movie crosses the 50% threshold and wins, or "Get Out" is also eliminated. Depending on how long it takes to determine a winner, that "Post" ballot could transfer to a handful of nominated movies.
"Ultimately, you're casting one vote," says Rosas. "It just might end up going to a few different movies."
Rosas returned to the tabulations this year, after last year's PwC accountants, Brian Cullinan and Martha Ruiz, were replaced following the envelope mix-up that saw Faye Dunaway, presenting alongside Warren Beatty, incorrectly proclaim "La La Land" the best picture winner. This will be Rosas' 15th year counting ballots and the 13th time he'll be backstage handling the envelopes.
90th Oscars Red Carpet rollout on Hollywood Blvd. (Video by Al Seib/Los Angeles Times)
Academy members had until 5 p.m. on Feb. 27 to vote online or return their paper ballots to PricewaterhouseCoopers. After that, the office doors — and computer voting portal — were locked.
There's a long tradition of last-minute stragglers hurrying to deliver their ballots by the deadline or, at least, enlisting couriers to do so.
That practice will end this year with the death of the paper ballot.
"There's a little element of romance that's lost when everything's done online," Rosas says, recalling measures academy members would take to hand-deliver their ballots. A few wouldn't make the cutoff, stuffing their envelopes under the office door, hoping they'd still count. (They wouldn't.)
One tradition that likely won't ever go away is the accountants carrying the briefcases containing the envelopes embossed with the Oscar winners' names down the red carpet.
Rosas acknowledges that after last year's snafu he and his colleagues will be greeted with more snark — and scrutiny — as they make their way to the Dolby Theater.
"I'll be following Aaron Burr's advice: 'Talk less. Smile more,' " Rosas says.
Twitter: @glennwhipp
---
Get our L.A. Goes Out newsletter, with the week's best events, to help you explore and experience our city.
You may occasionally receive promotional content from the Los Angeles Times.