L.A. County probation officer pleads guilty to assaulting inmates at a juvenile hall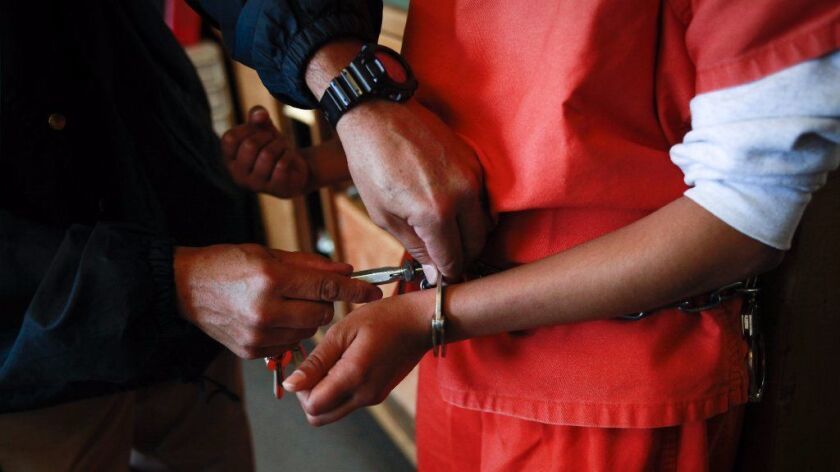 A Los Angeles County probation officer pleaded guilty Wednesday to two counts of assault after he was accused of sexually abusing several female inmates at a Santa Clarita juvenile hall, prosecutors said.
Oscar Calderon Jr., 33, was immediately sentenced to a year in jail after pleading guilty in a downtown courtroom to two counts of assault under color of authority, according to the Los Angeles County district attorney's office.
Prosecutors accused the deputy probation officer of making sexual overtures and inappropriately touching four teens inside Camp Scudder in Santa Clarita. Calderon was arrested in January and charged with four counts of assault under color of authority and two counts of lewd and lascivious acts with a child. Prosecutors said that the victims ranged in age from 15 to 18 and that the abuse began in 2014.
Calderon was in a supervisory position and used his authority over the girls to force them to comply, according to attorney Erin Darling, who is representing one of the victims. Darling said supervisors at the Camp Scudder facility ignored complaints from his client's family and allowed the abuse to go on.
"On a weekly basis, he would sexually assault her," Darling said of his client, who was 18 when the abuse began. "She was absolutely terrified. She felt like she couldn't complain to anyone."
Calderon has resigned from the probation department and is barred from contact with the victims, according to prosecutors. He also must serve five years of probation after his release.
In a victim impact statement read in court Wednesday, Darling's client described the year she spent living in fear of Calderon, who she said constantly groped her while threatening to give her poor progress reports and delay her release if she did not comply.
"I spent almost a year in a locked-down facility, with a disgusting, horny, grown man that's supposedly my probation officer. I've never been blackmailed, let alone sexually abused, until I entered that camp," she said, according to a copy of the impact statement. "It's been two years, and I still feel it. I feel the depression of the past, and the anxiety of the future. I can still smell his disgusting breath when he kissed me."
In a federal lawsuit filed against the probation department, Darling's client also accused several other officers of ignoring her complaints and failing to intervene to stop Calderon's abuse. That lawsuit is pending.
"It's not just a bad apple. This was something that was complained about, and they didn't do anything about it," Darling said.
In a statement issued late Wednesday, the probation department said it was "appalled" by Calderon's crimes.
"Mr. Calderon's unacceptable actions do not represent the thousands of … probation staff who are dedicated to the department's mission and vision to rebuild the lives of the children in our supervision and care," the statement read.
The agency said it opened a child abuse investigation as soon as probation officials were made aware of the allegations against Calderon, who was barred from working from that point on. Citing an "active investigation" and the pending lawsuit, a spokeswoman declined to offer specifics about the kinds of discipline meted out to Calderon or any other staff members at Camp Scudder. She also declined to describe the department's policy regarding male officers supervising female inmates, or whether the accusations against Calderon had led the agency to consider changing its policies.
It's not just a bad apple. This was something that was complained about, and they didn't do anything about it.
— Attorney Erin Darling, who is representing one of the inmates sexually abused by a probation officer
Calderon's attorney, Rodrigo Ambrosio, said he was satisfied with the terms of the plea deal. Calderon will not have to register as a sex offender because he did not plead to the charges accusing him of lewd acts with children, Ambrosio said.
"Mr. Calderon is looking forward to putting this behind him and moving on with his life," Ambrosio said.
A spokesman for the district attorney's office declined to comment on the fact that Calderon avoided having to register as a sex offender.
The guilty plea is the latest black mark for the county probation department in recent months.
Earlier this year, three probation officers were charged with assault in connection with the beatings of teenage inmates inside the Barry J. Nidorf Juvenile Hall in Sylmar in 2015 and 2016. On Tuesday night, the Los Angeles County Board of Supervisors approved a $3.9-million payout to settle a federal civil rights lawsuit brought by a teenage inmate who said he was severely beaten by other teens inside the Sylmar facility in 2013.
The victim in that case is now a quadriplegic, and the lawsuit contended that probation officers knew he was a high risk for assault but failed to adequately protect him.
Follow @JamesQueallyLAT for crime and police news in California.
ALSO
Sheriff's deputy arrested on suspicion of sexually assaulting 2 inmates
Deputy accused in Alameda County jail abuse scandal strangled an inmate until he fell unconscious, prosecutors say
Sheriff investigates 'disturbing' claims of deputy misconduct with youth in mentoring program
LAPD officer at center of cadet scandal charged with sexual assault of 15-year-old girl
---
UPDATES:
5:55 p.m.: This story was updated with comments from the Los Angeles County probation department.
This story first published at 1:45 p.m.
---
The stories shaping California
Get up to speed with our Essential California newsletter, sent six days a week.
You may occasionally receive promotional content from the Los Angeles Times.