Sheriff's deputy arrested on suspicion of sexually assaulting 2 inmates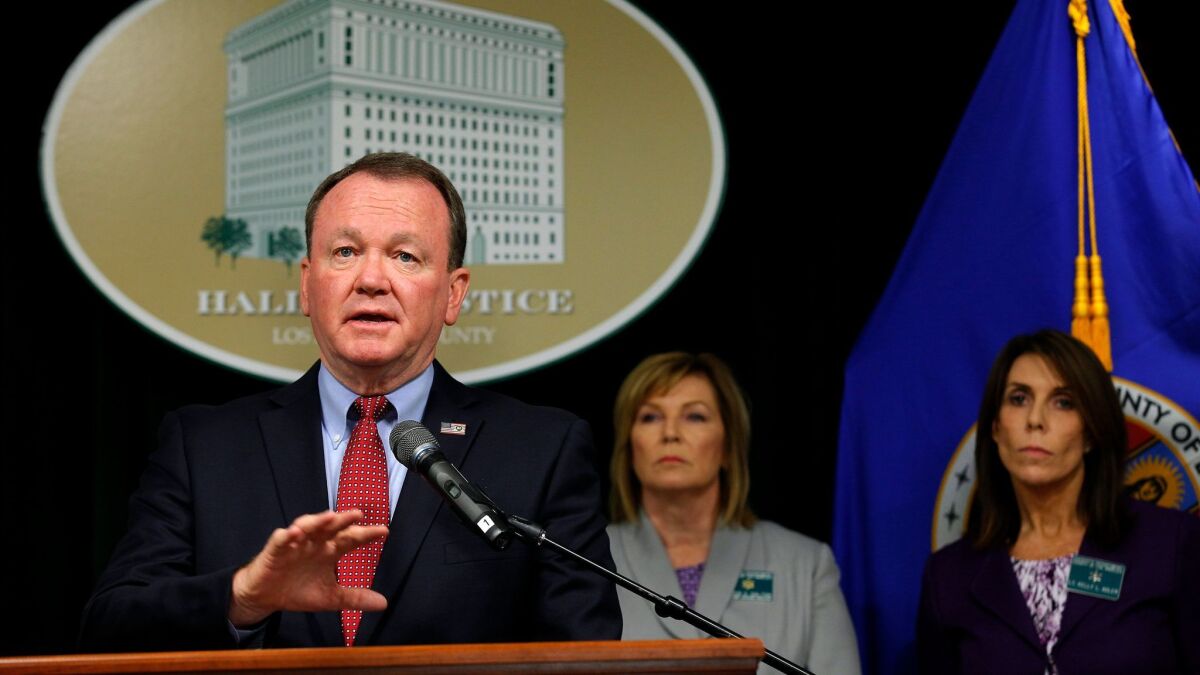 A Los Angeles County sheriff's deputy was arrested on suspicion of sexually assaulting two inmates inside a county jail facility, Sheriff Jim McDonnell said Thursday.
Deputy Giancarlo Scotti, 31, was arrested at 6 p.m. Wednesday on suspicion of two counts of rape and two counts of oral copulation under color of authority, McDonnell said at a Thursday morning news conference.
Scotti, a 10-year veteran of the agency, posted $100,000 bail and was placed on administrative leave pending further investigation. He still is being paid pending the filing of criminal charges, McDonnell said.
There was no indication other personnel were involved, the sheriff said.
"Somebody who is in custody is in our care. We're responsible to ensure their safety," he said. "This is appalling. It's a violation of the trust the public puts in us as a public entity."
Reached by phone Thursday, Scotti declined to comment.
The assaults occurred early Wednesday morning at the Century Regional Detention Facility, McDonnell said. The victims, described only as adult women, reported the assaults to a teaching instructor around 9 a.m. Wednesday, he said.
The women were in the same cell, according to the sheriff, who said Scotti was able "to put himself in a place where he was alone" with the two. The attacks took place over the course of an hour, he said.
It's not clear whether Scotti threatened the women, used physical force or exerted his influence as a law enforcement official in the course of the attacks. Inmates cannot legally consent to sexual intercourse with deputies under state and federal law.
"It's disgusting to all of us, to anyone who wears a badge," McDonnell said. He said Scotti, like all guards in a custody setting, was not armed at the time of the incident.
The Assn. for Los Angeles Deputy Sheriffs, which represents rank-and-file deputies, issued a statement Thursday regarding Scotti's arrest.
"We urge the public to withhold judgment until the facts of the case are proven," the statement said. "We too believe there should be zero tolerance for any law enforcement officer who is proven to have taken advantage of anyone who is in custody."
Authorities have yet to present the case to the Los Angeles County district attorney's office. Scotti is scheduled to appear in court Oct. 5, McDonnell said.
Like thousands of correctional facilities in the U.S., the county's jails are bound by the federal Prison Rape Elimination Act, signed into law in 2003, which mandates that facilities protect inmates from sexual assault. The federal standards, enacted in 2012, include barring cross-gender strip searches and other measures to prevent inappropriate or illegal conduct. Facilities must pass an audit every three years in order to be compliant with the law.
To date, no facility within the Los Angeles county jail system — the nation's largest — has undergone an audit, said Karen Dalton, assistant division director of custody in the Sheriff's Department, citing a shortage of auditors.
Dalton, the department's PREA coordinator, said the Century detention facility is scheduled to complete a "test audit" next month in preparation for a full review. As of two months ago, male guards at the facility, which houses female inmates, began announcing that there's a "male on the floor" when entering a dorm. Officials have also begun offering confidential support services for inmates, she said.
Dalton said federal guidelines do not allow male guards to be alone in a cell with female inmates, except in urgent circumstances. Most of the guards at the Century facility are women.
Dalton said the swift action taken against Scotti is an example of the system working properly.
"We put PREA in place for the sexual safety of all of our inmates, and the fact that these women reported it right away speaks volumes," she said.
McDonnell said he was announcing Scotti's arrest due to the department's commitment to transparency.
However, Michele Ynfante, the campaign lead for Dignity and Power now, a group that advocates on behalf of incarcerated people and their families, questioned how open the department was willing to be. She said she was escorted out of Thursday's news conference by Sheriff's officials.
Ynfante said she was sexually assaulted by a deputy at the Century facility when she was being held there in 2011 and wanted to attend the sheriff's announcement as part of her advocacy work in the jail system.
"Some of those people [inside] don't have a voice. We were just there to collect information," she said.
Ynfante said officials told her she could not attend the event because she is not a credentialed member of the press.
Department spokesman Capt. Darren Harris said Ynfante had agreed to leave after being told she did not have press credentials. She would be provided a video of the event along with a statement, he said.
Scotti's arrest is the latest in a string of high-profile sexual misconduct allegations against Los Angeles law enforcement officers.
LAPD Officer Robert Cain was accused of sexually assaulting a 15-year-old member of the police department's cadet program in June, after an investigation sparked by the theft of police cruisers and other LAPD equipment by members of the program.
Last month, Sheriff's Sgt. Michael Spina was charged with sexual battery and false imprisonment after he groped a subordinate deputy at the Twin Towers Correctional Facility, prosecutors said. Spina touched the victim's breast while masturbating and watching a pornographic video in 2016, and told the woman she "owed" him for approving a time-off request, court documents show.
The Sheriff's Department is still investigating what it described as "alarming and disturbing" claims of sexual misconduct involving a deputy and a member of the agency's Deputy Explorer program, an education initiative for young people ages 14 to 21.
Times staff writers Richard Winton and Joseph Serna contributed to this report.
For breaking California news, follow @JamesQueallyLAT and @mayalau on Twitter
ALSO
Fence rises around site for border wall models; law enforcement weighs special area for protesters
Police discover three children killed in West Sacramento apartment; 'It's very difficult'
Are West Hills and Los Feliz home invasion robberies connected? LAPD investigates
---
UPDATES:
5:35 p.m.: This article was updated with information on federal mandates to protect inmates from sexual assault, comments from an advocate and from a department spokesman.
1:55 p.m.: This article was updated with additional comments from McDonnell, the deputies union and background on sexual misconduct allegations made against other Los Angeles law enforcement officials.
11:20 a.m.: This article was updated with comments from Sheriff Jim McDonnell.
11 a.m.: This article was updated with the identity of the deputy and other details of the case.
This article was originally published at 9:05 a.m.
---
Life is stressful. Our weekly mental wellness newsletter can help.
You may occasionally receive promotional content from the Los Angeles Times.