LAPD officer at center of cadet scandal charged with sexual assault of 15-year-old girl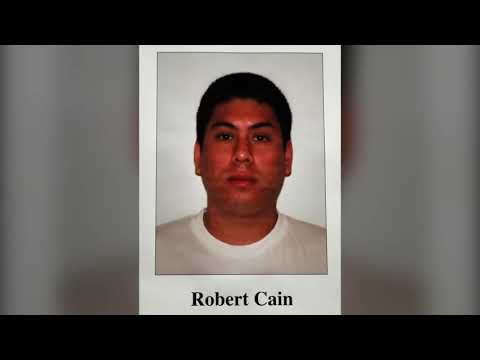 The Los Angeles police officer at the center of a scandal roiling the department's signature youth initiative has been charged with sexually assaulting a 15-year-old member of the cadet program, prosecutors announced Friday. (July 21, 2017) (Sign up
The Los Angeles police officer at the center of a scandal roiling the department's cadet program has been charged with sexually assaulting a 15-year-old girl who was a cadet, prosecutors announced Friday.
Robert Cain, 31, was charged Thursday with two counts each of oral copulation of a person under the age of 16, lewd acts upon a child and unlawful sexual intercourse, according to the Los Angeles County district attorney's office.
Cain's arraignment in a downtown courtroom Friday morning was delayed while he remains in custody in San Bernardino County in connection with felony weapons charges. A cache of weapons was discovered in Cain's Rancho Cucamonga home after his arrest last month in connection with the sexual assault charges.
He is accused of sexually assaulting the cadet in three separate incidents at three different locations on June 14. That same day, three cadets were caught riding in stolen police cruisers, after leading officers on two separate chases through South L.A., sparking the investigation that revealed the cadet scandal.
Cain faces a maximum sentence of seven years and eight months in state prison if he is convicted on the assault charges. He may also be required to register as a sex offender, though that would ultimately be at a judge's discretion, said Greg Risling, a spokesman for the district attorney's office.
LAPD Chief Charlie Beck personally arrested Cain on June 22 after an investigation into the alleged theft of police cruisers and other equipment by cadets also uncovered sexually explicit text messages between Cain and the 15-year-old girl.
Seven teens, including the girl, have been arrested in connection with the alleged thefts. They range in age from 14 to 18. All of those arrested were dropped from the cadet program.
The cadets stopped at least one motorist while driving the stolen vehicles, giving the driver a warning, police said.
A review of text messages between Cain and the 15-year-old girl detailed an "inappropriate relationship" and also suggested Cain was aware of the thefts of cruisers and other equipment, which included radios, Tasers and a bulletproof vest, according to the LAPD. He may have also helped facilitate them, Beck said last month. Beck has said the incidents relating to the sex charges did not occur on LAPD property.
A search of Cain's home led to the recovery of more than 100 firearms, including modified assault rifles, police have said. Last week, he was charged with 10 felony weapons counts in San Bernardino County, including the possession of assault weapons, according to a criminal complaint.
Cain pleaded not guilty to those charges. He is being held in a San Bernardino County jail in lieu of $250,000 bail, records show.
Cain's attorney, Bill Seki, said his client is being made to take the fall for larger problems within the cadet program.
"They wanted a scapegoat, and Robert has become that scapegoat," Seki said.
Seki claimed his client was a "well-liked" officer who had received several commendations from citizens in the areas he had patrolled. Asked why his client would exchange text messages with a teenage member of the cadet program, Seki said it was "not uncommon for cadets to reach out to officers as mentors to help them."
Of the weapons cache, Seki said Cain is a military history enthusiast and had been trying to modify the weapons to comply with California law. Of the more than 100 weapons seized, only five are the subject of prosecution, according to Chris Lee, a spokesman for the San Bernardino County district attorney's office.
It is unlikely Los Angeles prosecutors will be able to move forward with the sexual assault case until the weapons charges are resolved, Seki said. Cain is scheduled to appear in court in San Bernardino County on the weapons charges next month.
No court date has been scheduled in connection with the sexual assault charges, Risling said.
Cain remains on paid leave and assigned to home, according to an LAPD spokesman.
The scandal has sparked internal reviews of the cadet program and the ways the LAPD tracks its equipment. City Councilman Mitchell Englander has also called for an audit of all the department's youth programs.
Beck suspended cadet programs at the 77th Street and Pacific divisions, where the cadets accused in the thefts had been assigned.
It remains unclear whether any of those arrested in the alleged thefts had been charged or whether the LAPD had presented its case to prosecutors.
Cain has been with the LAPD for 10 years and previously worked in the Van Nuys station. He was not assigned to work with cadets and worked in the equipment room at the 77th Street Division at the time of his arrest.
"He's shaken to the core," Seki said of his client. "LAPD was his life."
Los Angeles Times staff writer Kate Mather contributed to this report.
Follow @JamesQueallyLAT for crime and police news in California.
ALSO
LAPD chief: More cadets may have ridden in stolen police cars
'Protect them like your own': At cadet graduation, LAPD Chief Beck defends program amid scandal
Four more cadets arrested as investigation of stolen LAPD cruisers continues
---
UPDATES:
3:55 p.m.: This article was updated with additional information about the weapons charges against Cain.
1:15 p.m.: This article was updated with additional comments from Cain's attorney, an LAPD spokesman and a district attorney's office spokesman.
9:55 a.m.: This article was updated with comments from Robert Cain's attorney.
This article was originally published at 9:25 a.m.
Sign up for Essential California for news, features and recommendations from the L.A. Times and beyond in your inbox six days a week.
You may occasionally receive promotional content from the Los Angeles Times.