Suspect ID'd in wild Silver Lake Trader Joe's shootout that left store manager dead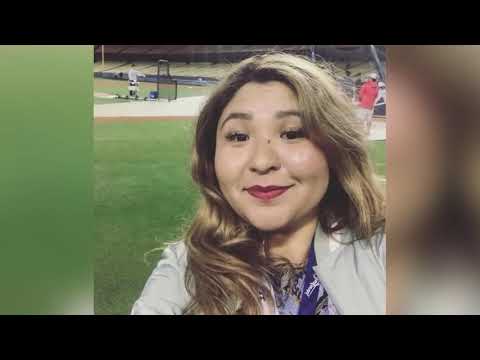 Gene Atkins, a 28-year-old Los Angeles man, has been identified as the suspect in a wild car chase and gun battle that left one woman dead and sparked panic inside a Trader Joe's store in Silver Lake.  
A 28-year-old Los Angeles man has been identified as the suspect in a wild car chase and gun battle that left one woman dead and sparked panic inside a Trader Joe's store in Silver Lake, authorities said Sunday.
Gene Atkins is being held in lieu of $2-million bail on suspicion of murder, according to Officer Drake Madison, a Los Angeles Police Department spokesman. Investigators have said Atkins shot his grandmother and kidnapped another woman in South L.A. on Saturday before leading police on a chase that ended near the parking lot of the popular Hyperion Avenue grocery store.

For the record:
6:45 p.m. July 22, 2018An earlier version of this story incorrectly identified the dead woman's brother as Alpert Corado. His first name is Albert.
LAPD Chief Michel Moore said it appears the slain woman was wounded as she was exiting the Trader Joe's during the shootout. It is unclear if the fatal gunshot was fired by Atkins or a police officer, he said. The victim was identified by relatives as Melyda Corado, a manager at the store.
Atkins' cousin, Charlene Egland, said Atkins had been involved in a feud with his grandmother over his girlfriend's presence at the home they shared on East 32nd Street in South L.A. Egland said Atkins was raised by his grandmother, who repeatedly cared for him despite prior run-ins with police and sometimes violent arguments that would erupt between the two family members.
"Whenever he got into something, she'd go to his rescue; that's why I can't even believe what he did to her," Egland said.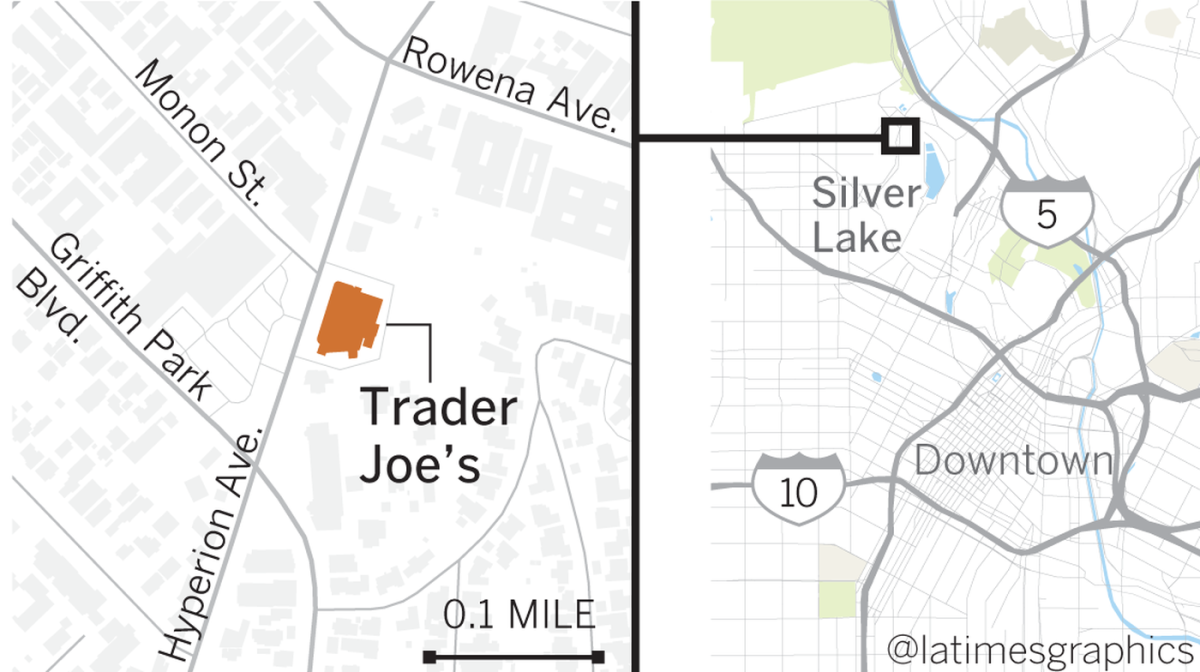 Atkins shot his grandmother several times and then kidnapped the other woman in his grandmother's Toyota Camry, police said. The other woman suffered a head wound, though it was not clear if she had been shot or pistol-whipped, according to Moore.
Police said Atkins' grandmother was in critical condition on Saturday. Egland said Sunday she had made it through surgery and was expected to survive.
Hours after the violent clash at Atkins' grandmother's home Saturday morning, police found the Camry in Hollywood using transmissions from its anti-theft device, and a chase ensued. The gunman blew out his own rear window while firing at police, officials said. The pursuit ended with the Camry crashing into a light post outside the Trader Joe's.
Atkins and the pursuing officers traded gunshots outside the store, according to witnesses and police. The gunman then ran inside, trapping dozens of shoppers and employees, witnesses said. Several could be seen crawling out windows, while the gunman allowed others to leave during an hours-long negotiation with the LAPD.
Bloodied and unnerved, he paced the inside of the store, holding a gun and shouting as terrified hostages hid behind food displays.
Cyrani Ackerman, 49, told The Times she was walking toward the checkout line with her 19-year-old daughter when the screech of tires sent her scrambling. As gunfire began to erupt outside, many customers fled toward the back of the store, either cowering in bathrooms or ducking in aisles as far away from the melee as possible.
"Seven of us were hiding in the back behind the bread," she said. "There was a lot of shots fired."
The gunman stayed near the front of the building with about five employees, according to Ackerman, who said at some point the gunman noticed people had found ways to exit the store. He ordered one of his hostages to walk the aisles and round up anyone else who was hiding, including Ackerman and her daughter.
Ackerman said she noticed a lot of blood in the store but did not know about the death of the store manager while she was hiding. She said she overheard the gunman talking to police as he demanded to speak with his grandmother and referred to someone being dead. The comments caused her and others hiding inside to grow even more fearful.
"He said to the police that it was their fault for her being dead," Ackerman said.
After a three-hour standoff, Atkins surrendered to police. He is expected to survive his injuries, Moore said.
The woman killed at the store was identified online by her brother.
"I'm sad to say she didn't make it. My baby sister. My world. I appreciate the retweets and the love," Albert Corado tweeted Saturday. "Please respect my family's privacy as we are still coming to terms with this."
Calls to the coroner's office seeking additional comment Sunday were not immediately returned.
Outside the store Sunday morning, a steady stream of students, residents and tourists could be overheard talking about the tragic incident from the day before.
"Only in L.A. would things like this happen — and by that I mean the stuff that could be part of a novel," said Helen Hong, 31, a tourist from Shanghai.
By noon, a blooming memorial filled with roses, lilies, daisies and tender wildflowers had sprouted at Monon Street and Hyperion Avenue, stacked against the white exterior of the popular grocery store. Customers, neighbors and others stopped by to pay their respects, scribbling sympathy messages on sticky notes and attaching them to the wall above the bouquets.
"We are heartbroken for you," one of them said.
"All of the employees are part of our community. We will care for each other," said another.
Leda Siskind, 65, left a note, then stood back in contemplation. She and her husband had been invited to a dinner Saturday and she asked him to pick up some wine and mineral water from Trader Joe's to bring as gifts. He decided to run the errand in the morning, rather than the afternoon.
"For the grace of God go I — it's that kind of moment," the 30-year Silver Lake resident said. "We live half a mile from the store. And everybody's in here like seven times a week. When this happened, we were getting calls from across the country from all our friends. They didn't ask, 'Is that your Trader Joe's?' They were, 'I know that's your Trader Joe's.'"
Marnina Wirtschafter, 24, also penned a message. "These store employees are always giving so much of their hearts to the community. We love them," said the UCLA graduate.
She and others explained that because they live in a "very walkable" neighborhood, folks tend to know those around them "and we're like part of an extended family, so we want to be there for them in times of need."
Hal Henry, another Silver Lake resident, said the Trader Joe's had become something of a neighborhood hallmark. The 63-year-old said he and his wife even exchange Christmas cards with some employees.
"We're in and out of there every other day. We're shopping for parties. You pop in when you go to the laundromat," he said. "On the day when my daughter was born, 24 years ago, after the C-section was successful, I ran over here to get some food and some beer. All the employees had been asking after my wife because she was overdue, and they were so happy to hear everyone was safe."
His wife almost went to the store on Saturday but ended up changing her plans to help their daughter film something for a web series.
"My wife could have run those errands, and she could have been trapped in that hostage situation," he said misty-eyed. "You don't always know why things happen the way they happen."
Egland, the suspect's cousin, said Atkins was taken in by his grandmother at a young age. His mother suffered from drug addiction, and his father was sentenced to a lengthy prison stretch when Atkins was 8, Egland said.
Police records show he was arrested on suspicion of vandalism in 2008, but it does not appear he was criminally charged, according to public records. Atkins' grandmother also sought a temporary restraining order against him in 2010, court records show, but Egland said the woman eventually took him back in.
Atkins had been dating the woman who was injured during Saturday's melee for several months, but his grandmother did not want her in the family home, according to Egland. The woman had started visiting the home again in recent days, and an argument over the situation prompted Saturday's incident, she said.
"Something triggered his mind, and he just shot her. It's just devastating. I can't believe it," she said. "My auntie raised him."
Follow @JamesQueallyLAT @lacrimes & @newsterrier for more breaking news in Southern California
---
UPDATES:
1:45 p.m.: This story was updated with additional details from people visiting the store.
1:15 p.m.: This story was updated with details from people visiting the store.
12:55 p.m.: This story was updated with comments from one of Atkins' relatives and additional information from the scene.
11 a.m.: This story was updated with additional information from police and an interview with one of the hostages.
This post was originally published at 9:50 a.m.
Sign up for Essential California for news, features and recommendations from the L.A. Times and beyond in your inbox six days a week.
You may occasionally receive promotional content from the Los Angeles Times.