Newsletter: Essential California: Cooking fire at a homeless encampment sparked Skirball fire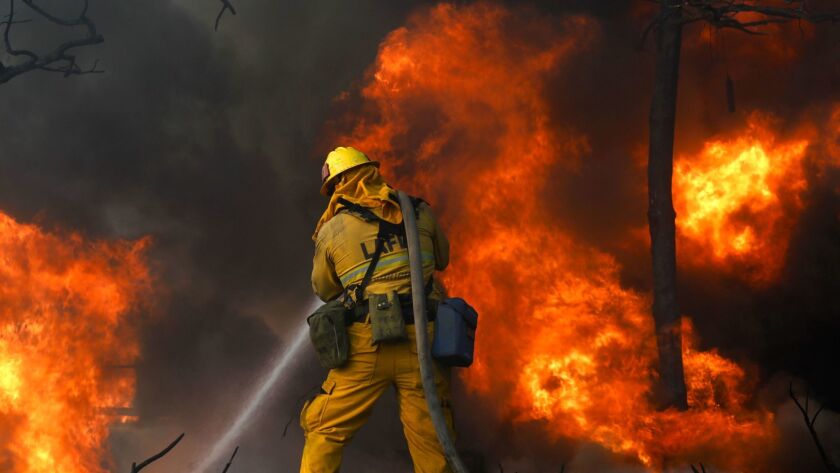 Good morning, and welcome to the Essential California newsletter. It's Wednesday, Dec. 13, and here's what's happening across California:
TOP STORIES
Skirball fire's origins
The fire that destroyed six homes and damaged a dozen others in Bel-Air last week was caused by a cooking fire at a nearby homeless encampment, Los Angeles fire officials said Tuesday. For a "number of years," homeless people had been living in a camp along Sepulveda Boulevard where it passes under the 405 Freeway, Los Angeles Fire Department spokesman Peter Sanders said. Los Angeles Times
Thomas fire update
The massive Thomas fire, which has burned through Ventura County for more than a week and entered Santa Barbara County over the weekend, has now scorched more than 234,000 acres and is 20% contained, fire officials said Tuesday. Los Angeles Times
Plus: California fire officials have notified Southern California Edison that the utility's equipment is under investigation as a possible cause of some of the fires. Los Angeles Times
Remembering Ed Lee
San Francisco Mayor Ed Lee died early Tuesday, hours after he collapsed Monday night while shopping at a supermarket near his home. He became mayor as the city emerged from the Great Recession into a boom phase evoking the Gold Rush. Both supporting and containing the excesses of the boom became a central tenet of his seven years as mayor. Lee was an unabashed supporter of bringing jobs and tech companies to San Francisco, which he called the Innovation Capital of the World, and oversaw the transformation of the city's skyline. He also tried — and some say he didn't do enough — to tame the excesses of the tech boom: higher rents that have pushed San Francisco into a housing affordability crisis. Los Angeles Times
L.A. STORIES
"Dirty John" revisited: John Meehan spent years terrorizing women and manipulating them to obtain money, sex and power. He focused on isolating them from their loved ones. Yet two of the women he abused, his ex-wives Debra Newell and Tonia Bales, have started a cross-country friendship. They spent part of the Thanksgiving holiday together last month. Los Angeles Times
Important! As the Thomas fire swept through Ventura County, neighboring Santa Barbara County began putting out information in English and Spanish to keep its residents informed. Los Angeles Times
A better way? Los Angeles County supervisors on Tuesday reviewed how the county handles sexual harassment complaints filed by its employees and discussed ways the procedures could be improved. Los Angeles Times
New twist: LA Weekly says it has suspended recently appointed interim editor Hillel Aron without pay as it investigates his tweets. Spin
POLITICS AND GOVERNMENT
Law and reality: A new law in California allows women to get birth control pills from pharmacies without a doctor's prescription. But more than a year after the law took effect, women say they're still struggling to take advantage of the provision, in part because they can't find pharmacies offering the service. Los Angeles Times
What does the pastor say? A Republican push to repeal the Johnson Amendment, which forbids political endorsement by churches and other tax-exempt nonprofits, is deeply unpopular, even among churchgoers who believe in activism. Los Angeles Times
A meeting with Mike: A handful of California representatives on Tuesday discussed the federal response to their state's wildfires with Vice President Mike Pence. Los Angeles Times
CRIME AND COURTS
New allegations: The Los Angeles Police Department said it is investigating allegations that director Roman Polanski in 1975 molested a child when she was 10, even though the case cannot be prosecuted because the statute of limitations has expired. Los Angeles Times
From birth control to the border wall: Seventeen ways California sued the Trump administration in 2017. Sacramento Bee
More harassment stories: Longtime restaurateur Ken Friedman, who recently opened a new place in Los Angeles, has been accused of sexual harassment. New York Times
THE ENVIRONMENT
In Paris: President Trump, who previously announced plans to pull the United States out of the 2015 Paris climate agreement, was not invited to a summit of world and business leaders in the French capital this week to address global warming, but his presence loomed large. Los Angeles Times
CALIFORNIA CULTURE
Get excited: "The Last Jedi" brings emotion, exhilaration and surprise back to the "Star Wars' " saga, according to Times film critic Justin Chang. Los Angeles Times
Plus: After this "Star Wars film, the franchise could help Disney battle Netflix for streaming viewers. Los Angeles Times
Sold! Westfield Corp., operator of upscale shopping malls in Century City and dozens of other locations in the U.S. and Britain, is being sold to French commercial real estate giant Unibail-Rodamco in a $16-billion deal, the two companies announced Tuesday. Los Angeles Times
Happy day: A baby born in Orange County has helped a family tie the world record for most generations born on same day of the year. Sacramento Bee
CALIFORNIA ALMANAC
Los Angeles area: sunny, 80, Wednesday; sunny, 79, Thursday. San Diego: sunny, 74, Wednesday; sunny, 72, Thursday. San Francisco area: sunny, 61, Wednesday; partly cloudy, 64, Thursday. Sacramento: partly cloudy, 63, Wednesday and Thursday. More weather is here.
AND FINALLY
Today's California memory comes from Stephen Patt:
"As a young man, I and my whole family took a trip way out west in the early 1960s, from our hometown of Baltimore to the land of my Dad's youth, Southern California. I was the middle son, and throughout the dizzying visual landscape of Disneyland, Knott's Berry Farm and the terrifying beaches of Newport, there was really only one destination I was keenly fixed on: Tarzana. My father, Howard, was a surgeon and read to me every night from the stories of Edgar Rice Burroughs, which he had grown up on. A phone call to the Burroughs ranch resulted in a little detour to the Valley, and I met with Mr. Burroughs' daughter and son, who gave an awed 12-year-old a tour of the house, Edgar's study, and the property, verdant with orange trees. Magnificent! A recent fire had left some of ERB's books smoke damaged, and I was allowed to purchase them for a dollar apiece. The home has now changed hands, the orange groves are long gone, but the memories remain, of the graciousness of the Burroughs family, and their kindness to a literary kid."
If you have a memory or story about the Golden State, share it with us. Send us an email to let us know what you love or fondly remember about our state. (Please keep your story to 100 words.)
Please let us know what we can do to make this newsletter more useful to you. Send comments, complaints and ideas to Benjamin Oreskes and Shelby Grad. Also follow them on Twitter @boreskes and @shelbygrad.
---