As the Thomas fire burns, Santa Barbara County alerts go bilingual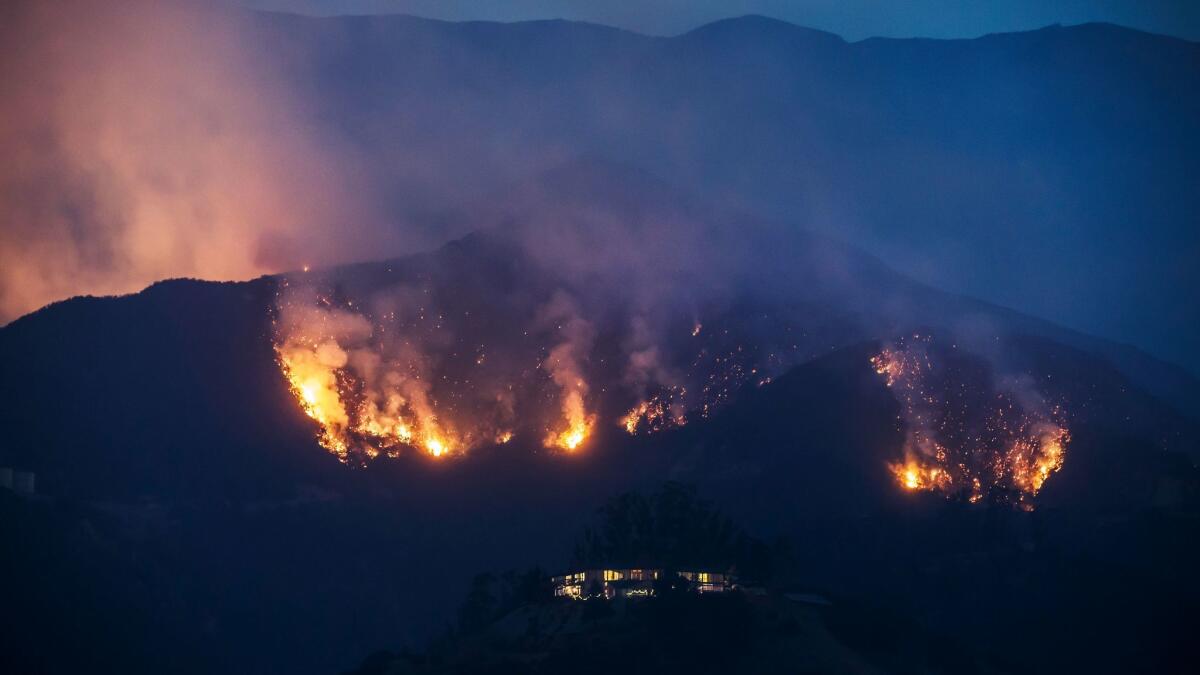 As the Thomas fire raged across Ventura County, neighboring Santa Barbara County took to its English language social media accounts targeting its Latino audience to keep them informed on el incendio.
Over the last year, through disaster and crisis, the official county accounts have morphed into a mix of Spanish and English Facebook posts and tweets, said Gina DePinto, the county's communications manager.
"We're really moving toward an effort to support our Spanish-speaking audience with information countywide," DePinto said. "They should be able to go to a place where they can learn about everything else that we do in English. All the public notices, public information, public health information, what is going on in our county."
When the crisis is over, however, the accounts typically go back to "pretty much English only," DePinto said. Next year, the county plans to launch Spanish-language Facebook and Twitter accounts.
"Until we have those Spanish-only channels, during emergencies especially, it's critical that we get the information out," DePinto said. "We're doing the best we can I guess, until we have Spanish only. For me the question is, why wouldn't we?"
The Thomas fire has burned 234,200 acres and is 20% contained as of Tuesday morning. Over the weekend, the fire pushed into Santa Barbara County and destroyed homes.
Since the fire began, social media users in the county have been kept up to speed on evacuation areas, distribution sites for N95 masks, unhealthy air quality in the county and community meetings, in both English and Spanish.
An estimated 45% of the population in Santa Barbara County is Latino, according to census data.
When winter storms caused flash flooding and mudslides, information was also shared in Spanish, DePinto said. Social media posts in Spanish came again in July during the Alamo fire, which made its way into northern Santa Barbara County.
"In an area near Santa Maria and Tepusquet Canyon, which is heavy Hispanic and agriculture," DePinto said. "So we used it then."
DePinto said initially she worried that the Spanish-speaking audience wouldn't know to check the accounts.
"But it's happening, it's working," DePinto said.
Users have been retweeting tweets and dozens have shared the Spanish-language Facebook posts.
"Gracias por la información en español #ThomasFire," one user tweeted, thanking the county for the information in Spanish.
One user commented on Facebook: "Great job! Thanks so much, I have been sharing both, English and Spanish."
DePinto said there have only been a couple of English speakers who have questioned the use of Spanish. But once they explain the plan to start Spanish-only channels in 2018, users have been understanding, she added.
The county's Twitter account has just over 8,200 followers, and its Facebook account has just over 4,300 likes.
On the main page of the county website, a link to Thomas fire information and updates has also been posted in both English and Spanish.
Ventura County has not appeared to share much on social media, but what they have shared has been in English only.
While Los Angeles County did not send out tweets in Spanish about the Creek fire that began last week, Mayor Eric Garcetti made sure to get out the message to the Spanish-speaking community.
"I'll also say words in Spanish for our Spanish media as well," Garcetti said at his first press conference on the fire.
For more California news, follow @brittny_mejia
Sign up for Essential California for news, features and recommendations from the L.A. Times and beyond in your inbox six days a week.
You may occasionally receive promotional content from the Los Angeles Times.