Women victimized by John Meehan share stage, discuss domestic abuse issues raised by 'Dirty John' series
John Meehan spent years terrorizing women and manipulating them to obtain money, sex and power. He focused on isolating them from their loved ones.
Yet two of the women he abused, his ex-wives Debra Newell and Tonia Bales, have started a cross-country friendship. They spent part of the Thanksgiving holiday together last month.
"We belong to an elite club," Bales joked. "We were the bookends, I was the first and she was the last."
The women spoke at an event Monday night exploring the Los Angeles Times series and podcast "Dirty John," which told the story of Newell and Meehan's relationship. Newell's daughter Terra as well as abuse experts also discussed the story.
Debra Newell said she feels guilty for marrying Meehan and endangering her children, but found some solace in Bales' earlier experience. Bales found out only after 10 years of marriage that Meehan had lied about his age and was addicted to painkillers.
Times staff writer Carolina Miranda speaks with Tonia Bales, Debra Newell and Terra Newell about the Times' series "Dirty John" at the Theatre at Ace Hotel in Los Angeles.
"She was a very educated, smart woman … he was able to fool her, so it made me feel a little bit more normal to know that he's that good," Newell said.
Terra Newell, who killed Meehan in self-defense in 2016, said she's received emails and letters from people who have experienced trauma or abusive relationships and were inspired by her story.
"Some have even asked for advice for what to do in their situation, so it's been really humbling getting that stuff," said Terra Newell, who sat on stage at the Theatre at the Ace Hotel in downtown L.A. with her miniature Australian shepherd, Cash.
She added that she's been happy to learn that the people in Meehan's life aren't angry she killed him. She has been dealing with PTSD from the incident and goes to therapy now, she said.
"It's nice knowing that people don't hate me," she said.
Episodes of the six-installment podcast have been listened to more than 15 million times since it was released in early October, along with the series in The Times. Since then, more women have reached out to Times reporter Christopher Goffard with their stories of Meehan.
The Times' Christopher Goffard speaks about his series "Dirty John" with staff writer Carolina Miranda at the Theatre at Ace Hotel in Los Angeles.
One woman dated him when he was 22 years old and pretending to be a medical student at Stanford, Goffard said. Even then, Meehan always wore scrubs.
The woman recalled that Meehan kept a real skeleton in the corner of his bedroom that faced his bed.
Another woman got a restraining order against him that required he remain at least 500 feet away from her at all times. She said she later spotted him 501 feet away from her.
"In a lot of cases he was literally one foot away from breaking the law," Goffard said.
Meehan coerced another woman into giving him intimate photos of her. He sent the photos to her child's Catholic school and said he'd do worse if she didn't have sex with him whenever he wanted. She felt forced to agree.
Goffard said he'd reevaluated Meehan's motives since "Dirty John" was published. More than money, Meehan seemed motivated by a hunger for power, he said.
Indeed, experts said that Meehan's relationships appear to be an example of emotional abuse, a form of domestic violence sometimes known as coercive control. This dynamic is typically an element of physically abusive relationships as well, they say.
"They'll find the weak spot in a person, or the vulnerability, and they play that almost like a harp," said Patti Giggans, executive director and chief executive of the nonprofit Peace Over Violence, which received a portion of the proceeds from the event. "They build you up and they take you down, they isolate you from your family, your friends, from your support … we all know this is done in the service of having power."
But victims don't always report their partners' crimes to police because of the complicated nature of these relationships. That can make it difficult to build a criminal case against them.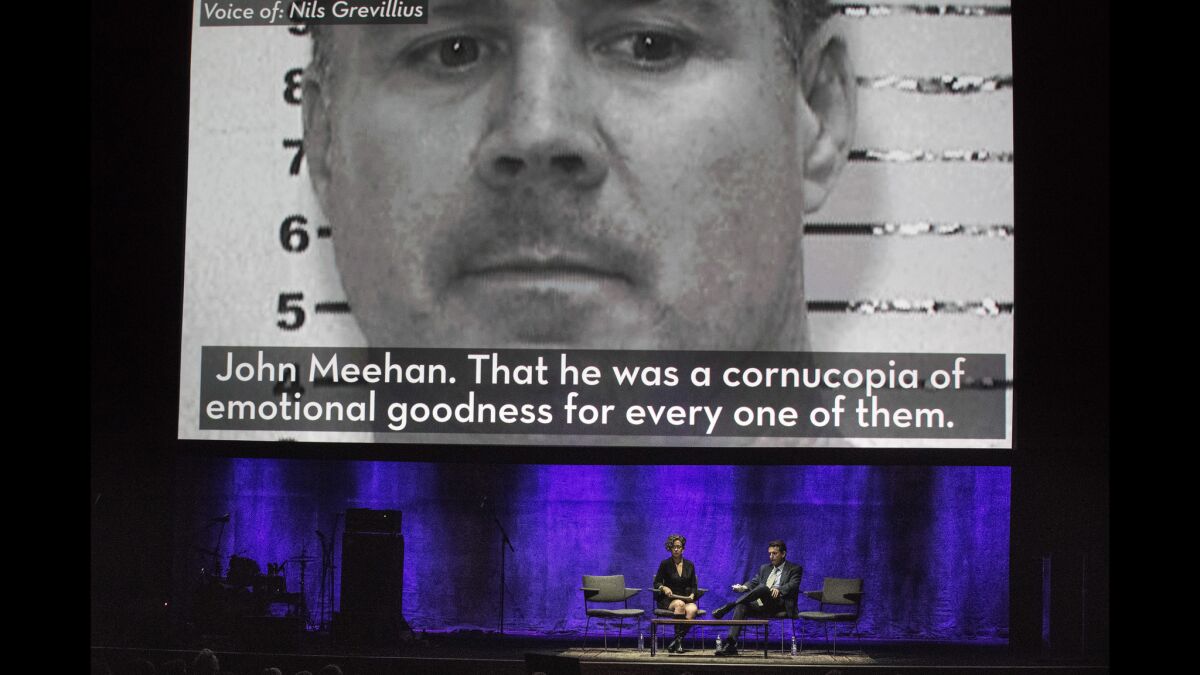 "Most women want the violence to stop, they want the abuse to stop; they don't necessarily want the relationship to stop," Giggans said.
Experts warned against harshly judging friends or family who might be in such a relationship. Already, their abuser is trying to isolate them from their loved ones, and unkind words would only make that easier. They recommended continuing to be a place for them to talk about their relationship and offer help.
"You'll get that moment of opportunity; unfortunately it's very rare," said Matthew Murphy, senior deputy district attorney for the Orange County district attorney's office homicide unit.
Murphy said that though predators aren't new, the internet and dating apps have made it easier for people like Meehan. He could message hundreds of women in one night.
Most people on dating sites are just looking for love, Murphy said. But while partners introduced through friends can be vetted, those met online remain more of a question mark.
"Sometimes people get married," he said, "sometimes people get murdered."
soumya.karlamangla@latimes.com
Twitter: @skarlamangla
ALSO
The stories shaping California
Get up to speed with our Essential California newsletter, sent six days a week.
You may occasionally receive promotional content from the Los Angeles Times.