Newsletter: Essential California: Misconduct alleged at L.A.'s Building and Safety agency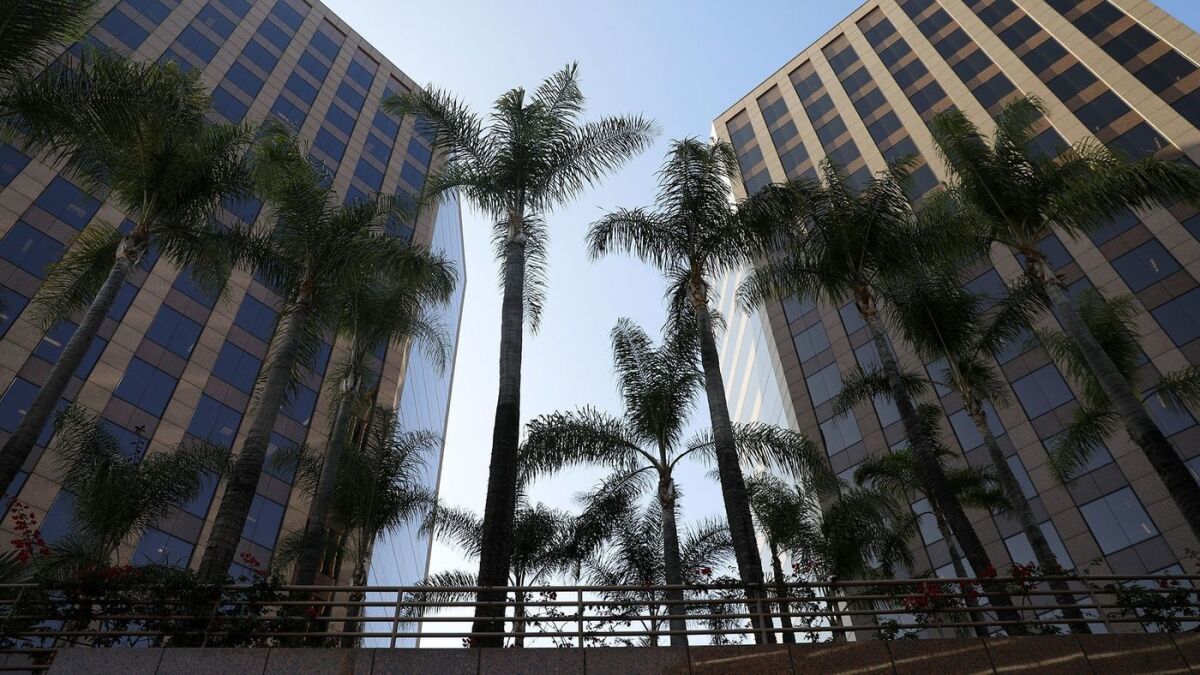 Good morning, and welcome to the Essential California newsletter. It is Saturday, June 16. Here's what you don't want to miss this weekend:
TOP STORIES
It began with an investigation into bad workplace behavior: a high-level manager inside the Los Angeles Department of Building and Safety accused of yelling at his workers. City investigators soon received reports of more unusual activities, such as staffers being punished by having to eat an entire pizza in one sitting. That probe, in turn, led personnel department officials to uncover unauthorized purchases, falsified invoices and $24,900 in payments to a consulting company that did not exist, said Frank Bush, general manager at Building and Safety. Los Angeles Times
Aid-in-dying law reinstated
A California appeals court on Friday reinstated a law allowing terminally ill patients to end their lives. The ruling by the 4th District Court of Appeal allows the law known as the End of Life Option Act to remain in effect, giving patients who have less than six months to live access to lethal medications from their doctors. Opponents of the law have until July 2 to file a petition opposing the court's decision. Los Angeles Times
Charter $$$
After pouring millions of dollars into scathing ads portraying Lt. Gov. Gavin Newsom as a dilettante, wealthy charter school backers had a different message for the first-place finisher in last week's gubernatorial primary: Congratulations. The warm wishes — also extended to Republican John Cox, who came in second place — belied the awkward position that charter advocates find themselves in after their expensive gamble to prop up former Los Angeles Mayor Antonio Villaraigosa in the race collapsed in failure. Los Angeles Times
NBA offseason intrigue
Star Kawhi Leonard's desire to leave the San Antonio Spurs became clear on Friday morning, when the San Antonio Express News first reported he wanted to be traded. According to sources not authorized to speak publicly, the Lakers have long been Leonard's preferred destination, though the Clippers are among the teams he would consider. Los Angeles Times
AROUND CALIFORNIA
Done deal: Apple Inc. has struck a multiyear deal with Oprah Winfrey to produce original content, the technology giant announced Friday, as the battle for talent among tech titans and traditional studios keeps heating up. Los Angeles Times
Scathing report: The Los Angeles Police Department has not taken basic measures to prevent suicides in its jails, the department's inspector general has found. Los Angeles Times
In her own words: San Francisco Mayor-elect London Breed on what she hopes to accomplish at the helm of her hometown. Los Angeles Times
Smogged up: Los Angeles consistently ranks among the cities with the worst air pollution. Here is where in Los Angeles is the worst. Crosstown LA
Settlement reached: Urth Caffe has agreed to hold diversity training for its employees under the terms of a settlement with a group of Muslim women who sued the chain for discrimination, alleging they were ousted from its Laguna Beach location for being "visibly Muslim." Los Angeles Times
A chance to connect: For L.A.'s Iranian American community, the World Cup means much more than soccer games. Los Angeles Times
Indicted: Federal prosecutors filed criminal charges against Theranos Inc. founder Elizabeth Holmes and the blood-testing company's former No. 2 executive, alleging that they defrauded investors out of hundreds of millions of dollars and also defrauded doctors and patients. Wall Street Journal
Progress … maybe? Three Orange County cities have proposed shelters to deal with the growing homeless problem. Huntington Beach, Anaheim and Santa Ana told Judge David O. Carter about their plans, though the exact locations were not released during a hearing this week. Los Angeles Times
In Sacramento: Amazon, Microsoft and Uber are paying big money to kill a California privacy initiative. The Verge
Success story: Is Taco Maria California's "most important restaurant"? Alta California
Get the Essential California newsletter »
THIS WEEK'S MOST POPULAR STORIES IN ESSENTIAL CALIFORNIA
1. A radical plan to split California into three states earns a spot on the November ballot. Los Angeles Times
2. Six fascinating facts about California: avocado and bumble bee bridge edition. California Sun
3. How L.A. Mayor Eric Garcetti picked his police chief: interviews, homework and plenty of advice. Los Angeles Times
4. A jogger dismantles a Lake Merritt homeless man's encampment and throws some of it into a lake. SFGate
5. South Bay history: The big bang that opened up the Palos Verdes Peninsula. The Daily Breeze
ICYMI, HERE ARE THIS WEEK'S GREAT READS
Fascinating story: A woman at the park demanded that a Los Angeles Times reporter speak English to her daughter. "You're confusing the poor girl." Little did she know the child is trilingual and also learning a fourth language. Los Angeles Times
Impressive: Reaching the finish line is never guaranteed in ultra running, a supercharged version of the marathon in which athletes attempt far-longer distances in often harsh conditions. One popular ultra race begins in the searing heat of Death Valley and climbs 8,300 feet to the base of Mt. Whitney. Another forces entrants to trudge for nearly three days and nights through the mud and brier of Tennessee mountains. Los Angeles Times
What the what? This clarinetist's career was derailed by an ex-girlfriend who deleted his scholarship letter. Buzzfeed
Cool story: "The toughest part of the Dipsea, said to be the country's oldest trail-running race, might not be the first mile, which contains nearly 700 stairs rising through the forests above Mill Valley." New York Times
Netflix effect: The future of TV is about "couch shows and phone shows." The Atlantic
Wow! One symptom of California's housing crisis? A state agency says someone making $200,000 deserves house-buying help. CALmatters
Please let us know what we can do to make this newsletter more useful to you. Send comments, complaints and ideas to Benjamin Oreskes and Shelby Grad. Also follow them on Twitter @boreskes and @shelbygrad.
---