For L.A.'s Iranian American community, the World Cup means much more than soccer games
Mehrnoush Yazdanyar's eyes were peeled on the giant television screen showing Iran's national soccer team facing off against Morocco in the World Cup opener.
She jumped from her seat when she noticed her phone ringing.

For the record:
6:15 p.m. June 15, 2018A previous version of this article wrongly attributed why some fans brought flags to the viewing party. No political statement was intended.
"My mom is FaceTiming me," Yazdanyar told her friends. "Come say 'Hi!' "
Yazdanyar smiled at her mother, who was watching the game more than 7,500 miles away from a theater in Tehran. The game was played Friday in St. Petersburg, Russia.
Both of them gleamed with excitement. Yazdanyar started dancing and showed her mom the packed room of Iranian Americans who had come to watch the game at The Parlor, a bar on Melrose Avenue.
The World Cup gives many people a chance to sideline politics and unite under the feel-good umbrella of sports diplomacy.
For many of Los Angeles' Iranian Americans — part of the largest Persian community outside Iran — soccer offers a chance to separate sports from politics.
And while many enjoyed a brief reprieve from their troubles, surrounding them at Friday's game were subtle reminders of the geopolitics and inequality that loom over them, their compatriots and family back in Iran.
Such was the case for Yazdanyar, a 38-year-old attorney.
The Islamic Republic bans women from attending men's sports events, including soccer. The punishment: arrest, fines or imprisonment.
Although she wished her mother had been able to view the match out in the open, the game still offered them a chance to reconnect.
"Iranians love soccer, and so I'm getting together to celebrate and embrace Iran," she said through sporadic cheers from the crowd.
Much of the politics during Friday's game for Iranian Americans was hidden beneath the pride and joy that glowed on everyone's face when Iran's team, who many have come to see as representing Iranians worldwide, beat Morocco in a surprising 1-0 victory.
Full coverage of the 2018 World Cup »
Many Iranian Americans in Los Angeles and elsewhere gathered Friday around television screens at home, cafes and bars to cheer on their favorite players. It was a chance to embrace their culture and roots while supporting Iranians in the motherland — if not necessarily the government, which remains deeply unpopular among many Persians in the U.S.
There are about 87,000 people of Iranian descent in Los Angeles County, according to the U.S. Census Bureau.
Many Iranians fled the country after the Islamic Revolution overthrew the U.S.-backed Shah Mohammed Reza Pahlavi in 1979, replacing it with a socially restrictive theocracy that now struggles with a disgruntled population and high unemployment.
But despite some Iranian Americans' loathing of Iran's conservative and hard-line factions, many still long to return to the homeland.
For Iranian Americans who crave to reconnect to a country that feels distant, the World Cup offers a chance.
A group of young Iranian American millennials with the Farhang Foundation, an L.A.-based nonprofit organization, reserved space at The Parlor for people to view the opening match.
Around 200 people bought tickets for the event, which sold out early Thursday, said Alireza Ardekani, the nonprofit's executive director.
"This event reminds Iranians of people back home and teaches the younger generation born here to learn about Iranian culture," Ardekani said.
During halftime, a deejay blasted Persian music throughout the bar as people from all generations stood up to dance.
In the second half, men and women whose faces were covered with the country's colors of green, white and red anxiously looked at the television screens waiting to see if their favorite players would score a goal.
Another viewing party was held at a cafe in "Tehrangeles," the moniker given to an area in Westwood that is home to many Persians.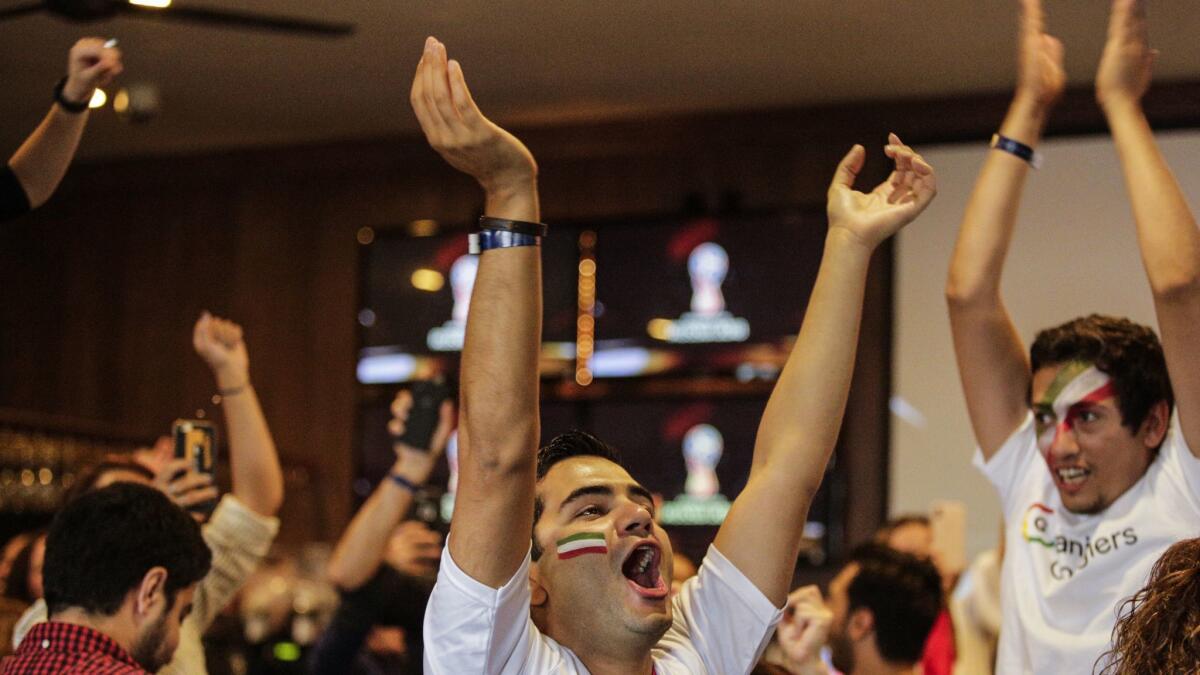 Tina Yazdi, a 33-year-old nurse from Beverly Hills, draped a large prerevolutionary Iranian flag over her body.
The flag has a picture of a lion holding a sword.
Yazdi said she chose to bring that flag instead of the Islamic Republic flag because to her it symbolizes inclusion.
"The Iranian soccer team represents Iranians everywhere, and that's what this flag means to me. It doesn't exclude other religions," she said.
Amid the excitement and thrill, geopolitics between the U.S. and Iran still looms over the World Cup, a stark reminder that the two nations' governments remain bitter enemies.
Earlier this week, Nike announced that the U.S. sportswear company would not supply shoes to Iran's national team because of sanctions against Iran. The decision comes in the wake of President Trump announcing in May that he is pulling the United States out of the Iran nuclear deal.
Whether Iran loses or wins was not the most paramount thing to many Iranian Americans.
Fred Parvaneh left Tehran when he was 17, five years before the Islamic Revolution. He didn't imagine that he would never return.
Now 60, Parvaneh couldn't wait to watch Iran play in the World Cup. The games remind him of his late father, who shared with his son an abiding love for the sport.
"My dad was a huge World Cup fan, and I didn't have much in common with him except for this event," he said. "It gave us this closeness that was lacking between us. This one particular event brought us together."
As the still-scoreless game drew nearer a close, a sudden twist left Iran victorious when Morocco's Aziz Bouhaddouz headed a free kick into his own net, gifting Iran a 1-0 win.
The moments before the goal were tense. People stopped talking, and all eyes focused on the television screens.
Then a loud eruption of cheers and screams ensued, as people jumped out of their seats at the surprise goal.
Watching it in Los Angeles surrounded by others that make up the Iranian diaspora reminded Parvaneh of his roots, he said. For those few hours, Parvaneh said, he was able to forget the problems back in the land of his birth.
"Some people have never forgiven the regime for what they've done. A lot of people lost their family and possessions," he said. "Politics doesn't come into my frame of mind when I'm watching the game. But maybe it will once the game is over."
Follow me on Twitter @melissaetehad
---
UPDATES:
2:40 p.m.: This article was updated with comments from soccer fans following Iran's victory over Morocco in the World Cup opener in Russia.
This article was originally posted at 4 a.m.
Sign up for Essential California for news, features and recommendations from the L.A. Times and beyond in your inbox six days a week.
You may occasionally receive promotional content from the Los Angeles Times.