LAPD hasn't taken basic measures to prevent suicides in its jails, scathing report says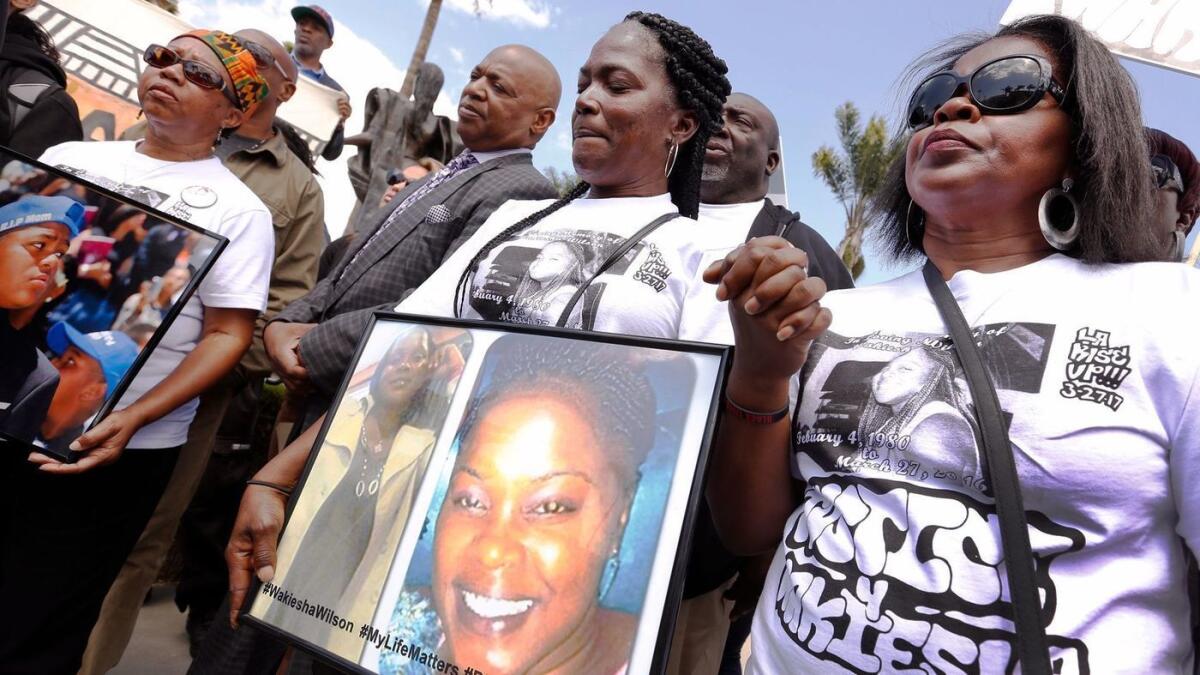 The Los Angeles Police Department has not taken basic measures to prevent suicides in its jails, even after more than 100 inmates tried to kill themselves in a five-year span, the department's inspector general found in a scathing report released Friday.
Two inmates hanged themselves with telephone cords and nearly a dozen attempted to do so before jail officials began to consider installing cordless phones, the report said.
Many cells lack video cameras that could alert jailers to suicide attempts or other problems, according to the report. At police station "holding tanks," there is no requirement for inmates to be regularly checked on by jail staff. Nor does the department review jail suicides in a meaningful way that could help prevent future deaths, according to the report.
From 2012 to 2016, 19 inmates died in LAPD jails and at least 102 attempted suicide, the report said. Four of the deaths were suicides. About 90,000 people are booked into LAPD jails each year.
The five-member civilian Police Commission asked for the report after the jail death of Wakiesha Wilson, which has become a rallying cry for local Black Lives Matter activists.
Wilson's family members do not believe she took her own life. But investigations by the Police Commission and L.A. County prosecutors found that the 36-year-old woman, who had a history of mental illness, tied a piece of clothing around the cord of the telephone in her jail cell and hanged herself on March 27, 2016.
Wilson's death came after another inmate hanged himself with a telephone cord in December 2011 and nine others tried to kill themselves using the cords. One of the attempted suicides occurred the month before Wilson's death, according to the report.
Investigators from the inspector general's office who recently visited the jails found that 32% of jail cells still had telephones with cords. Installation of cordless phones at the Metropolitan Detention Center in downtown Los Angeles, where Wilson died, will begin in the middle of this year, the report said.
"We set out with the primary goal of finding any way to help the department minimize the risk of death of people in custody," said Inspector General Mark Smith, who assumed the post in January and previously was a constitutional policing advisor to L.A. County Sheriff Jim McDonnell, focusing on the county jails.
Smith said that national norms in running jails are always evolving, and he hopes to bring the LAPD up to those standards. The report contains recommendations for improving the jails, including more mental health training for jailers and revising the jail operations manual.
Cmdr. Vito Palazzolo, who oversees the jails, said the LAPD agrees with the recommendations and has begun implementing some of them.
"One suicide is too many," Palazzolo said. "But we have over 90,000 people a year come through our jails, and we maintain a very safe environment for the people in our custody."
LAPD jails, which include facilities in the San Fernando Valley and South L.A. as well as holding tanks at police stations around the city, are often the first stop for suspects before they are either released or transferred to the L.A. County jails. Stays can range from a few hours to a few days.
The L.A. County jails have been under federal oversight since 2015, after the U.S. Department of Justice criticized the Sheriff's Department for an increase in suicides, some of which might have been prevented if inmates were checked on more frequently and deprived of items that could be used in suicides.
Besides telephone cords, LAPD jail inmates have used bunk beds, cell doors and wall-mounted rings in suicide attempts, the inspector general's report said.
In March 2015, an inmate at the 77th Regional Jail hanged himself by tying a sweater around his neck and anchoring it to a bunk bed frame. Jail officials eventually covered the gap between the frame and the wall that made the beds a good anchoring point, with 178 beds modified by the end of April 2017, the report said.
But by then, two more inmates had attempted to kill themselves using the bunk beds.
Palazzolo said replacing wall-mounted phones is a complicated endeavor, and the technology was not immediately available. The bunk beds were modified soon after the problem was identified and after funding was found for the project, he said.
"When people want to hurt themselves, they'll find a way," Palazzolo said.
LAPD officials estimate that 60% to 70% of the inmates in their jails are mentally ill. But, the inspector general's report said, the officers who arrested the person sometimes do not tell jailers about behavior they witnessed that might be relevant to the person's needs as an inmate.
Intake interviews, including questions about mental health history and suicidal tendencies, are conducted without a guarantee of privacy, which could discourage inmates from being forthcoming, the report said.
The decision about whether to place an inmate in a one-person cell or group housing is made by jail officials using "experience and instincts" rather than a formal checklist, the report said.
Without criteria for dealing with mentally ill inmates, some officials believe those at risk for suicide should be segregated, while others believe they are less likely to harm themselves with other inmates around.
"The risk for human error is too great, as are the potential consequences," the report said.
According to the report, the LAPD does not used a separate form to document attempted suicides, making it hard to pinpoint issues that could be addressed to prevent future suicides.
After an inmate dies in jail, the LAPD investigates the death using the same criteria as when officers shoot a person on the street. Those criteria often do not apply to jail deaths, the report said, leaving investigators "with nothing to evaluate."
Wilson was arrested by LAPD officers on March 26, 2016. She had gone to a downtown hospital with back and chest pain, then was accused of punching another patient.
While she was being booked into the Metropolitan Detention Center, she told jail officials that she took antipsychotic and antidepressant medications, though she denied having suicidal thoughts, according to a report by L.A. County prosecutors.
Wilson had been "involuntarily confined" for mental health issues nine times between June 2010 and September 2015, the prosecutors' report said. In February 2016, she checked herself into a hospital, saying she was depressed and thinking about overdosing on medication.
In jail, Wilson initially seemed relaxed and was smiling during early morning cell checks. But her cellmate later told investigators that Wilson was banging on the door and kicking it while shouting: "Let me out!" She also wrapped a shirt around her neck and said she was about to take her own life, the cellmate said. But jail staff and other inmates did not know of Wilson's behavior, the report said.
When the other inmates were moved to a different location, jailers decided to keep Wilson alone in her cell.
About 35 minutes later, a jailer spotted her on the floor, slumped below the telephone cord she had used to hang herself.
For more news on the Los Angeles Police Department, follow me on Twitter: @cindychangLA
Sign up for Essential California for news, features and recommendations from the L.A. Times and beyond in your inbox six days a week.
You may occasionally receive promotional content from the Los Angeles Times.