How Garcetti picked his police chief: interviews, homework and plenty of advice
Last Monday morning, Los Angeles civic leaders were in suspense.
Mayor Eric Garcetti had said he would probably announce his pick for police chief that day.
Text messages and phone calls flew between people who were usually in the know. "Have you heard?" "Still no word?"
There was a reason no one had heard. The mayor had not yet made up his mind.
He had been mulling the possibilities for almost a month. This was perhaps the most important hiring decision he would make, at a time when he was considering a bid for president of the United States.
The three finalists for the job — LAPD Deputy Chief Robert Arcos, Bill Scott, chief of the San Francisco Police Department, and LAPD Assistant Chief Michel Moore — were more similar than different. All were LAPD veterans who embraced the kinder, gentler ethos of the post-Rodney King era. Each was a believer in the reforms begun by previous chiefs, promising to deepen ties with minority residents and find ways to reduce the number of shootings by police officers.
Each brought his own distinctive skills, personality and political upsides.
The mayor had consulted dozens of people in the run-up to his decision: law enforcement experts, union presidents, civil rights advocates, nonprofit executives, police officers, and, perhaps most crucial, the man who is vacating the post: Police Chief Charlie Beck.
Garcetti had conducted four rounds of in-person interviews, one with City Council members taking the lead. At one point, he even assigned the three finalists written homework, asking them to outline their ideas on technology, training and other topics.
The clock ticked past noon. Time was running out to convene an afternoon news conference.
At 1:17 p.m., Garcetti picked up his phone. The number he dialed was Moore's.
::
On May 2, the city's civilian police commissioners interviewed five LAPD veterans, drawn from 31 applicants for the job. They quickly settled on their top three.
Arcos was genial and empathetic, a product of Atwater Village when it was still gang-ridden and working-class. If chosen, he would make history as the city's first Latino police chief at a time when President Trump's hard-line deportation policies have made some immigrants fearful of law enforcement.
Scott grew up as an African American in Alabama during the civil rights era. After 27 years with the LAPD, he was well-known in South Los Angeles as a leader who viscerally felt the costs of arresting and incarcerating young black men.
And then there was Moore, known as a crime statistics wonk so well-versed in the ins and outs of managing the LAPD's 10,000 sworn officers that his learning curve as chief would essentially be zero.
Moore's father was Basque, and he is listed as Hispanic on department rosters, but his heritage has not played a large role in defining his identity at the LAPD.
Four of the five commissioners ranked Moore first, but that was no guarantee of success. Moore had also been the commission's top choice in 2009, when the job ended up going to Beck.
Beck was not retiring until June 27, but the appointment would need to be confirmed by the City Council, and Garcetti had indicated earlier that he hoped to be finished by the end of May.
The mayor set to work, seeking advice from dozens of people, including council members, immigrant rights advocates, former LAPD Chief Bill Bratton and San Francisco officials such as Dist. Atty. George Gascon.
Moore, who serves as Beck's No. 2, made it clear during the first round of interviews that he wasn't simply seeking to continue the policies of the current administration, Garcetti told The Times later. Instead, he offered his own ideas for running the LAPD.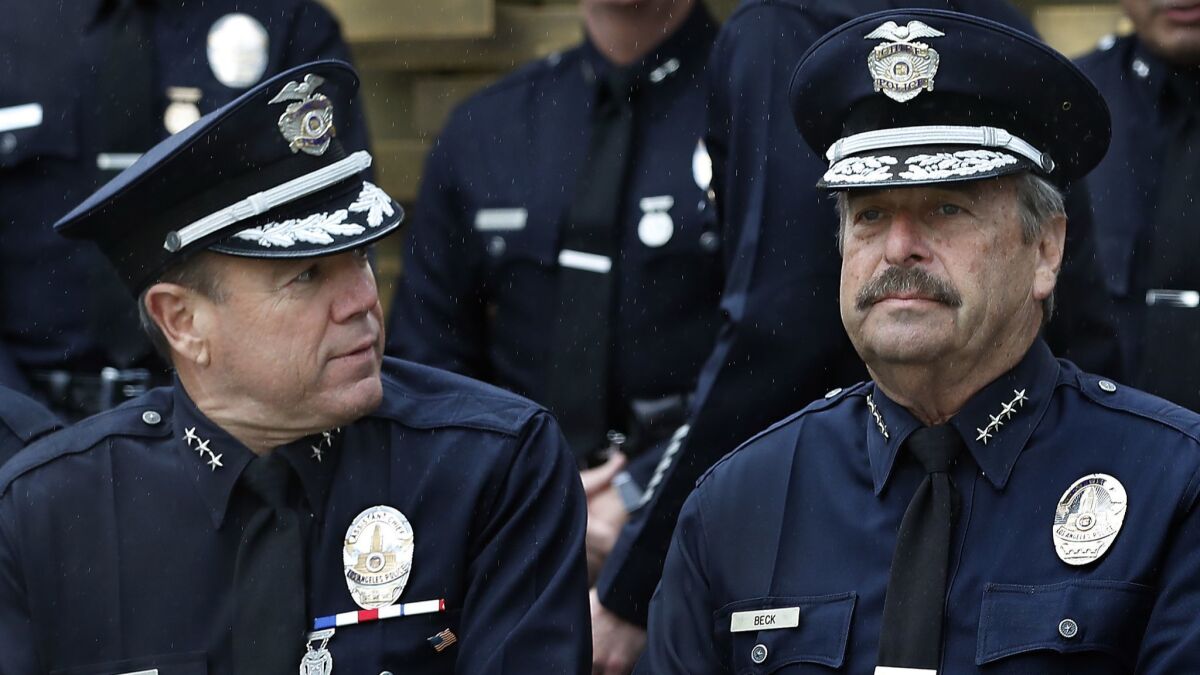 Moore talked about ways that footage from the body cameras worn by police officers could be better used in the department's training, the mayor recalled. He also discussed how the LAPD could help homeless people get low-level citations expunged on their way to obtaining jobs and permanent housing.
"This was the first time where I could see him as a chief," the mayor said. "He had some pretty bold and brave ideas. It wasn't who people expected Michel Moore to be. Some have said he has a reputation for being real robotic, too tightly wound. But he was very much at ease."
Garcetti also turned to Connie Rice, a civil rights attorney who was once a fierce critic of the LAPD. Rice, a confidante to several mayors, had advocated for Beck the last time around. This time, she said, she did not publicly back a candidate, instead couching the conversation in terms of "if you want 'X,' you can select this candidate. If you want 'Y,' you can pick this person."
Plenty of others stepped forward to let Garcetti know they had a favorite.
Angelica Salas, executive director of the Coalition for Human Immigrant Rights, left Garcetti a voicemail early on informing him that she favored Arcos.
Salas, a longtime Garcetti supporter, wanted a police chief from a neighborhood that had "consistently felt the brunt of aggressive policing." And she believed that a Latino police chief would be a countervailing force against a president "who is diminishing and demeaning" people of Mexican descent.
Garcetti also consulted Danny Bakewell, publisher of the Los Angeles Sentinel, an African American newspaper. Bakewell favored Scott, according to the mayor. So did a group of largely African American pastors who argued that the San Francisco chief has a deep understanding of South Los Angeles, which has had a fraught history with the LAPD.
Still, one of the city's most powerful voices on police reform came out in favor of Moore. Former Los Angeles Urban League President John Mack, who served on the police commission from 2005 to 2013, called Garcetti in late May, after the mayor had finished three rounds of interviews, and spent half an hour making his case.
Mack cited Moore's work on community policing and his track record on combating police brutality and racism in the LAPD. Moore "would build upon the reform, the progress, that's already been made," Mack said he told Garcetti.
As his self-imposed Monday deadline approached, Garcetti also called two police commissioners, Matt Johnson and Steve Soboroff — both Moore supporters.
Johnson said that in several conversations, the mayor delved into each candidate's ability to communicate with residents across the city as well as with the LAPD's rank-and-file officers. He was looking for a chief who would not impose an agenda but would listen and then win people over, Johnson said.
"He was thinking this through from every possible angle," Johnson said of Garcetti.
Soboroff spoke with Garcetti at about 2 p.m. Sunday. The two men discussed criteria such as who you would want at the helm if an earthquake occurred the day after the swearing-in. But Garcetti remained undecided.
Moore had been impressive from the first interview, Garcetti later told The Times. Scott began to look better and better, and Arcos remained in the mix.
"The candidates were so strong that he was really struggling," Soboroff said.
::
In recent months, Garcetti, a Democrat, has traveled to early presidential primary states, including Iowa, South Carolina and New Hampshire.
As a Spanish-speaker of Mexican, Italian and Jewish heritage, Garcetti understands Los Angeles' divisive racial history. His father, Gil, was the district attorney who lost the O.J. Simpson prosecution in 1995.
On the national political stage, a police appointment makes a difference only if the chief does very well or very badly, said Jack Pitney, a professor of politics at Claremont McKenna College.
The publicity Garcetti would have gained by appointing Los Angeles' first Latino police chief would not have a lasting effect, particularly since the mayor already appeals to Latino voters with his fluent Spanish, Pitney said.
Moore ticked a box in another key area. As head of patrol operations, he is a major architect of the LAPD's crime-fighting strategies.
"If the chief were particularly ineffective in fighting crime, and people saw Los Angeles as being disorderly, that would be a liability," Pitney said. "Conversely, if the new chief is extremely effective, that's an asset."
The three finalists were not likely to differ substantively on immigration, said Fernando Guerra, a professor at Loyola Marymount University and director of the school's Thomas and Dorothy Leavey Center for the Study of Los Angeles.
But naming Arcos as chief would have been valuable symbolically, amplifying the LAPD's immigrant-friendly message, Guerra said.
::
On Monday morning — the day of the expected announcement — Garcetti met with Beck at City Hall, hashing out the strengths of the three candidates in an hour-long conversation.
Beck, who promoted all three finalists to top positions in the LAPD, told The Times that he did not initially reveal his favorite to Garcetti. But partway into the mayor's search, Beck recommended Moore as a reformer who has played a key role in the department's major initiatives, from equipping officers with body cameras to training them how to reduce the use of deadly force.
Beck also thought Garcetti and Moore would get along.
"He has an unparalleled work ethic, an unparalleled breadth of experience with the LAPD. He's super smart and very responsive to those he works with," Beck said of Moore. "The mayor and he are definitely alike in that way."
Garcetti, for his part, said he did not feel that Beck was pushing him in a particular direction. Instead, the chief argued that chemistry and trust would be crucial in the decision.
"He said, 'This is all about who you click with,'" the mayor said.
Garcetti then reached out to Rice again. And he called Craig Lally, president of the Los Angeles Police Protective League, the union that represents LAPD officers. The league did not publicly endorse a candidate, but it was known within City Hall that the group's board favored someone other than Moore.
Lally said he told the mayor that the next chief would have to confront the issue of patrol officers doing more with less, rushing to and from calls that often involve homeless or mentally ill people.
Until the end, Garcetti said, he was not leaning toward Moore but "went back and forth with these three guys pretty consistently."
About 15 minutes after making up his mind, Garcetti called Moore. He followed with a call to Beck. The news media were told to be at City Hall at 3:30 p.m.
As the cameras rolled, Garcetti stepped out, flanked by his new police chief.
For more news on the Los Angeles Police Department, follow me on Twitter: @cindychangLA
---
The stories shaping California
Get up to speed with our Essential California newsletter, sent six days a week.
You may occasionally receive promotional content from the Los Angeles Times.