L.A.'s Building and Safety agency buffeted by claims of financial misconduct, food hazing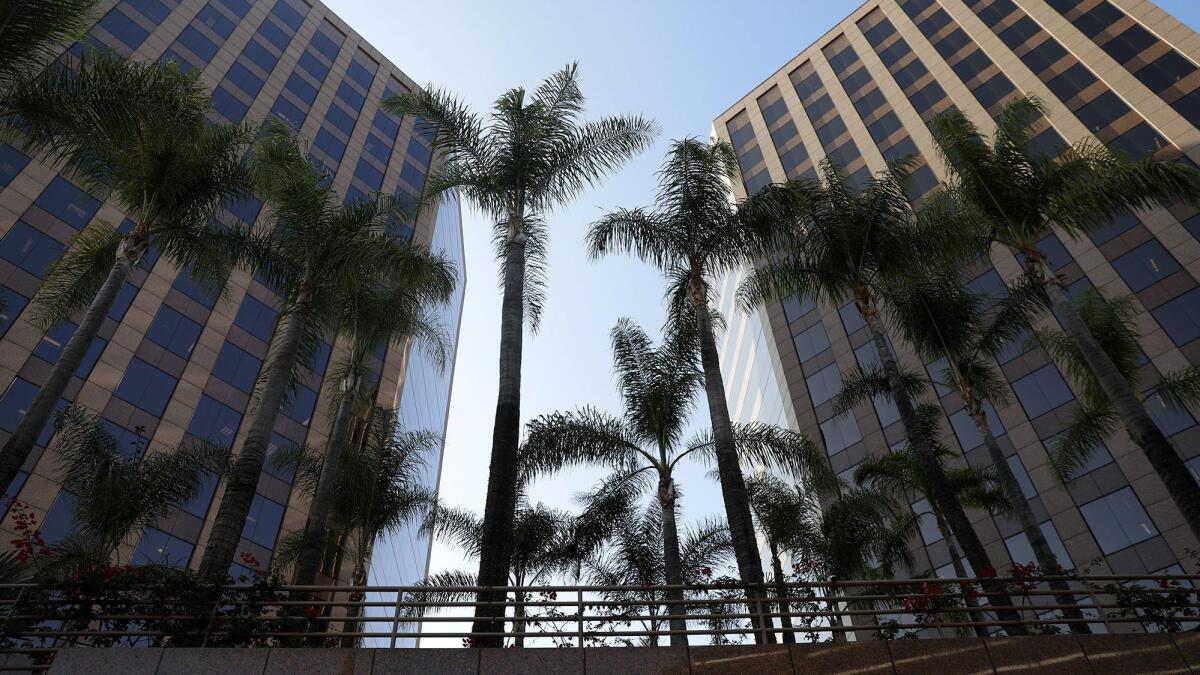 It began with an investigation into bad workplace behavior: a high-level manager inside the Los Angeles Department of Building and Safety accused of yelling at his workers.
City investigators soon received reports of more unusual activities, such as staffers being punished by having to eat an entire pizza in one sitting.
That probe, in turn, led personnel department officials to uncover unauthorized purchases, falsified invoices and $24,900 in payments to a consulting company that did not in fact exist, said Frank Bush, general manager at Building and Safety.
Last month, the city quietly turned its findings over to L.A. County Dist. Atty. Jackie Lacey, whose office has opened a review. Bush said investigators also identified improper travel expenses and lax financial controls — and are trying to determine whether a department staffer used city funds to buy iPhones and other equipment, then sold them to other department employees.
The allegations represent the second major scandal to hit the department in the last decade. Between 2011 and 2013, three building inspectors were convicted of accepting bribes in exchange for building sign-offs, and others were fired as a result of a larger probe.
Bush portrayed this year's inquiries as different from the prior bribery cases. While the earlier probes were first initiated by undercover FBI agents, the more recent allegations were "internally reported and internally investigated and internally dealt with," he said.
During the recent investigations, six employees in the department's technology services bureau were placed on paid administrative leave. Three of them have resigned, while a fourth retired May 11, according to a personnel department spokesman.
Two others received 20-day suspensions and have returned to their jobs.
An aide to Mayor Eric Garcetti called the allegations of misconduct "completely unacceptable," saying such behavior will not be tolerated at City Hall.
"The Department of Building and Safety took swift action to address the situation as soon as it came to light, and we're committed to making sure it doesn't happen again," said Garcetti spokesman Alex Comisar.
Food hazing
Many of the allegations revolve around Giovani Dacumos, who worked for the agency as a deputy superintendent of building, according to legal and personnel documents reviewed by The Times.
Dacumos, 48, earned nearly $200,000 per year while running the department's technology section, which purchases and maintains the agency's computer software and related devices. He resigned in November.
At one point last year, lawyers for the city obtained a temporary restraining order against Dacumos, saying one of his employees feared he might harm her. The city allowed the order to expire once Dacumos resigned, said a spokesman for City Atty. Mike Feuer.
Investigators also concluded that Dacumos' employees had been subjected to unusual forms of punishment, according to a personnel report prepared by the city and reviewed by The Times. At least two were forced to eat an entire pizza within a short period of time, while another was instructed to wear skirts instead of slacks, the report said.
Bush declined to say whether Dacumos, a 23-year employee of the department, was the one who meted out those orders. But he confirmed the investigators received reports of food hazing inside Dacumos' section — including employees who were ordered to devour multiple ice cream bars within a specified period of time.
"If they didn't get something done, or something did not go the way a manager wanted it to, that was their form of punishment," he said.
Dacumos, a Panorama City resident, could not be reached for comment. A man who identified himself as Dacumos' father told The Times that Dacumos was out of town. He said he did not know when Dacumos would return.
Bush said the information turned over to the district attorney dealt with allegations of financial wrongdoing, not hazing or workplace harassment.
Fake company, false invoices
Another key figure in the probe is Riel Ortiz, a low-level systems aide at Building and Safety who helped the agency make technology purchases. Investigators concluded that between 2015 and 2017, Ortiz authorized $24,900 in payments from the city to a family friend, Josephine C. Santos, according to a Jan. 24 report prepared by the city's personnel department, which was reviewed by The Times.
In her invoices, Ortiz said the money was needed to pay a Glendale-based company called JCS Consulting, the investigative report states. But Santos, who received the funds, did not have a consulting business and did not perform any work for the city, Bush said.
Santos, 67, could not be reached for comment. However, she told personnel investigators that she cashed the checks as a favor to the Building and Safety employee and did not receive any compensation herself.
Ortiz declined to discuss the city's investigation when approached by The Times. However, she admitted to investigators that she created the invoices and collected the cash from Santos.
Ortiz, 46, told investigators that she handed the money over to Dacumos, who had told her the money was needed to cover various expenses in the office, the report states. She also told them she was following Dacumos' directions — even though she knew those activities were "not right."
"Ms. Ortiz said that Mr. Dacumos knew she was a black and white person (either right or wrong) but Mr. Dacumos taught her grey and that grey was okay," the city report said.
Ortiz was placed on administrative leave in December and resigned from her $57,200-per-year job on April 23, according to a Personnel Department spokesman. Investigators have also concluded that she and at least one other employee mishandled funds that were paid to one of the city's technology vendors.
Bush said that over two years, the city provided about $4 million to Cerritos-based Golden Star Technology for services and products that had not yet been delivered. Investigators say staffers authorized those payments in advance because it made it easier for them to make purchases, since it avoided the city's competitive bidding requirements, he said.
The city has recouped about $2.9 million and is on track to collect the rest by June 29, Bush said.
An executive with Golden Star Technology did not respond to requests for comment. Since those payments were uncovered, Building and Safety officials have established new protocols to ensure that department employees no longer "front load" payments, authorizing spending to city contractors before the services have been provided.
"We have implemented procedures so that that cannot happen again," Bush said.
While the city is on track to recoup those funds, the $24,900 to Santos has not been recovered.
Two city employees reported that $5,300 of it went to reimburse a Building and Safety staffer for a business trip to London, he said. That trip should not have been authorized by the department, Bush added.
Allegations of threats and violence
The city's initial investigation into the technology section began in September, after personnel officials received reports of threatening behavior. The information obtained by investigators prompted Feuer to secure a temporary restraining order designed to keep Dacumos away from one of his workers.
In a legal declaration filed in Superior Court, William Weeks, assistant general manager of the personnel department, said that Dacumos had engaged in an "intimate relationship" with one of his female subordinates. After she ended the relationship, Dacumos began making threatening, profanity-laced statements toward her, he said in the declaration.
Weeks added that Dacumos sent texts to the employee "constantly" asking her to resume the relationship. At one point, Dacumos told the employee that he planned to make her life "miserable," he said. At another, Dacumos raised a computer keyboard to his chest and "smashed it onto the desk in front of her," Weeks said in the filing.
Dacumos, in his own legal declaration, admitted to having a 21-month relationship with the employee. But he denied making threats of violence or engaging in harassment, saying he treated all of his subordinates with respect.
He also described the keyboard incident as an accident.
"We were simply having a conversation," he said in the court filing, "and I immediately stood up and the keyboard came up to my chest and it dropped back down onto the desk and broke."
Three Building and Safety staffers who reported to Dacumos filed their own declarations supporting their boss, calling him "stern" but professional. All three said they never heard Dacumos make violent threats in the office.
Two of those employees were later placed on paid administrative leave. The city later concluded that one of them had interfered with a city investigation and filed a false statement in Superior Court.
The employee received a 20-day suspension, which was finalized last month by the city's Civil Service Commission.
Personnel officials determined that another Building and Safety employee had failed to review multiple emails that triggered the improper release of $4 million to the city's contractors. That employee also received a 20-day suspension.
Bush, the head of Building and Safety, said city officials are still trying to determine whether a department employee sold city-purchased computer equipment to his co-workers for personal gain. During the investigation, eight agency employees reported buying discount laptops or other devices from a co-worker.
Ortiz, the low-level systems aide, told investigators that at one point, she paid the employee $650 for a Microsoft laptop — one that normally would have cost $2,500.
According to the city's report, Ortiz said the co-worker told her at the time that he had a friend at Microsoft.
Twitter: @DavidZahniser
Sign up for Essential California for news, features and recommendations from the L.A. Times and beyond in your inbox six days a week.
You may occasionally receive promotional content from the Los Angeles Times.