Newsletter: Essential California: L.A. pot entrepreneurs run out of patience and money waiting for permits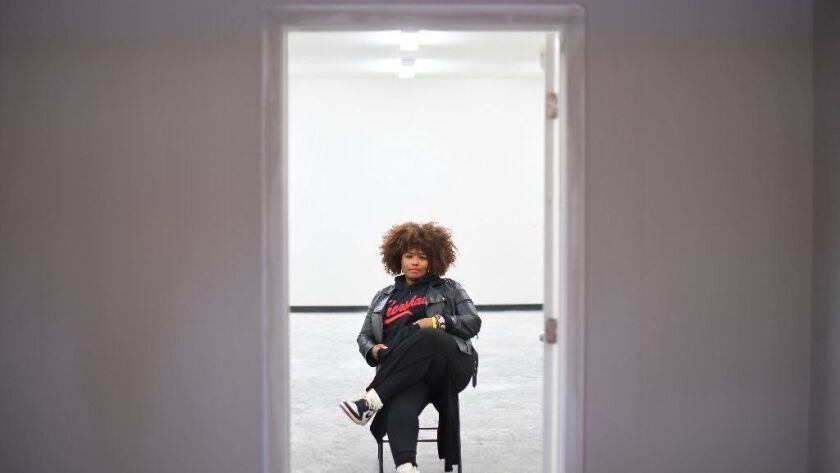 Good morning, and welcome to the Essential California newsletter. It's Tuesday, Feb. 19, and here's what's happening across California:
TOP STORIES
More than a year after sales of cannabis became legal in Los Angeles and other California cities and counties that have allowed it, many like Kika Keith still cannot apply for a local license as a retailer. And L.A. officials cannot tell her exactly when that will change. The slow rollout in a city that could become the biggest market for legal cannabis in the country has frustrated would-be entrepreneurs. Critics complain the delays have taken an especially heavy toll on people who L.A. leaders said they wanted to help with a "social equity" program. Los Angeles Times
Plus: California's black market for pot is stifling legal sales. Now the governor wants to step up enforcement. Los Angeles Times
Dumpling city!
"How many dumplings equal a 'meal'? I've personally pondered this question because the number of dumplings I want to eat rarely corresponds with the recommended serving size," writes columnist Frank Shyong. "But this question also happens to come up when you read the text of California Assembly Bill 626, a new law decriminalizing the sale of home-cooked food. The law, which took effect Jan. 1, allows home cooks to earn up to $50,000 in annual revenue and sell up to 60 meals a week after obtaining a permit, paying a fee and agreeing to inspections. But I found the wording of the law's provisions confusing." Los Angeles Times
Checking in on Hollywood and China
When the U.S. and China struck a landmark deal in 2012 to pry open the Asian country's vast film market, Hollywood salivated. The hard-fought agreement was a boon to major studios, allowing huge returns for blockbusters such as "Transformers 4" and "Iron Man 3" while sparking a flurry of deals between U.S. and Chinese entertainment companies. Seven years later, however, the unbridled optimism about China has been replaced by a more weary caution. Many film executives and producers are increasingly frustrated by the restrictions and unpredictability of the world's second-largest film market, where the government has cracked down on celebrities and censored some of its most famous filmmakers. Los Angeles Times
Plus: The latest example of China's influence on movies beyond its borders. Los Angeles Times
Get the Essential California newsletter »
L.A. STORIES
Fun and yum: At L.A.'s only cookbook shop, a former fine-dining chef draws chefs, home cooks and crowds. Los Angeles Times
Faces of Frieze: Who was at the art fair? Los Angeles Times
Plus: It was hard to be a hater of Frieze LA. Los Angeles Times
A wow career: Sam Elliott reflects on a 50-year career. Vanity Fair
IMMIGRATION AND THE BORDER
In court, Part 1: California and 15 other states have filed a lawsuit against the Trump administration, decrying the declaration of a national emergency along the U.S.-Mexico border as unnecessary and unconstitutional. Los Angeles Times
In court, Part 2: The American Civil Liberties Union sued the Trump administration this week over its recent policy that returns asylum seekers to Mexico while they wait for their cases in U.S. immigration court. Los Angeles Times
Trouble trouble: As Venezuela spirals downward, South America struggles to absorb its migrants and refugees. Los Angeles Times
POLITICS AND GOVERNMENT
At the LAUSD: Outside consultants working on a plan to restructure the Los Angeles Unified School District were asked to develop a performance-based rating system for schools and to shift hiring and purchasing of services from the central district office to local campus networks, according to confidential contracts provided to The Times. Los Angeles Times
More on the "water fix": Former Gov. Jerry Brown was obsessed with twin-tunnel vision. Gov. Gavin Newsom has a more realistic view, writes columnist George Skelton. Los Angeles Times
The fight begins: "Tiny homes for homeless get the go-ahead in the wake of California's worst wildfire." NPR
CRIME AND COURTS
Triple shooting: Three people were found shot and killed Monday afternoon inside a gated community on the border of Porter Ranch and Chatsworth, in what police are investigating as a triple homicide, authorities said. Los Angeles Times
Suing the police: The family of a mentally ill Anaheim man who died in police custody last year has accused the arresting officers of choking him and failing to render medical aid after the violent clash, according to a federal lawsuit. Los Angeles Times
Crunching the numbers: "Burglaries in the city of Los Angeles saw a 3% dip in 2018, but in some wealthy enclaves, such as Cheviot Hills, the number of reports soared last year." Crosstown LA
More names appear: "The Catholic Diocese of Oakland has released the names of 45 clergymen and religious brothers they say are 'credibly accused' of sexually abusing minors, the latest in a cascade of dioceses across the country to take such a step amid a scandal involving pedophile priests and decades of church coverups." SF Gate
Some history: What we can learn from Fred Korematsu, 75 years after the Supreme Court ruled against him. NBC News
CALIFORNIA CULTURE
Coming soon: Why the Oscars have become more important even as viewership has shrunk. Los Angeles Times
Plus: Inside the scramble to make the Oscars shorter. New York Times
Spring training fever: Justin Turner says the Dodgers' back-to-back World Series losses "borderline drives you insane." Los Angeles Times
Amazing story! "How could someone born without arms or legs, who's never held a football, teach high school players how to throw, tackle or block? Rob Mendez is doing it as head coach of a California JV team." ESPN
Rebranded: Your guide to Garden Grove's newly named "Orange County Koreatown." Orange County Register
Waking up: Where to find single-source Salvadoran coffee in Los Angeles. L.A. Taco
CALIFORNIA ALMANAC
Los Angeles area: Sunny, 61, Tuesday. Partly cloudy, 58, Wednesday. San Diego: Sunny, 60, Tuesday. Showers, 59, Wednesday. San Francisco area: Partly cloudy, 54, Tuesday and Wednesday. San Jose: Sunny, 56, Tuesday. Partly cloudy, 55, Wednesday. Sacramento: Partly cloudy, 55, Tuesday. Showers, 54, Wednesday. More weather is here.
AND FINALLY
Today's California memory comes from Michael Beard:
"In the mid-'50s my father had a friend, Hank Casey, who was the distributor for the Los Angeles Times in our part of North Orange County. At some point Hank hurt his back and my father, a hardworking guy, started helping Hank deliver The Times. They operated out of a garage/shop in old downtown Placentia. My father had been born and raised in Yorba Linda and knew his way around that part of the county. Across the street from the shop where the papers were dropped off for rolling and then delivery was the 301 Club. A great traditional Mexican restaurant. It became a favorite of mine, and I still go there for a meal whenever I'm back in town. After a recent visit, I'm delighted to say that the interior and food are still the same 60 years later."
If you have a memory or story about the Golden State, share it with us. Send us an email to let us know what you love or fondly remember about our state. (Please keep your story to 100 words.)
Please let us know what we can do to make this newsletter more useful to you. Send comments, complaints and ideas to Benjamin Oreskes and Shelby Grad. Also follow them on Twitter @boreskes and @shelbygrad.
---